Download the latest version of Papers Grade Please on your device to start accessing the students. Join over 50 million gamers from all over the world playing this game today!
Information of Papers Grade Please
| | |
| --- | --- |
| Name | Papers Grade Please |
| Updated | |
| Compatible with | Android 6.0+ |
| Last version | 3.5.0 |
| Size | 144.72 Mb |
| Category | Casual |
| Developer | Lion Studios |
| Price | Free |
| Google Play Link | |
| MOD | Unlimited money |
Mod features:
Unlimited money (Watch the video after each level to receive the bonus)
About Papers Grade Please
If you would want to play a game where you play as a teacher and test the intelligence of your students, then the Papers Grade is the right game for you. This casual game from Lion Studios offers players exciting gameplay where they can check the performance of their students.
Especially, you have to check their distinct knowledge in various aspects like identifying various counties, following instructions, or even checking on their grades. You can rate their correctness in answering various questions correctly.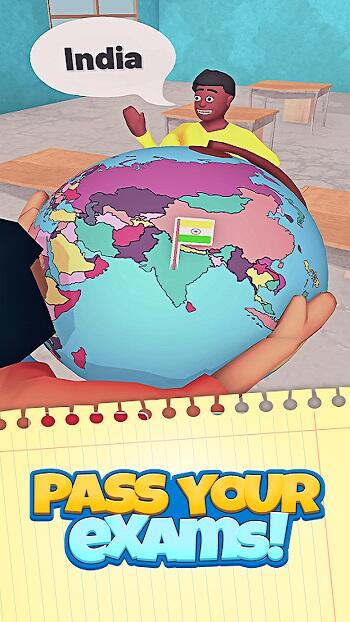 The game provides unique interactive elements and in-game purchases. It is not surprising that over 1 million gamers around the world are playing this incredible game. The Papers Grade game has a 7+ rating but can also be a great source of entertainment for adults. Download the game now from the Google Play Store and enjoy epic casual gameplay today!
Play As a Teacher
How smart do you think students can be? Get the Papers Grade Please game and find out for yourself. Check whether they can pass their exams, stand out with exceptional projects, and even follow simple instructions.
Hopefully, you should also have enough brainpower to mark correctly and grade your students! The funniest thing is that you are the one to notice what is wrong or right. Give your students As or Fs depending on the answers they give. Be keen because not all of them will give you the correct answer!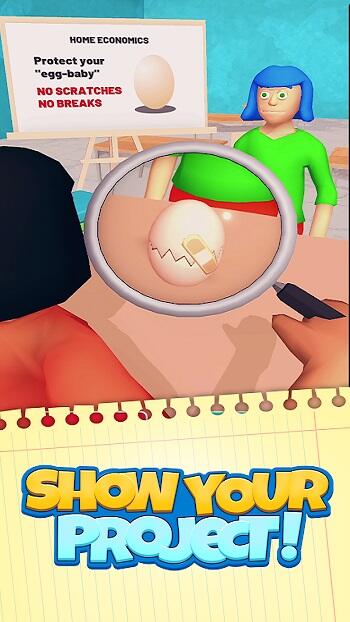 Students will attempt to outwit you with their answers. It may appear funny but it will still be wrong! Mark it as wrong! Make sure you test their knowledge in math, English, geography, and more. Some of the answers will even make you feel like a smart and brainy professor. Help these kids out and prepare them for college as you progress your teaching journey!
Papers Grade Please Features
The Papers Grade Please comes with many amazing features that will make you enjoy this fantastic game. Here is a detailed highlight of some of the features.
Interesting Intellectual Gameplay – if you love playing games where you have to pay attention to details, then this is the right game for you. This game allows you to test your intellectual abilities as you mark the correctness of answers given by your students.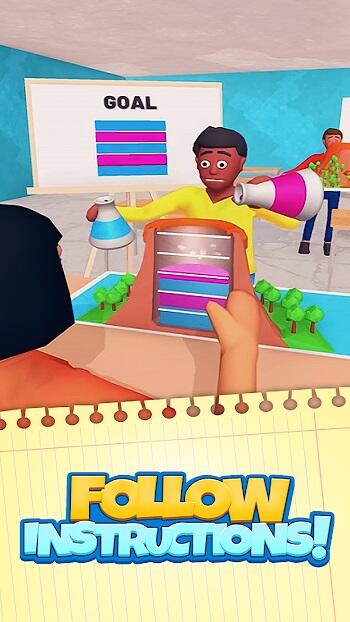 Paying attention is crucial unless you want your student to play dumb with you. The most outstanding thing about this game is that it is both compelling and fun. The intensity of the gameplay will make you forget every worry of life.
You might think that the questions are easy, but the answers that the students give will leave you astonished. The game is available in Google Play Store. Don't hesitate to download the game now and enjoy the unique play style it offers.
Simple and Addicting Gameplay – there are so many incredible things to enjoy in this game including its addictive gameplay. Once you launch the game, you will want to play more and more. However, the game is very easy at the beginning but the rules of the game become stricter as you progress.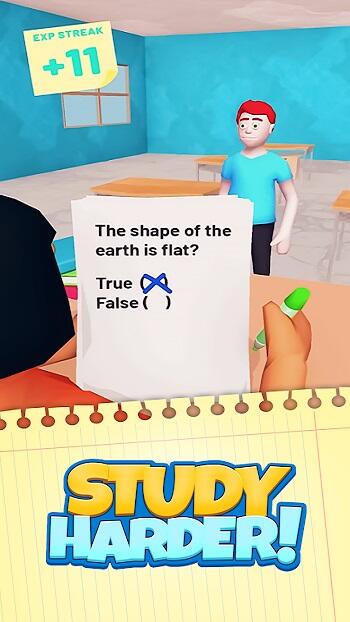 You need to be keen as you jump through more hoops and more paperwork. Answer questions, mark correctly or wrongly, break up fights during breaks, and watch over detention. It's like you will get back to school again! However, the game is easy to play!
Fun for the Entire Family – whether you are a teacher or not in the education industry at all, this game will make you enjoy lots of fun. You will play an incredible game where you make the right choices. Without a doubt, the game will have everyone in your family thinking and laughing aloud. We hope that you are smarter than your 5th graders! Note that some questions might have you confused!
Many Levels to Play – there many fun and challenging questions for the gamers to answer and grade. If you are a fan of puzzle or word games, quiz games, trivia games, or brainteasers, then Papers Grade Please is the game for you! You will enjoy playing in the many game levels that this game has to offer!
Download Papers Grade Please Mod APK – Unlimited money
The latest version of Papers Grade Please APK comes with many features that will make you want to play even more. You will earn more and more unlimited money as you progressively check the answers given by the students and grade their performance.