Download Match Masters Mod APK Unlimited money, boosters Latest version for a match-3 game with an online multiplayer mode. You'll solve puzzles & beat opponents in turn-based competitions.
Information of Match Masters
Match Masters APK is a free and popular puzzle game offered by Candivore. It is a match-3 game that requires you to outsmart your opponents in turn-based competitions.
The game features helpful powerups to accelerate your gameplay. These will come in handy when you need to quickly complete a level or want to achieve a high score. You can also use them to strategically disrupt your opponents' progress.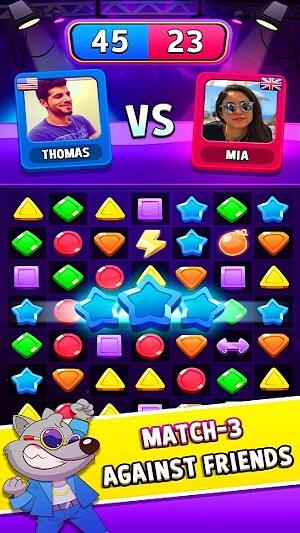 Additionally, the game has an online multiplayer mode that lets you compete against other players and test your abilities. Ensure you win these matches to rise the leaderboard and earn rewards.
Overall, this game offers a satisfying and unique gameplay experience. Its online multiplayer mode is also a great way to socialize with friends. Download Match Masters APK for Android and showcase your matching prowess!
Multiple Gaming Methods
This game is not rigid in the way you have to play it. It offers different methods for you to achieve the desired result.
The first and most obvious method is to simply make matching patterns with the same-colored objects. But, as you might have guessed, this is not the only way. Here are other creative techniques to spice up your gameplay: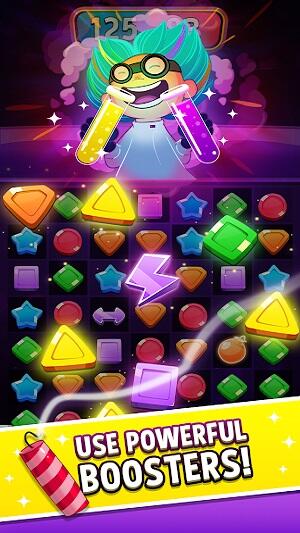 Play Live Tournaments. This is a great addition if you want to show off your skills and earn prizes. It also tests how well you can handle pressure since the matches are time-limited. You will be matched up with an opponent of a similar skill level, ensuring the playing field is balanced.
Challenge Your Friends. This is a more local version of the Live Tournaments. Instead of competing with strangers, you get to play with people you know. You must create or join a game lobby and invite your friends. The first to reach the target score wins the match.
The 1 vs. 1 Battle. This online multiplayer mode lets you compete against a single opponent. The first to reach the target score or have the most points after the time limit wins the match.
Whichever gameplay option, you can be sure to have a ton of fun. There is also a healthy amount of competition, which will keep you coming back for more.
A Generous Reward System
This game features a generous rewards system that will give you plenty of reasons to keep playing. Here is what you can expect: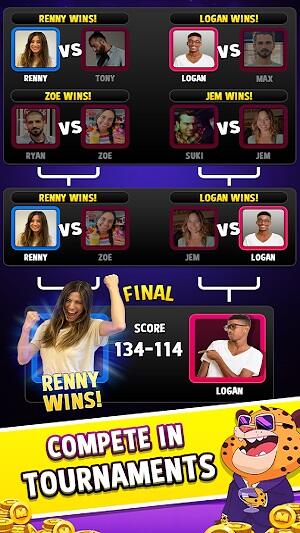 In-Game Currency. You can use this to purchase powerups and other items in the game. You can also use it to enter Live Tournaments and 1vs1 Battles.
Score Multipliers. These will help you rack up points quickly and achieve a high score.
These are special items that can give you an edge in the game. Use them wisely to circumvent difficult situations.
Leaderboard Ranking. You can compare your progress with other players and see who is currently at the top.
When all these rewards & unlocks are taken into account, it is easy to see why this game is so addictive. The gameplay is already enjoyable, and the rewards system provides that extra layer of motivation.
A Polished Game
This game features high-quality graphics & animations. The color palette is also pleasing to the eye, making the game a treat to look at. The audio is also top-notch and fits the game perfectly.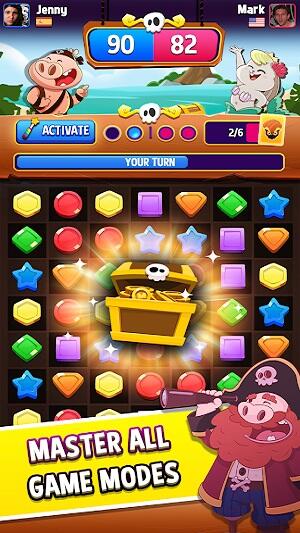 The game is well-optimized & runs seamlessly on most Android devices. There are no major bugs or glitches that would hinder your gameplay experience.
Other Match Masters Game Features
Well-Displayed Scores. As you play, you will see your current score, your opponent's score, and the target score prominently displayed on the screen. This makes it easy to track your progress and see who is in the lead.
Timed Turn-Based Combat. Each player will be allowed two moves before the other player takes their turn. This ensures that the game is fair and provides a sense of urgency. Ensure you don't waste any moves, or you may lose the match.
Connect with Facebook. This game allows you to connect with your Facebook account. This makes it easy to find & invite friends to play with you. You can also compare your progress & scores with them.
Sticker Albums. This game features a collectible sticker album. As you play, you will unlock new stickers. Some of these are few and far between. Can you collect them all? They will help you unlock trendy outfits and style packs.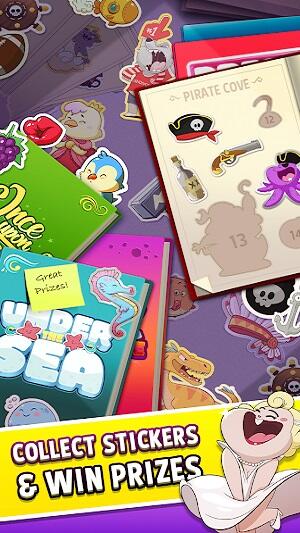 Thousands of Levels. There are currently thousands of levels available, with more being added regularly. This ensures that you won't get bored anytime soon. Each level presents its unique challenges.
Huge Booster Combos. Use boosters wisely to create huge combos to help you achieve a high score. Keep an eye out for special booster events for even more rewards. Every time you match a blue star, your booster will be charged.
Daily Missions & Rewards. This game features daily missions that you can complete to earn rewards. These can be anything from in-game currency to special powerups. Make sure you check back every day to see what new missions are available.
Match Masters MOD APK Download
If you want to beat your opponents effortlessly, download Match Masters MOD APK for Android. It offers the following:
Match Masters MOD APK Unlimited Money. You will get all the resources you need to purchase anything in the game. This is a sure way to become the best player quickly.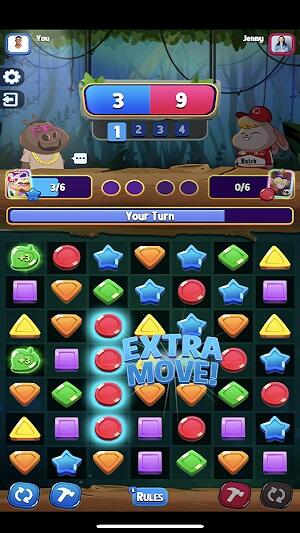 Match Masters MOD APK Unlimited Boosters. In this game, boosters are a precious commodity. They help you unlock incredible combos that lead to a high score. With this MOD, you will have an endless supply of boosters.
No Ads. The MOD ensures you won't have to sit through any pesky ads while playing. You can now focus on the game and enjoy an uninterrupted experience.
Conclusion
Match Masters APK is the perfect game for anyone who loves a good challenge. It features an addictive gameplay loop and provides plenty of rewards. With its polished graphics & animations, this game is a feast for the eyes.
The MOD offers even more value by providing unlimited resources & boosters. This way, you can focus on the game and achieve a high score quickly. If you are looking for a fun & rewarding game to play, look no further than Match Masters MOD APK.