Download TikTok MOD APK No watermark/ Premium latest version 2023 to create and share short video clips with your friends. It has a huge user base with over 1 billion users globally.
| | |
| --- | --- |
| Name | TikTok |
| Updated | |
| Compatible with | Android 4.4+ |
| Last version | 32.4.3 |
| Size | 278.86 Mb |
| Category | Video players & editors |
| Developer | TikTok Pte. Ltd. |
| Price | Free |
| Google Play Link | |
| MOD | No watermark/ Premium |
Without watermark
Download video no logo
Optimize battery, CPU and Gpu again
Delete redundant files,...
Extremely good capacity optimization
Optimize video viewing images, support rewinding
Login Facebook , gmail, phone...
No ads
Add new font
Note: can't login google
TikTok is a short-form, video-sharing app that allows users to create and share 15-second videos, on any topic. The app is available in 150 markets and comes in 75 languages.
The app has become a global sensation with users from all over the world using it to create and share short video clips on a variety of topics. Its popularity can be attributed to its simple user interface and ease of creating videos.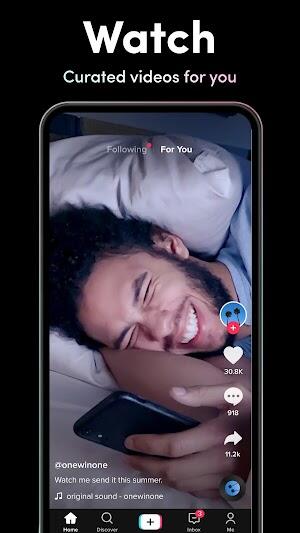 You do not need any prior video-making experience to use TikTok. The app is designed for anyone, regardless of their level of expertise. All you need is a creative mind and some time on your hands.
If you are looking for an application to share your experiences, emotions, and talents with the world, TikTok is the perfect platform for you. It is lightweight and works seamlessly with any Android smartphone or tablet.
Why You Should Download TikTok APK
The world is shifting towards short-form content, and TikTok is leading the pack. The app has everything you need to create interesting and engaging videos. Some of the key features of TikTok include:
A Rich Library of Soundtracks and Audio Effects. You can choose from a vast library of songs and audio effects to make your videos more fun and interesting.
A Variety of Video Editing Tools. TikTok provides a wide range of video editing tools that you can use to make your videos more creative. For example, you can use the split-screen tool to create a duet video.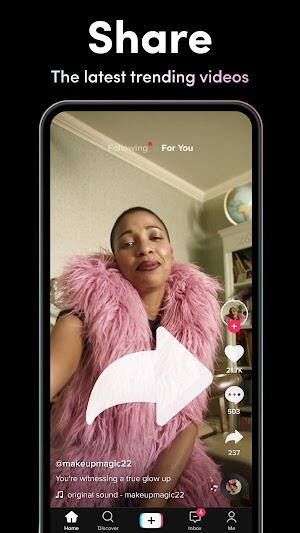 An Immersive AR Experience. TikTok offers an immersive AR experience that allows you to try on virtual makeup and filters. You can co-create with your friends, even when you're distant apart!
A Huge Community of Users. TikTok has a huge community of users from all over the world. You can interact with other users, follow them, and see their videos on your feed.
Once you start using TikTok, you will quickly get hooked on it. The app is extremely addictive and fun to use.
How to Use TikTok APK
After downloading TikTok APK on your Android device, launch the app and sign up using your phone number or email address. Once you have logged in, you will see the main feed where all the videos are displayed.
You can scroll through the videos and watch them one by one. If you see a video that you like, you can tap on the "heart" icon to like it or tap on the "share" icon to share it with your friends.
To create a video, tap on the "+" icon at the bottom of the screen. You will see a list of options that you can use to make your video. Select the option that you want to use and start creating your video. Once you are done, you can share it with your friends or on your social media platforms.
Lots of Topics to Explore
TikTok is super-rich in content. There is a never-ending supply of videos on various topics that you can watch and enjoy. Some of the popular topics include:
DIY Videos
Beauty and Fashion Tips
Cooking Recipes
Funny Videos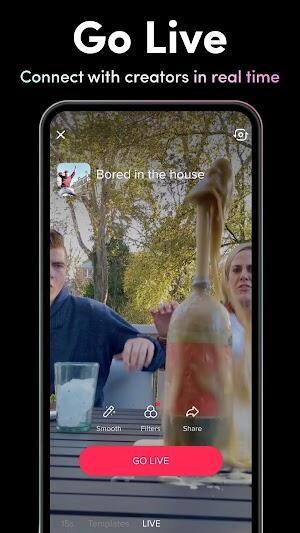 Pranks
Dance Videos
Travel Videos
Education Videos
Once you decide on your interest, you should look up like-minded people, and start following them. This way, the videos on your feed will be more tailored to your interests, and you will never get bored on TikTok. If you don't do this, you will likely get general videos on any topic, which can be overwhelming.
However, TikTok has also invested in a powerful AI algorithm that will curate videos based on your interests. It studies your watching habits and provides you with videos that you are most likely to enjoy. This way, you can explore new topics and find videos that you never would have found otherwise.
Create Content & Get Followers
If you don't have any friends on TikTok, don't worry. You can still create great content and get followers. All you need is a little bit of creativity and some time on your hands.
To get started, you should explore the various options that TikTok has to offer. Try out different filters, effects, and video editing tools to see what you can create. Once you have found your niche, start creating videos regularly. If you consistently put out great content, you will quickly get followers.
Also, don't forget to interact with other users. Like and comment on their videos, and follow users who you find interesting. The more you interact with the TikTok community, the more likely people are to follow you back.
Become an influencer
Traffic on TikTok is growing at an exponential rate. If you can get in early, you have a chance to become an influencer on the platform. With a large following, you can start making money by promoting products, brands, and services.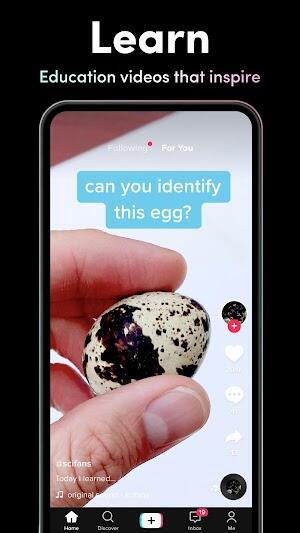 If you want to become an influencer, you need to start by creating great content. Fluff and filler content will not get you far. You need to create videos that are interesting, entertaining, and informative. Once you have built up a following, you can start reaching out to brands and businesses to promote their products.
TikTok is a great way to showcase your talent and skills. If you are creative and passionate about something, you can quickly build a following of like-minded people. With TikTok, the sky is the limit.
Other Unique Features of TikTok APK
Easy to Watch, Like & Share. The best thing about TikTok is that it's facile and uncomplicated. You can scroll through the videos and watch them one by one. If you see a video you like, you can share it with friends with a few clicks.
Download TikTok Videos. While you can't download videos directly from the app, there are third-party tools that you can use to download videos from TikTok. With these tools, you can download your favorite videos and watch them offline.
Create Short Videos. One of the best things about TikTok is that it's a great platform for creating short videos. You can quickly create videos that are 15 seconds or less. This is perfect for people who don't have the time or attention span to watch long videos.
Tracks in Different Niches. This app incorporates songs from different genres so you can find tracks that fit your mood. Whether you're in the mood for pop, hip-hop, or EDM, there's a track for you on TikTok.
Fully Functional Editor. You can cut, trim, and edit your videos directly in the app. TikTok also has a wide range of filters and effects that you can use to enhance your videos.
TikTok MOD APK Download without Watermark
The TikTok Premium MOD APK will let you access pro features for free. Here are its exceptional features to enjoy:
TikTok MOD APK No Watermark. With this MOD, you can remove the TikTok watermark. This way, you can create videos without restrictions.
TikTok MOD APK Unlimited Coins. This free in-game currency can be used to buy virtual gifts, custom filters, and other special effects.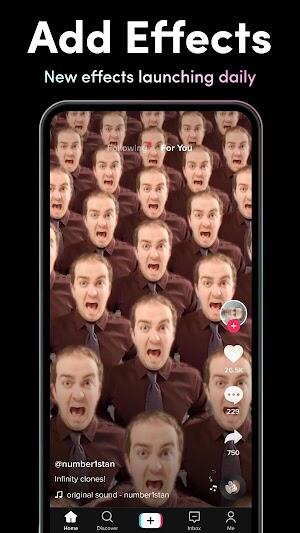 TikTok Followers MOD APK Unlimited Coins. You can get all the followers you need with this TikTok MOD APK. This will accelerate your path to becoming stardom.
No Ads. The TikTok MOD APK 2023 will give you an uninterrupted TikTok experience. You can watch videos and create your own without any distractions.
Conclusion
The TikTok APK is a great way to kill time and have fun. With its easy-to-use interface and wide range of features, you can quickly get addicted to the app. And with the TikTok MOD APK for Android, you can access all the pro features for free.