In the Draw Bridge Mod APK minecraft, you will be able to explore your creativity and build passable bridges using drawings only! Earn unlimited money at every level!
Information of Draw Bridge
| | |
| --- | --- |
| Name | Draw Bridge |
| Updated | |
| Compatible with | Android 6.0+ |
| Last version | 1.5.7 |
| Size | 125.31 Mb |
| Category | Casual |
| Developer | Eureka Studio |
| Price | Free |
| Google Play Link | |
| MOD | Unlimited money |
If you would like to play a game where you test your geometry skills by creating bridges passable by vehicles, then the Draw Bridge game by Eureka Studio is for you. This is a casual game where you just have to tap, hold and drag to create a path. The path is a bridge to guide the car to the target position.
Draw bridges and help cars get to their destination easily. You will have lots of levels to complete, designing and building bridges by just drawing with your finger!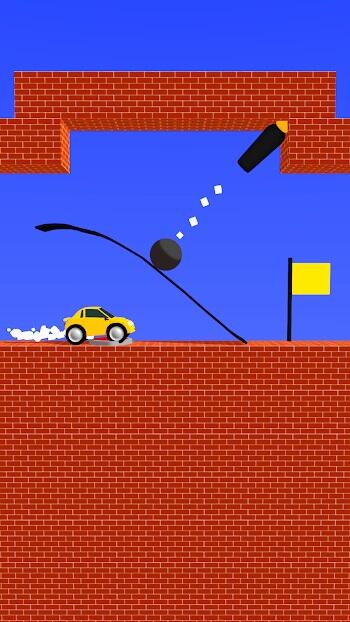 Overall, the Draw Bridge game requires rational calculation and improvisation to solve construction problems. When you draw the brigade or path, you will assist the vehicle to get to its destination safely. In return, the game rewards you with many rewards in form of unlimited money.
Become The Best Architect
Draw Bridge is a fantastic blend of stunning 2D graphics environment with creativity and geometry skills. Your main task here is to think and build good bridges for cars, trucks, buses, and more through a bare drawing. The game needs a reasonable calculation to create great and sure bridges.
Notably, the game is similar of the gameplay of the Poly Bridge game, which requires players to build passable bridges. You can perform a variety of customizations on the bridges to make them stronger. The most fascinating thing is that you don't have to choose the best materials. You build the bridges by just drawing!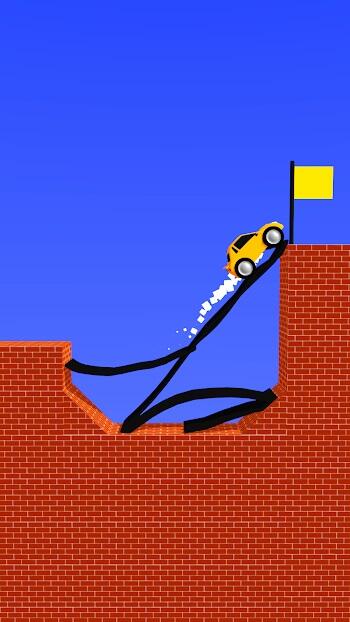 Draw lines to craft a realistic structure of the best bridge without any construction materials. Certainly, failures to create a logical bridge will lead to a loss of a game level. Of course, vehicles will fall is your bridge if your bridge is not strong enough. Bad construction or illogical drawing of a bridge will make everything end badly!
Draw Bridge Highlights
The Draw Bridge comes with a number of stimulating features that make it stand out among games in its genre.
Interesting Crafting Gameplay – the Draw Bridge game offers players an interesting experience in cool crafty gameplay. Here, your main work will be creating the strongest bridges where vehicles can pass. The game is created with intriguing yet simplistic 3D graphics that make the entire game environment realistic.
Avoid the car crashing together with your bridge structures! Do your calculations properly and play the role of a civil engineer with lots of years of experience in the construction of bridges. Notably, you will have to focus on creativity and invention. Create spectacular bridges with a single tap, hold and drag design.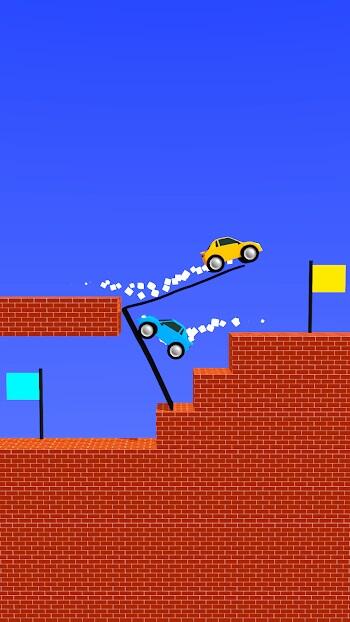 Simple Gameplay – with the Draw Bridge game, you immerse yourself into a game where you practice good geometry. Draw and create bridges with the strongest structure and keep it from breaking. Well, the gameplay is simple and only requires you to draw what you think is an ideal bridge structure. That's it!
You don't have to buy or unlock various in-game construction materials to play the game. There are no metals, cement, cables, or anything that is used in the construction of real bridges! Just tap, hold and drag to draw structures that appear like bridges and make them realistic.
Puzzle-Like Challenges – the game offers many levels like puzzles. That is because every level requires the gamer to create a bridge for a different situation. Some levels will require you to create bridges between buildings while others will the over water bodies and valleys.
Your creativeness will help you create bridges for distinct scenarios! Pay attention to your creativity so you can build bridges that complete your liking. Draw lines freehand and creates the realistic structure of bridges.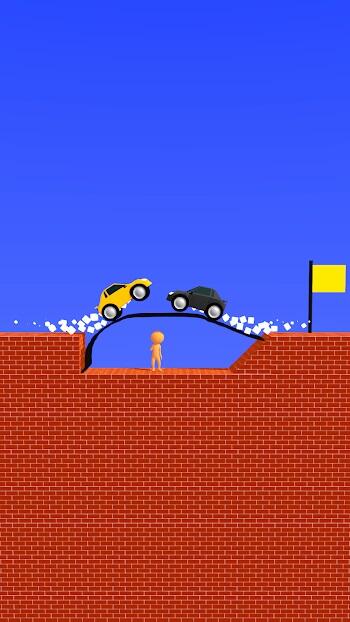 Great Game Physics – the Draw Bridge game features high physics and comes with fun interactive elements. You will use a variety of vehicles to confirm the standard of the construction. You will enjoy a game with a delicate art style. The graphics of the game also make every element in the game environment and movement of vehicles realistic.
Many Levels – this game has many exciting levels. In every level, you need to solve the complex puzzle of creating a bridge and helping a car get to its destination easily. Try to be the most effective through the creation of the best solution for the bridge. Each game level has lots of unlimited money to be won. Besides, you unlock advanced levels by winning preceding levels.
Unlimited Rewards – different level of the game has lots of unlimited amounts of money to be won. Success in every level earns a player unlimited money and bonuses. If a game level proves hard and you feel like you will miss out on the rewards, you can use the hint system to ease the difficulty.
Download Draw Bridge Mod APK – Unlimited Money
Download the Draw Bridge Mod APK, create bridges, and earn unlimited amounts of rewards and bonuses. Unlock more game levels and continue enjoying the creation of bridges.