Download Merge Toilet Battle Master MOD APK latest version and create a powerful army of toilet monsters. You'll then participate in intense battles & earn new character cards. 
Information of Merge Toilet Battle Master
| | |
| --- | --- |
| Name | Merge Toilet Battle Master |
| Updated | |
| Compatible with | Android 5.1+ |
| Last version | 3.2 |
| Size | 80.46 Mb |
| Category | Casual |
| Developer | FALCON GLOBAL |
| Price | Free |
| Google Play Link | |
| MOD | Unlimited money |
About Merge Toilet Battle Master
The concept of using toilets in battles has become popular with every passing day. The phenomenon can be credited to Aleksey Gerasimov (known as DaFuq!?Boom! on YouTube).
This creative creates memes and animations from various games, adding a unique twist. He shot to the limelight with the creation of Skibidi Toilet, a short series remixed from Skibidi Dop Yes Yes & Give It to Me (Timbaland).
He uploaded the first video of the series on February 8, 2023. Since then, he has amassed millions of views, inspiring other developers to include the concept of toilet armies in their games.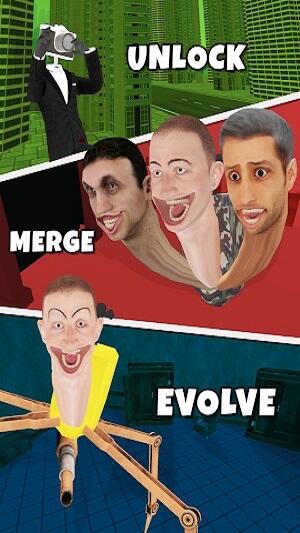 One of the recent games using this concept is Merge Toilet Battle Master APK for Android. It was developed by Falcon Global and released on May 25, 2023.
Why Download Merge Toilet Master Battle APK?
Merge Toilet Master Battle APK has been hailed for its fun and unique gameplay. You'll join the battle by creating your army of toilet monsters, using diverse cards you can collect in-game.
It also features a well-thought-out merging mechanic. You can combine your toilet monsters to create more powerful ones with increased stats and unique abilities. The secret is to look for the right combination of cards (similar cards).
Once you have a reliable army, you can join fierce battles against other players in a dynamic PVP mode. You'll have to strategically choose the right attack and defend moves since your enemies will not be a pushover.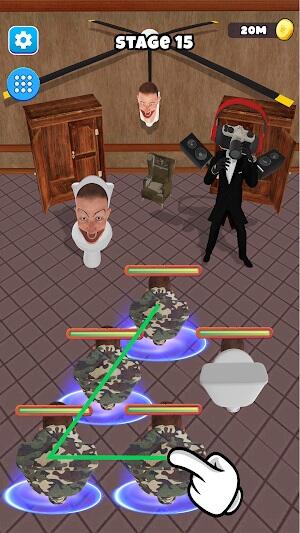 The graphics & sound effects of the game are also top-notch. The soundtrack is infectious, and you'll find yourself humming it as you play.
Overall, Merge Toilet Master Battle MOD APK 2023 is highly rated and recommended for those looking for an addictive game with a unique twist on the traditional combat genre. Download it now and join the toilet army!
How Merge Toilet Master Battle APK Works
This game is super easy to play. There are no complicated rules to learn since it's all about collecting cards, merging your monsters, and battling against other players.
You can also use coins to purchase powerful cards & strengthen your team. As you collect cards and upgrade your army of toilet monsters, they will become stronger and able to defeat opponents with ease.
You'll also have to think strategically when battling against other players. Your monsters will have diverse attacking & defending techniques, and you'll have to choose the right combinations to excel.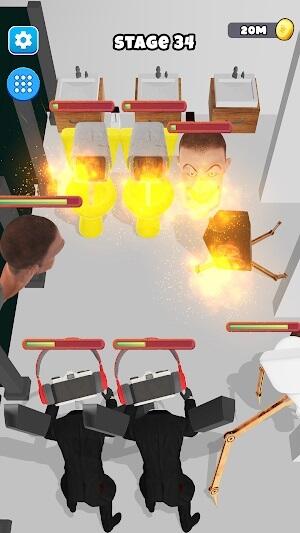 Finally, Merge Toilet Master Battle MOD APK for Android also features special events and tournaments. You can join these challenges to win rare rewards that will make your monsters even stronger.
Get Merge Toilet Master Battle MOD APK download & become the master of toilet warriors. You'll experience an action-packed RPG like no other in this unique game.
Other Outstanding Features of Merge Toilet Master Battle
Highly Strategic Gameplay. You'll have to use your skills and wits to devise an unstoppable army of toilet monsters.
Beautiful Artwork & Animation. All characters are animated with detail that will draw you into the game. The human heads protruding from the toilet are especially amusing!
Collect Fearful Monsters. What determines a formidable army of toilet monsters? You'll find out as you collect, combine and upgrade different cards. Each card brings unique powers & abilities.
Enjoy Real-Time Battles. The battles in Merge Toilet Master Battle MOD APK unlimited money/gems are real-time so expect them to be exciting. You will have diverse weapons to execute your missions hassle-free. Besides, the controls are flawlessly simple, enabling you to tap & shoot with unrivaled ease.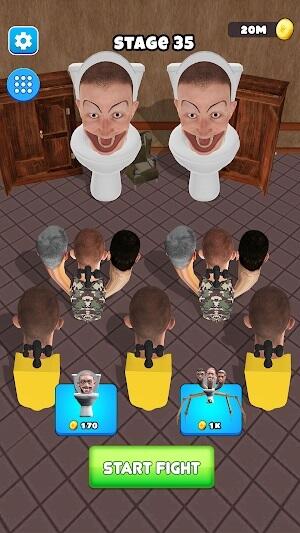 Highly Diverse Environments. This game offers a mix of outdoor & indoor environments. One minute you are exploring a city with skyscrapers, the next you are in a room fighting giant monsters. Each level brings new surprises & challenges to keep your brain engaged.
Numerous Levels & Missions. Every level has its unique objectives to complete and there are plenty of levels to explore. You can collect coins, power up your monsters, & face off against other players in the arena.
Free Spin & Daily Bonus. This game offers free spins & daily bonuses to boost your abilities and increase your winning chances. The rewards increase with each spin, and you shouldn't forget to come back often and check out what's new.
Hypnotic Sound Effects. The sound effects in Merge Toilet Master Battle APK are mesmerizing & thrilling, making you feel like you are really in the game. The background music is also awesome and will get your heart racing for sure.
What You Need to Download Merge Toilet Battle Master
As earlier mentioned, this game is minimalistic. It is approximately 49MB, making it easy to download on modest systems.
Additionally, the game works 100% well with Android 5.1+ devices. Its simple download requirements have made an instant hit, acquiring a million+ downloads in under a month.
While the game is free to play, it offers in-app purchases to help you upgrade your monsters & power up. Use them to become the king.
Proven Tips to Play the Game Like a Pro
Be Agile. This game requires quick reflexes and agility to make it through the levels. When you are facing tougher monsters, know the facts that speed is your greatest asset here.
Ensure You Have a Sturdy Team. If you want to conquer your enemies, you have no option but to build a formidable team of monsters. Ensure you analyze their abilities & weaknesses before incorporating them into your team.
Keep an Eye Out for Coins. The coins will help you unlock power-ups or additional abilities in this game that can come in handy during duels with other players or bosses.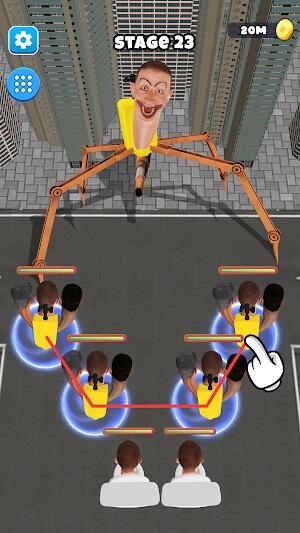 Be Strategic. Planning and thinking about your moves can prove to be very beneficial. Many levels require you to make precise decisions, and having a plan will help get you through them easily.
Practice Makes Perfect. If you want to become the ultimate Merge Toilet Battle Master, ensure you practice and keep playing as often as you can.
Conclusion
Merge Toilet Battle is an incredibly fun and addictive game for Android devices. It was designed to incorporate a unique twist to the typical monster battling game, and it has become a smashing success.
You will control toilet-themed monsters to form sturdy armies and defeat your opponents. Along the way, you'll also upgrade your monsters & power up to take on tougher challenges.
Its facile & unsophisticated mechanics make it excellent for beginners & experienced gamers. With practice, you will become the ultimate Merge Toilet Battle master.