Download Dynamic Island iOS 16 APK Mod Latest version to improve your Android phone's interactivity. It offers a sleek and versatile island on top of your home screen.
Information of Dynamic Island iOS 16
| | |
| --- | --- |
| Name | Dynamic Island iOS 16 |
| Updated | |
| Compatible with | Android 5.0+ |
| Last version | 1.4 |
| Size | 9.9 MB |
| Category | Personalization |
| Developer | Huu Toan |
| Price | Free |
| Google Play Link | |
| MOD | No MOD |
About Dynamic Island iOS 16
Apple has continuously improved iPhones to cater to their users' needs. One of the most revolutionary additions is the dynamic island in iPhone 14 Pro and iPhone 14 Pro Max.
This dynamic island feature allows users to have a floating island on their home screen, giving them quick access to widgets and apps without having to navigate through multiple screens.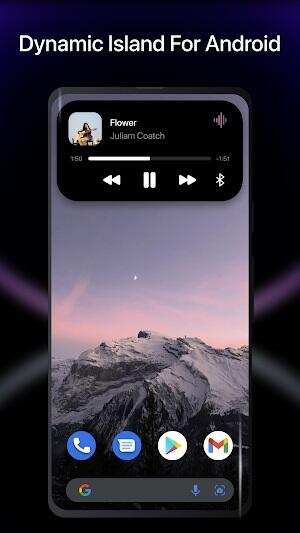 You can complete commands, shuffle your music, track your uber ride, and check weather updates on the dynamic island without interrupting your current screen. Besides, it saves you the hassle of navigating to the individual app to complete a simple task.
Now, thanks to the Dynamic Island iOS 16 APK for Android, Android users can also experience this exciting feature on their phones. It will give your phone a sleek and modern upgrade, making it easier to navigate and access important information.
What is Dynamic Island iOS 16 APK?
This is a productivity app offered by Huu Toan. It recreates the dynamic island feature found on the latest iPhones and brings it to Android phones. The accuracy and smoothness of the island's functions are guaranteed to improve your phone's interactivity.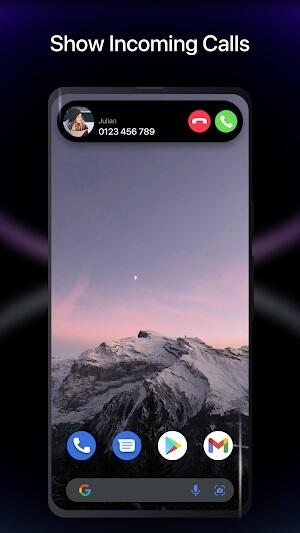 Like in iPhones, the dynamic island can hold widgets and apps for quick access. It also offers customizable icons, fonts, and themes to make the island unique to your style.
It surrounds the front camera with a circular border, making it easier to access your camera without going into the app. It also shows notifications, music control options, and a search bar on the island for added convenience.
Highly Versatile Cutout
The Dynamic Island iOS 16 APK allows for a highly versatile cutout. It automatically detects and adjusts the cutout to fit your notifications. The more notifications you have, the bigger the cutout will be.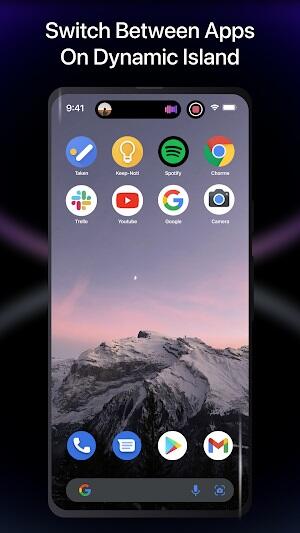 This versatility guarantees that the island will show all the important information without obstructing your view of the screen. You can be sure that nothing important will be missed due to a small cutout.
Benefits of Using Dynamic Island iOS 16 APK
This application was designed to boost your productivity and make your phone's interactivity smoother. With the dynamic island, you will have these undisputed benefits:
Show Music Waveform. With this feature, you can see the waveform of your currently playing music on the island. It makes it easier to identify and control the song without going into the music app.
Show Timer/Alarm Clock. The island can also show a timer or alarm clock, allowing you to easily set and track time without having to open the dedicated app. You can also stop or snooze the alarm right from the island.
Keep Track of the Weather. The dynamic island also shows the weather forecast, allowing you to stay updated and plan your day accordingly. It saves you time from opening the weather app to check for updates.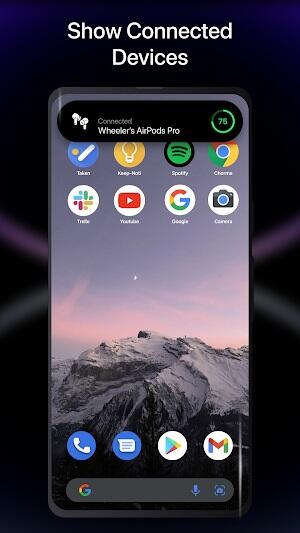 Display Charging Progress. Whenever your phone is charging, the dynamic island will display the battery percentage to keep track of the progress.
Show Map/Track Uber Ride. The island lets you monitor your current location on the map and track your uber ride without leaving your current screen. This way, you can easily stay on top of your transportation without switching apps.
Access the Calendar. The island gives you quick access to your calendar, allowing you to view and schedule events without leaving your current screen.
Read All Notifications. This feature shows all your notifications on the dynamic island, making it easier to stay updated and respond quickly.
Customize Your Island Experience
Besides the useful features, the Dynamic Island iOS 16 APK download offers customization options. Here's what you can change: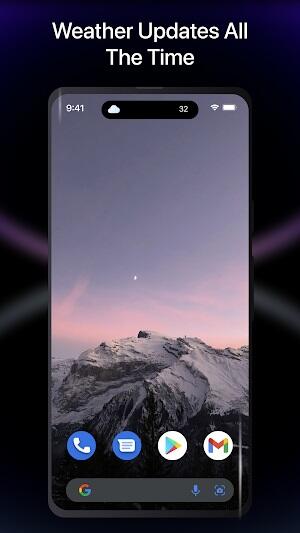 Edit the Size. You can adjust the size of the island to fit your preferences.
Auto-Hide Function. This feature allows the island to hide when not in use and reappear with a simple swipe.
Set the Number of Notifications Shown. You can choose how many notifications to display on the island at the same time. You will never again miss an important notification due to overcrowding.
Other Outstanding Features of the App
Easy to Use. You do not need any technical knowledge to use the dynamic island. Its user-friendly interface allows for easy navigation and customization.
Smooth Performance. The app's smooth performance guarantees a lag-free experience while using the island features.
Regular Updates. This application is constantly updated to ensure it stays compatible with your phone's software and offers the best possible experience.
This application is only 9MB, allowing it to run without taking up too much storage space on your phone.
Dynamic Island iOS 16 APK MOD
The MOD version of this application offers additional features. It improves the user experience by allowing for more personalized island settings. If you want even more fulfilling use, the MOD version is worth trying out.
Conclusion
The Dynamic Island iOS 16 APK enhances the way you use your phone by providing convenient and efficient features. Its customization options allow for a personalized experience, making it a must-have app for any iOS user. Download now and improve your productivity.