Download Fonts Art MOD APK premium unlocked latest version and customize your fonts all you want. It offers more than 70 unique fonts, symbols, and other custom icons.
| | |
| --- | --- |
| Name | Fonts Art |
| Updated | |
| Compatible with | Android 8.0+ |
| Last version | 2.55.4 |
| Size | 168.55 Mb |
| Category | Personalization |
| Developer | AIBY Inc. |
| Price | Free |
| Google Play Link | |
| MOD | Premium Unlocked |
Fonts Art is a personalization tool developed by AIBY Inc. It boasts a wide variety of fonts, styles, icons, and other outstanding features that'll make your writing stand out.
The application is easy to use for anyone with an Android 8.0 and above device. It is lightweight and will not slow down your device in any way.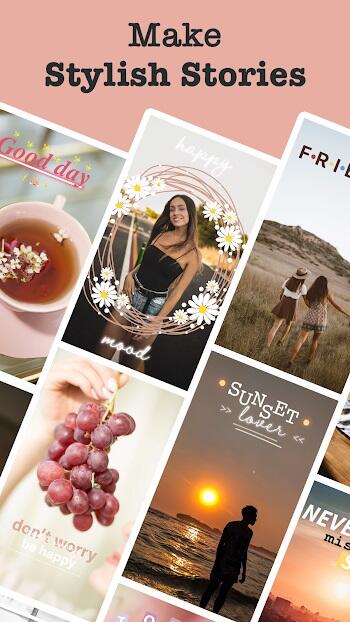 If you want to spice up your mobile typing, you shouldn't hesitate to download Fonts Art for Android. You'll type your messages uniquely and communicate with unmatched clarity.
How to Use Fonts Art App?
Using Fonts Art APK is straightforward. First, you should download and install the application on your phone.
Afterward, you should open the app on your device and follow the instructions that pop up. You don't need to download or purchase anything to use Fonts Art. This app is free for everyone who wants to tinker with their mobile typing style!
However, it contains in-app purchases that can help you unlock more premium features. These purchases are affordable and range from $2 to $13. If you want a more sophisticated touch on your fonts, you may consider this option.
Irresistible Features of Fonts Art
Fonts Art offers an array of features. It helps you type with more personality and spices up your communication.
This great app is available in Google Play Store for Android users. You can easily download it on your Android or any other device that runs on the Android operating system. With this app, you'll type like a pro and make sure that your words pop out!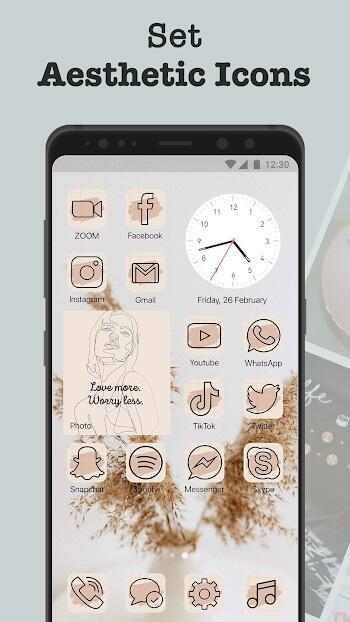 If there is one thing we should highlight about this application, it's its ease of use. This tool does not slow down your device in any way and does not require you to root your phone or tablet.
Diverse Font Types
This application ensures that you have access to a wide range of fonts, including retro, italic, gothic, bubble, cursive, and typeface. This means that you can type your messages with a touch of class and professionalism.
In addition, this tool comes with a rich collection of symbols, numbers, and different characters. You can use them to create custom font symbols that'll complement your writing.
Compatible with Your Social Media Platforms
Another great feature of Fonts Art is its seamless integration. This application works with some of your favorite social media platforms, such as Facebook, WhatsApp, Skype, iMessage, Snapchat, Instagram, and TikTok.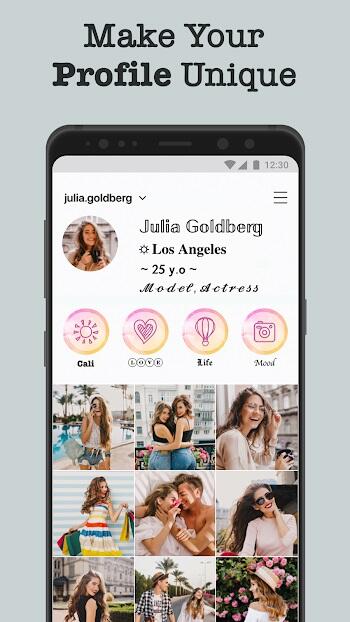 Using this tool, you can add bold or italic fonts to your WhatsApp conversations easily! You'll spice up the way you express yourself on these platforms and stand out from the crowd.
Customize Your Icons
If you feel like the standard icons are boring, then this app will come to your rescue. It enables you to showcase your creativity in creating catchy icons and adding them to your home screen.
You'll get lots of icon customization options. This way, you can add a touch of aesthetic, style, and sophistication to your home screen.
Unique Story Maker Options
With Fonts Art APK, you can create unique stories and share them with your loved ones! You can choose from a handful of pre-loaded, inspiring stories or write one yourself.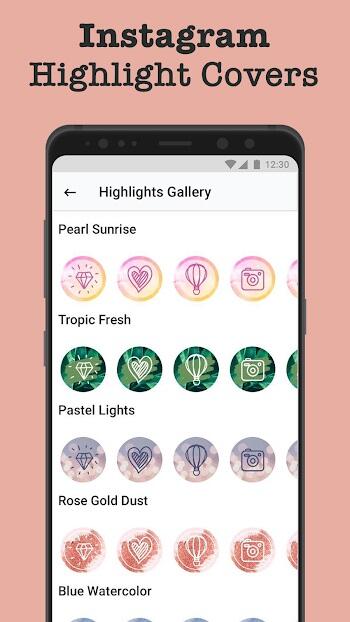 This application comes with two unique story modes: Classic mode and Word mode. In the classic mode, you'll get categories such as humor, love, friendship, and inspiration.
If you choose the Word mode, on the other hand, you'll get 100 words to select from. You can also add your word titles. Then, you'll press "Create Your Story" and Fonts Art will do the rest!
This tool will generate an entirely new story for you. It'll use your selected words and come up with a brand new story that you can share with others on Instagram.
Even better, it will add emoji, kaomoji, stickers, and GIFs to make your stories more captivating.
Instagram Highlight Covers and Hashtags
Fonts Art allows you to customize your Instagram profile and tweak its design to suit your needs and preferences. It provides you with a wide variety of Instagram Covers and Hashtags.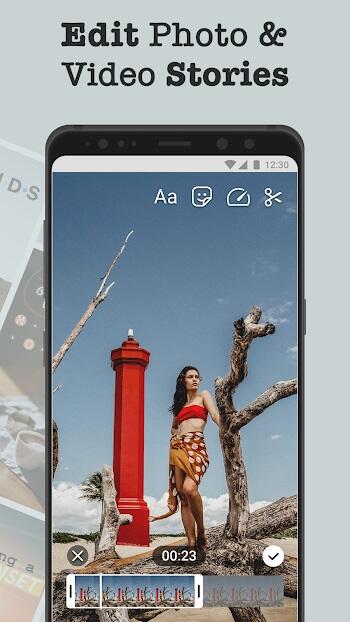 If you are tired of old covers, this tool will get rid of your fatigue quickly. It offers diverse colors, different fonts, and responsive layouts to help you create custom-made covers for your Instagram profile.
Captivating Symbols and Clipart Graphics
Fonts Art is perfect for those who want to stand out from the crowd. This application enables you to combine symbols and word fragments in one text and add background colors and backgrounds.
In addition, you can use a wide variety of stamps, icons, and clipart graphics with your text. All of these options will make your text captivating and eye-catching.
Selfie Picture Frames and Geometric Shapes
This application enables you to add more style and beauty to your social media posts by adding Selfie Frames and Geometric Shapes.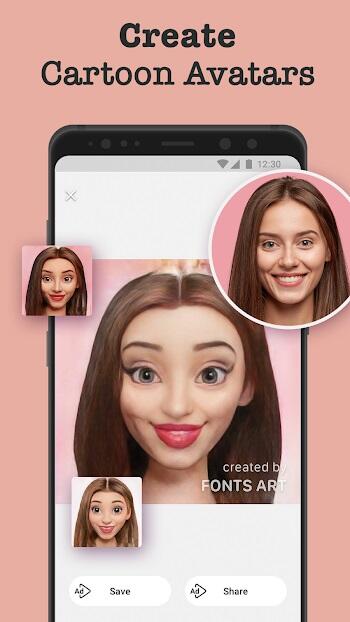 It offers a wide range of customizable filters, fonts, and picture frames that will undoubtedly turn your pictures into eye-catching masterpieces. Other additions include animals' symbols, weather, ethnica, and stars.
Automatic Correcting and Editing Tool
In addition to the large variety of fonts, symbols, and graphics that Fonts Art APK provides you with, this tool also comes with an automatic correcting and editing tool.
You don't have to worry about mistakes anymore! If you make a typo or want to change your text after typing it in the app, simply click on "Edit Your Text."
This will automatically pull up your text again and give you the chance to edit it as much as you want.
Fonts Art MOD APK Premium Unlocked Download
If you want a better typing experience without spending money on in-app purchases, you should get the fonts art keyboard mod APK.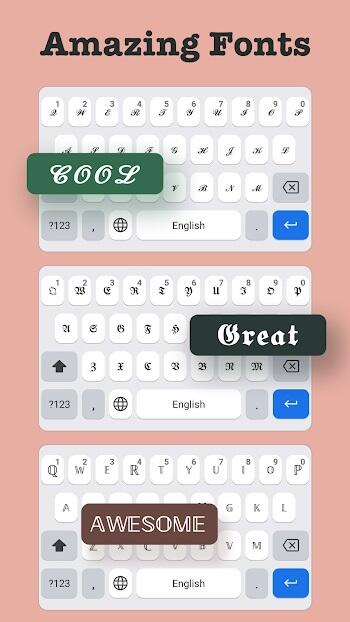 This Fonts Art App mod APK version works on all android versions. It allows you to access all in-app purchases for free.
Additionally, the Fonts Art pro mod APK comes with unlimited unlocks of all premium features. You'll gain access to every feature of the tool, thus ensuring that you get the best out of it.
Conclusion
Fonts Art APK is a great typing tool that provides you with an endless number of customizable options to help you design your amazing creations.
It offers emoji, stickers, different backgrounds, font styles, and word art among others. Download the latest version today and personalize your fonts!