Download the 456 Survival Game APK Mod and play in many mini-games with action inspired by the Squid Game. Defeat every opponent and win unlimited money!
Information of 456 Survival Game
| | |
| --- | --- |
| Name | 456 Survival Game |
| Updated | |
| Compatible with | Android 5.0+ |
| Last version | 1.1.2 |
| Size | 55.09 Mb |
| Category | Action |
| Developer | YoloGame - Abi Publisher |
| Price | Free |
| Google Play Link | |
| MOD | Unlimited money |
As an action cum survival game, 456 Survival Game APK is a spectacular game that comes with a collection of epic gameplays. 456 Survival game by YoloGame Studio is an arcade game inspired by the famous Squid Game series. Be among over 1 million gamers from all over the world who are enjoying this great game. Compete at every game level and pass all the tests for prizes. Four original and distinct games await you. Ensure that you use all your skills to beat them and win!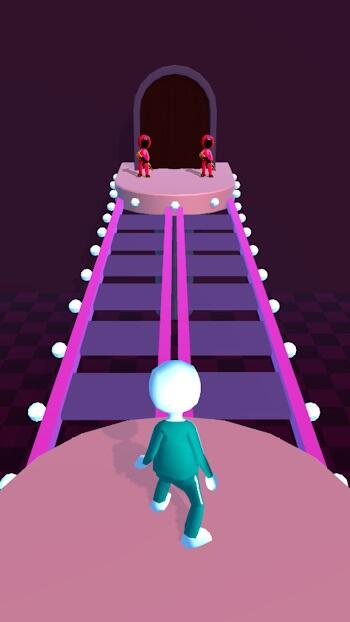 You should play various Survival mini-games during the gameplay. They include Red Light, Blue Light, Tug Of War, Dalgona Candy, and Jump on Grass. In all these gameplays, ensure that you win and boast to other players with your gaming prowess. Outwit death in many activities and win huge amounts of money!
Become Hero 456
In this game, you will play as the hero number 456. Be the player who competes with other participants for valuable prizes. Perform exciting activities like cutting geometric shapes from sugar dough, run a given distance under the gaze of an animatronic doll, walk across the glass bridge predicting safe tempered glass panels, and pull the rope in a tug of war trying to outplay opponents.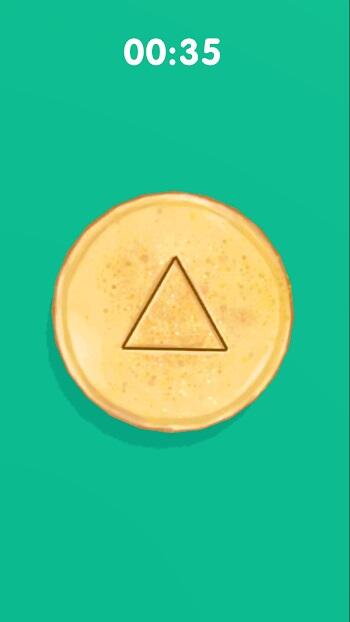 Each level of the game brings out one original game stage from the popular South Korean TV series. In this arcade action-packed game, you will find games such as quieter, tug-of-war, dalgon sugar candies, and more. These mini-games have their own game mechanics and a set of rules. If you follow them with precision, you can win and progress to the next game.
Features of the 456 Survival Game
This game comes with features that make it an interesting game to play!
Amazing Action Gameplay – as a Survival Game, 456 Survival Game presents lots of mini-games with many activities. For example, the player will have to play in Red Light - Blue Light game similar to red light, green light gameplay in Squid Game series, Dalgona Candy, tug of war, and much more.
Each of these gameplays has distinctive yet entertaining activities. Playing each level in this game brings special satisfaction to players. However, note that you need to be keen to win all the levels and make more unlimited money. Provoke your mind to look and promptly find solutions for various in-game challenges. That is the only way to enjoy this game to the fullest!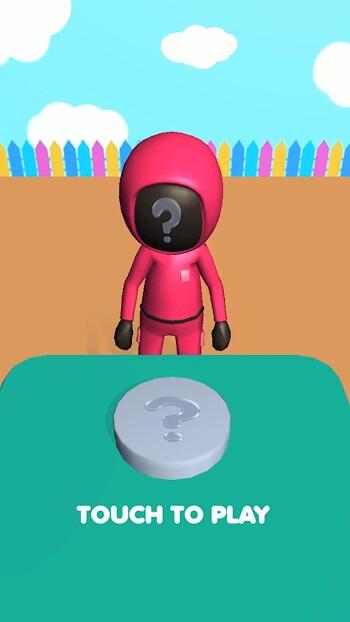 Various Challenges – with this game, you dive into various challenges similar to episodes of Squid Game. For example, in the first mini-game, you should cross the green line while the evil and lethal robot girl is looking in the other direction. If the girl catches you moving, you'll be eliminated from the game by all violent means. That is the Red Light – Blue Light gameplay. Besides, you will play other mini-games including Tug Of War, Dalgona Candy, and Jump on Grass.
Simple Controls – gamers are able to play the 456 Survival Game with simple tap-to-play controls. Besides, the players can also click to break items as well as hold and drag controls in tugs of wars. Download the game now and enjoy gameplay with simple controls! Slide your finger across the screen to complete challenges and move an inch closer to the final prize.
Many Levels – this game comes with many sensational levels. As mentioned earlier, every game level comes with special actions. For example, you'll have to slice open candy into certain shapes on one level. To win in every challenge, it's important to stay calm and attentive, because your enemy won't hesitate to shoot you down if you make a mistake.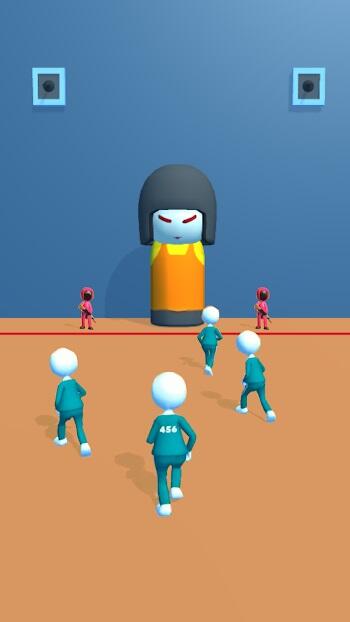 Minimalistic 3D Graphics and Design – 465 Survival Game is created with simple yet intriguing 3D graphics that help you to grasp the elements of each game level with ease.
Unlimited Money – earn unlimited money with every successfully won game level. You can also watch various in-game ad videos to boost your unlimited money. use the unlimited money to unlock various aspects of the game!
Download 456 Survival Game APK Mod Latest Version – Unlimited Money
Win all the levels in the 456 Survival Game. Download and install the 456 Survival Game APK now and enjoy playing thrilling mini-games with unlimited money!