Do you use the internet daily? If so, you must download 1.1.1.1 so you can have safer and faster access to the internet. This app promises faster internet and more!
| | |
| --- | --- |
| Name | 1.1.1.1 |
| Updated | |
| Compatible with | Android 5.0+ |
| Last version | 6.31 |
| Size | 32.21 Mb |
| Category | Tools |
| Developer | Cloudflare, Inc. |
| Price | Free |
| Google Play Link | |
| MOD | No MOD |
Unlimited / ZeroTrust Unlocked
There are a lot of people who use the internet daily on their phones. We basically use our phones every day to text, call, play games and to browse the internet. Because of this, you might have experienced slow internet a lot of times since it's just connected to a WIFI router. But even if you have fast internet connection, it doesn't guarantee that you won't encounter problems which is why you should download 1.1.1.1.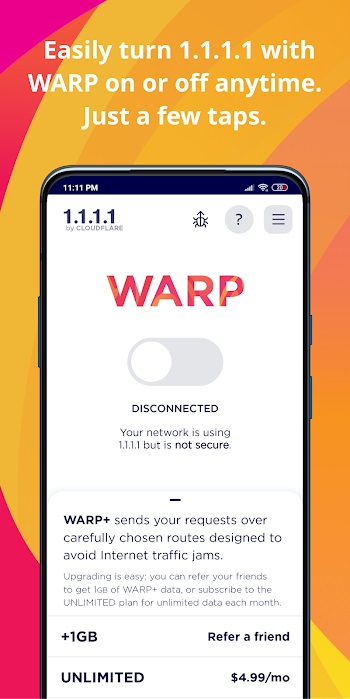 Published by Cloudflare, this app allows you to easily have a faster and secure internet connection using your phone! Now, you don't have to worry about slow internet connections or interruptions ever again. Thanks to this easy-to-use app, you can simply achieve what was promised in mere seconds. Aside from that, you can prevent malwares and people snooping on your data thanks to this app.
A Faster and a Safer Internet Access
Smartphones are one of the most advanced and most recognized technological pieces that humans have ever invented. These mini computers are capable of doing anything we want. Whether you want a handy calculator or a means to browse the internet – our phones can easily cater to our whims. Back then, we used to browse the internet solely on computers and laptops. But with a smartphone, anyone have instant access to the internet now. In fact, there are more mobile internet users now than ever! But even with this advancement we accomplish, there are still a lot of problems on internet connections.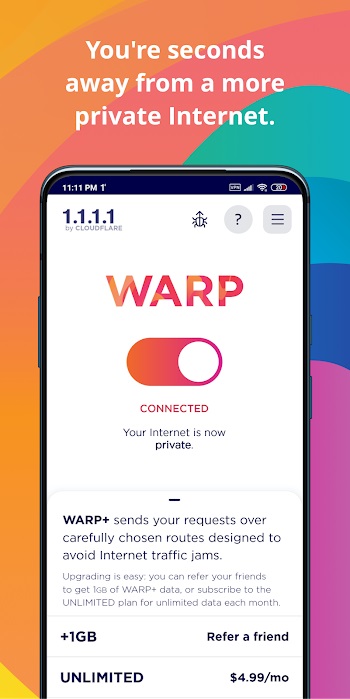 A lot of countries have slow internet and this is evident when you use the internet on smartphones. Since WIFI signals are weaker compared to plugging a computer directly to a router, there are bound to be interruptions. A lot of users would complain slow internet and some even complain about high ping on games. But this couldn't really a problem that can be solved easily unless you have fast internet. For this reason, Cloudflare created a DNS server app that allows anyone to access faster internet on their phones.
Not only that but 1.1.1.1 is also capable of protecting your data from ever leaking out. If you didn't know, there are a lot of websites and third-party users that are getting and selling data from your internet usage. But thanks to this app, you don't have to worry about snoopers anymore. Essentially, the app prevents any attacking, phishing, malware and other privacy threats on you. Plus, it's so easy to use that you don't need technical knowledge to install and use it. These and more features are lying waiting for you in the app!
1.1.1.1 Features
Are you tired of slow internet connections on your phone? Do you want a more secured way to access the internet? If so, get 1.1.1.1 today and get all these nice features:
Faster Internet Instantly – Are you constantly using your smartphone for work and for personal use? Are you tired of the same old slow internet connection that would disrupt anything you do on your phone? Wait, don't change your internet service provider yet! Why not try downloading 1.1.1.1 first. This app was created so users can enjoy faster internet. It works as a magic for most but in reality, it does a complicated process that most wouldn't understand. To put it simply though, you no longer have to worry about slow internet connection as long as you turn this app on. And downloading and using it is as easy as a few steps!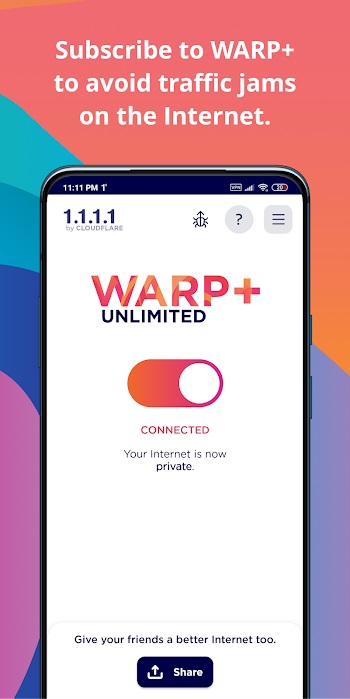 Greater Privacy – 1.1.1.1 is an app that equips your phone with the most secure private internet service ever. The app sends your requests over meticulously chosen routes so it avoids internet traffic jams. This way, your search and data info will be secured. No one will be able to intercept your data to sell it to companies which is a practice of most ISPs today. Because of this though, you no longer have to use a third-party VPN service as this works as one. Although it's not as complete as VPN apps, it can do the job properly for anyone.
Better Security – This app also allows you to have better security over your phone. This means that 1.1.1.1 prevents any phishing, malware, crypto mining and other threats to your security. You don't also need to worry about your data being sold as the app promises to not do that. They assure users that they will collect as little data as possible to ensure that you have the utmost privacy and security while using their service. This is a great thing to hear from privacy apps since a lot of them have been dishonest in the past.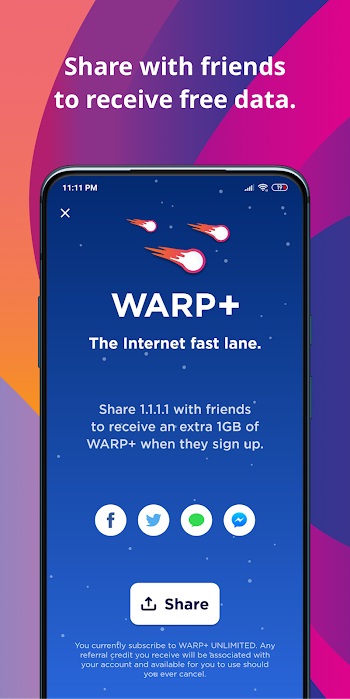 One-tap use – If you're not a technical person, you also don't need to worry about learning how to use the app. It's a one-tap app which means you literally just need to download it and enable it to use. Just tap the switch at the center of the app and it will allow you to have private internet easily. If you decide that you don't want to use it anymore, you can simply switch it off and uninstall.
Get free 1GB Data – The great thing about 1.1.1.1 is that it offers an extra 1GB of WARP+ if you invite your friends to sign up. The app has a monthly subscription plan which allows you to use the app as much as you can per month for an affordable fee. This app allows anyone to have a safer and faster internet at a fraction of a cost of getting a new ISP!
Download 1.1.1.1 APK Mod – Latest version
Tired of your phone's slow internet? Better download 1.1.1.1 today so you can enjoy a safer and more faster internet.