The internet has brought many wonderful things for us today. But one of the downsides are attackers . To safeguard your privacy, download PotatoVPN Premium Mod APK!
Information of Potato Vpn
| | |
| --- | --- |
| Name | Potato Vpn |
| Updated | |
| Compatible with | Android 4.1+ |
| Last version | 53.1 |
| Size | 29.09 Mb |
| Category | Tools |
| Developer | FASTPOTATO PTE. LTD |
| Price | Free |
| Google Play Link | |
| MOD | Premium |
There are many websites today that we can use for work and personal purposes. For many people around the world, they depend on the internet for their work and business especially today. More and more websites are going live and more people are using the internet for various purposes. With this, it's only right to protect ourselves online with PotatoVPN. With this app on your smartphone, you can be assured that you'll be protected whatever you do online.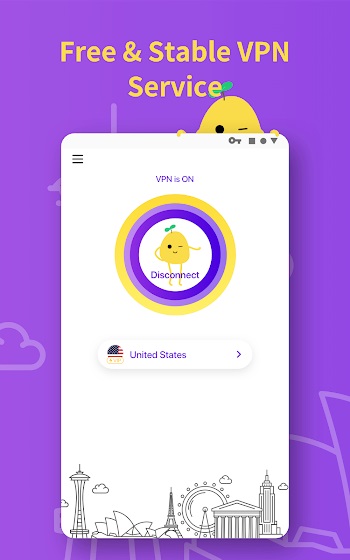 This app lets you connect to a variety of servers in 6 main countries such as Canada, Australia, Germany, United States and many more. With this, you don't need to worry about any attackers trying to get your important data such as photos, browsing history, and even baking information. You also don't need to register or pay anything to use this important app right now. Enjoy fast connections and secure browsing today with this app as you protect your privacy online. Don't worry about any attackers with this app!
Access Proxy Servers
We use the internet for various reasons today as some use it for work, some for school, some for playing online games and some for the social media sites. The internet allows us to order things online, pay our bills, read blogs, watch videos, upload photos, create profiles and many more. It has become a necessity today since a lot of people heavily rely on the internet for many things. But with the benefits come the risks such as attackers that are trying to get our valuable data.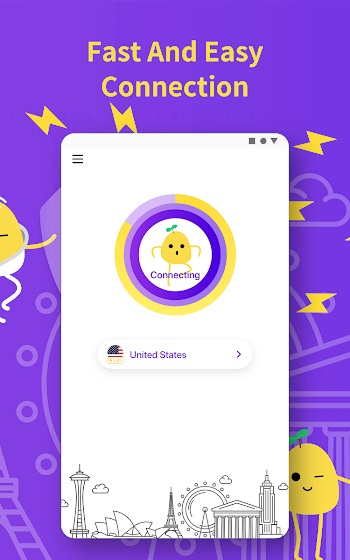 For this reason, it's absolutely imperative to use a VPN service such as PotatoVPN. Published by Fastpotato, this app lets you connect to many servers all over the world such as Australia, United States, Canada, Germany, and many more. You can also automatically connect to the fastest server with a tap of a button and disconnect when you wish. Moreover, you can freely connect to any public WIFI without any worries today.
This app also lets you access restricted websites by connecting to other servers today. With this app, you can get an all-in-one total protection that can last a long time.
Highlights of PotatoVPN
The internet is used by billions of people every day and it's unlikely that it's going to change soon. So, before you get attacked, use PotatoVPN now.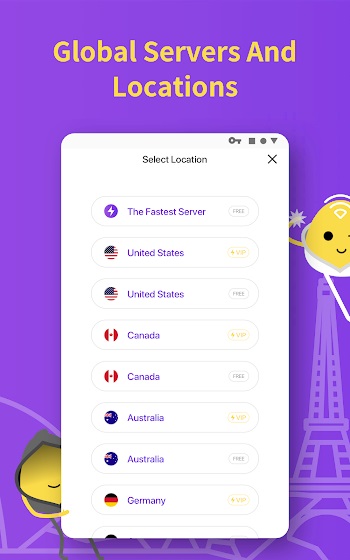 Get Total Protection Online – Have you ever been attackers? You may or may have not but it's better to be proactive when it comes to your privacy online. We store a lot of our data and passwords on our computers and phones so it's only right that we protect them. By using a VPN service, we're protecting our privacy and data from would be attackers worldwide. We don't even need to pay anything when we use PotatoVPN today.
With this app, you're able to connect to plenty of premium servers today such as in United Kingdom, Canada, Germany, Singapore and India and many more. You also don't need to pay for anything and you don't need to register when using this app. This means you can protect your data even more and you don't have to pay anything. Moreover, you can get support whenever you encounter any problems and you can connect to the fastest servers automatically.
Access a Variety of Servers – PotatoVPN offers many servers in various countries all over the world. The countries include Canada, India, Germany, Singapore, United Kingdom and United States. There are at least 2 available servers per country that you can connect to anytime of the day today. You can also select the option to connect to the fastest server so you don't need to manually search for it. With these many servers, you never have to worry about your protection online today!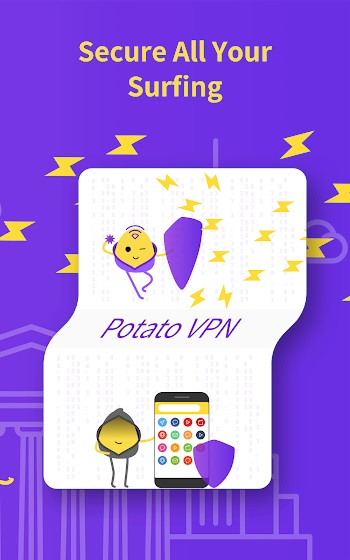 No Registration – What's even more enticing is that you don't need to register to use the app. Not only does this save your info from being leaked, it provides overall convenience when using it. Not only that but this app is completely free to download and use. This means you don't need to provide your credit card details just to use it.
Access Blocked Content – Have you ever been annoyed by the fact that you can't watch one YouTube video since it's blocked in your country? Or have you ever tried to access a website only to see that you can't access it in your region? The simple solution would be to use PotatoVPN so you can go over these restrictions. Simply connect to any other server today and you can access any website today with ease.
Live Chat – If you have any problems or issues, you can enjoy the live chat support that the app offers!
Download Potato VPN Premium Mod APK – For Android
Don't ever pay for a VPN service today. Download PotatoVPN and enjoy plenty of features!