Do you need an application that will secure and keep your data safe and offer secure and fast connections while browsing? Speedify VPN is the real deal! Install the Speedify VPN Mod APK now!
Information of Speedify VPN
| | |
| --- | --- |
| Name | Speedify VPN |
| Updated | |
| Compatible with | Android 5.0+ |
| Last version | 13.3.1.11932 |
| Size | 22.63 Mb |
| Category | Tools |
| Developer | Connectify Inc. |
| Price | Free |
| Google Play Link | |
| MOD | Premium unlocked |
If you are looking for a stable, secure, and superfast VPN application, Speedify VPN by Connectify Inc. is the real deal! This application is an excellent VPN tool that keeps your internet connection secure. As often happens with many of the existing and similar apps, the free version of the Speedify application has a usage limit. After the lapse of the free usage period, a user can add a monthly or annual subscription directly from the application.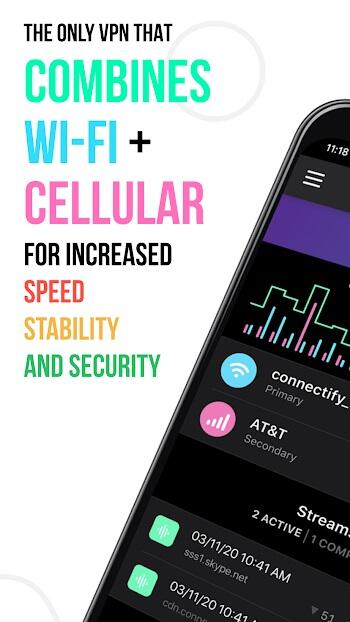 Interestingly, the app has a feature that enables it to work in the background as you browse. Speedify VPN makes your internet connection fast in that it redirects you to a 3G or 4G mobile connection if your WiFi network is too slow. That way, you may never notice something is wrong with your internet connection.
Besides, Speedify also offers everything good that a VPN service should offer. That includes the ability to access the Internet safely and anonymously. What's interesting is that you can even select the country through which you want to connect to the Internet.
Over 5M Downloads!
Notably, Speedify is among the best VPN apps that offer the most engaging features that you will not get on regular VPN platforms. It is created to offer the best quality and performance as embedded with the Channel Bonding Technology.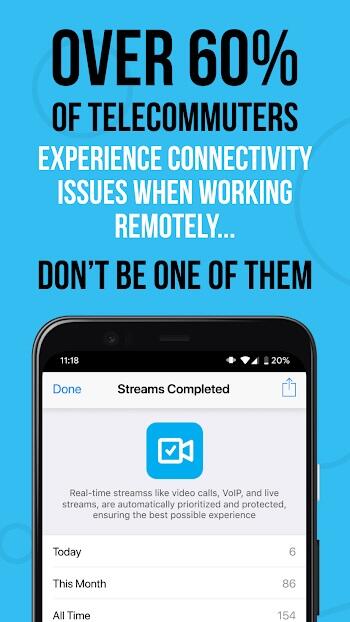 Speedify VPN has been downloaded by over 5,000,000 users worldwide. That makes it one of the top 10 VPN apps available on the Google Play Store. What makes it stand out is its ability to combine Wi-fi and cellular connections for more uninterrupted network rates. Speedify is effective on all the recently launched high-tech smartphones. However, the app also supports this advanced feature in low-configured devices.
Speedify VPN Features
Speedify VPN is the application you should have on your smartphone if you want the most speedy, secure, and unlimited bandwidth VPN service. This service has over 100 servers and therefore used in various parts of the world is guaranteed. Here are the features that make Speedify stand out.
Swiftest and Reliable Speed
The team at Connectify Inc. creates Speedify as a no-log VPN for speed and mobility. This app combines all available internet connections on a device to improve reliability. Remarkably, it uses the newest encryption standards to deliver over twice the performance of older VPNs.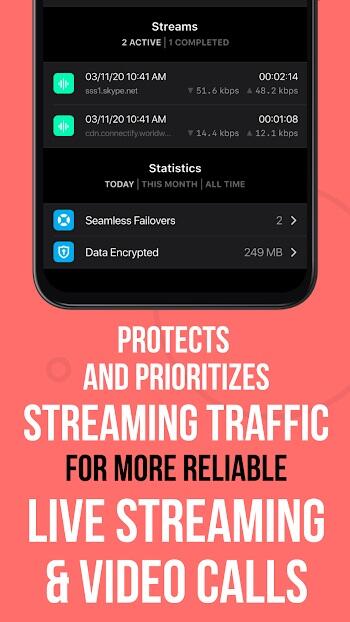 If you are getting irked because of the interrupted and slowest speed of the worst VPN services, you should switch to Speedify VPN. This free VPN service provides all internet connection services at an optimum speed. You will never be disappointed while using this application!
Combined Internet connections!
The Channel Bonding technology incorporated in this app enables users to connect to multiple internet connections at the same time. This way, one enjoys increased bandwidth and lower latency. In totality, that implies a better and reliable connection.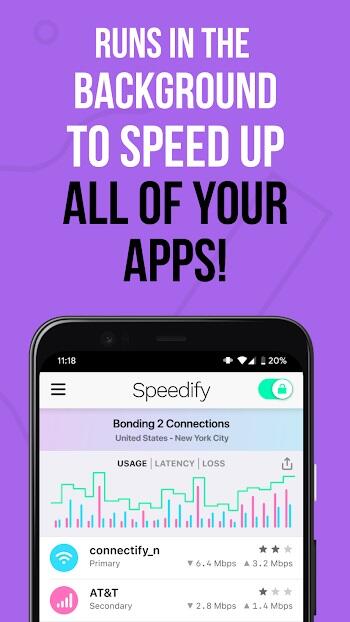 Speedify VPN offers the fastest VPN service for your browsing, online gaming, watching videos, live-streaming among other online activities that require steady connections. Once you connect to the global Speedify VPN servers, the app intelligently distributes your online traffic between all existing Internet connections for optimal performance.
Unstoppable Streams
The unique "channel bonding" technology enables faster and more reliable downloads, uploads, and streaming! Whether you are in a Zoom Conference or live stream, Speedify provides a more stable and consistent streaming experience. Moreover, the app automatically prioritizes audio and video streams and dynamically adjusts to network conditions. That way, you can stop asking "Can you Hear Me?" and start streaming at the combined speed of all your available connections!
Security and Privacy
With the Speedify VPN app, security and privacy are a priority! The application does not log IP addresses, data, or websites while connected to the service. This means that you can browse the internet anonymously and avoid cyber-attacks or being tracked. You can also bypass and unlock geographically locked websites and apps.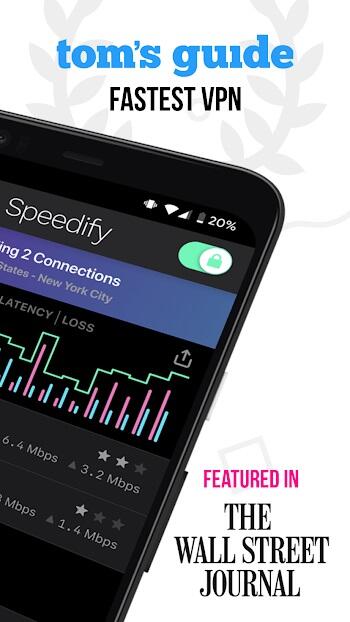 All this is possible because of the app's use of the latest encryption standards. This ensures a super-secure connection to guarantee that no one has access to your sensitive information. Since Speedify runs in the background, it secures the data shared by all installed apps. For instance, you should rest knowing that you are safe whether you are on Facebook or checking emails on Gmail. To enhance security and privacy, the app has an optional Kill Switch that helps users to avoid unintentionally going online without Speedify's protection.
Upgrade for Unlimited Usage
If you have used the Speedify VPN service in the past or are currently using it, then you know about the 2GB bandwidth that the free account provides. Here is where the Speedify VPN Premium MOD APK comes in handy. This version delivers unlimited bandwidth to browse online securely and privately without interruption or ads. Furthermore, Speedify VPN subscriptions offer unlimited usage, access in all server locations, and can be used by up to 5 devices at a time.
Download Speedify VPN Mod APK Latest Version
Speedify VPN is one of the most essential apps on your devices today! You will not like any other VPN platform after downloading Speedify VPN Premium MOD APK. It contains all the exciting safety and privacy features that you require in your desired VPN application.