If you believe that you can make the world's famous fashionista, download Vlinder Doll 2 today. Dress up your doll and make her the most beautiful girl on the planet!
Information of Vlinder Doll 2
| | |
| --- | --- |
| Name | Vlinder Doll 2 |
| Updated | |
| Compatible with | Android 4.4+ |
| Last version | 1.4.3 |
| Size | 89.29 Mb |
| Category | Casual |
| Developer | 31 Dress up Games |
| Price | Free |
| Google Play Link | |
| MOD | No ads |
Would you like to have a doll to play with during your idle time? Download the Vlinder Doll 2 game now and dress up your doll for free!
The Vlinder Doll 2 is a free simulation game where the gamer should dress up an avatar to appear as beautiful as possible. This unique creation by 31 Dress up Games requires the player to revamp a doll and become a renowned fashion creator. The game is compatible with Android devices that support 21 API and above.
In the Vlinder Doll 2 fashion spree, you can professionally dress your own star girl character and make her an amazing gem of gorgeousness. In the game, you can make your avatar unique by choosing among various beauty items like eye colors, skin tones, hairstyles, hair colors, etc.
You can also go for a shopping splurge for more stylish dresses and other accessories in the Vlinder beauty shop. Download Vlinder Doll 2 and enjoy the trendy process of making your doll beautiful.
The Vlinder Doll 2 Gameplay
Vlinder Doll 2 a free offline customizable game that exposes the gamer to a fashion doll dress-up. You can install the game from Google Play Store and enjoy the dozens of exquisite clothing and heart-pounding expressions, all for free. Download Vlinder Doll 2 and create intriguing beauty scenes with an excellent background painting style.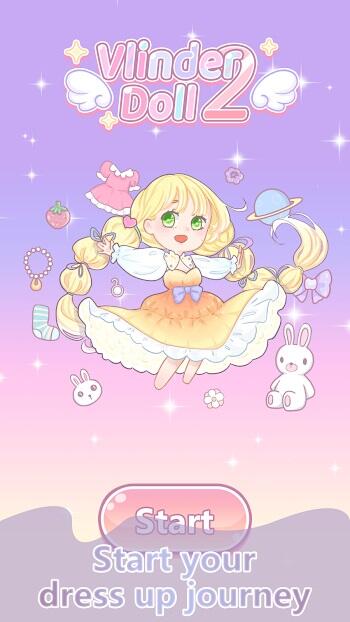 Another thing that makes this game fascinating is the ability of the player to make wallpaper images of your pretty dolls and share them with your cute friends. You can make your doll an idol with the various unlockable items in the game including a massive collection of colorful clothes, hairstyles, exquisite wings, girly heart bags, hair colors, etc.
All these beauty accessories bring your wishes to reality! Of course, you will be able to make your avatar attractive and help you in your DIY indulgence to make a cute doll. You can also write doll dress-up creative plot stories with elements like dialogs, text, and exclusive cute emoticons.
Features of the Vlinder Doll 2
Apart from the vast stylish theatrics in the game, you will also enjoy some of the features that make the game stand out among similar games in the casual or beauty genre. Here are some of the features that will make you download and play the Vlinder Doll 2 game now!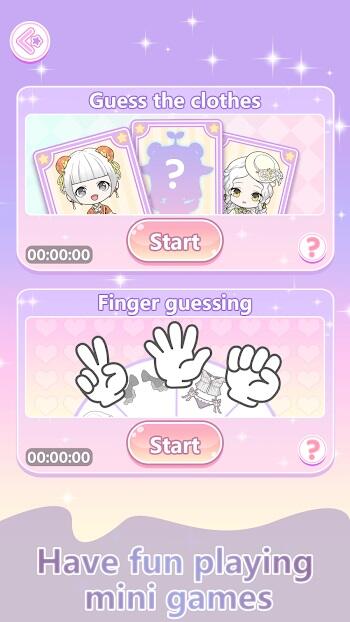 A Range of Sophisticated Outfits – what excites many gamers about this game is continuity. Of course, this continuation of the dress-up game with an interesting visual style is possible because of the abundance of stylish outfits. Moreover, you also have a variety of character settings as well as tons of elements for creating stunning scenes and storyline productions. In Vlinder Doll 2, you will find more wardrobe items in the Vlinder beauty shop including stylish jewelry, shoes, bags, etc.
Creating Unique Avatars – you can autonomously create various avatars, thanks to this thrilling game. Here, you can customize and create unique avatars from the skin tone, facial expressions, bright accents, hairstyles, outfits, to the far-reaching designs of notable beauty accessories. If you believe that you can use all the beautiful elements in the world to create the most unusual beautiful hero, play the Vlinder Doll 2 game today!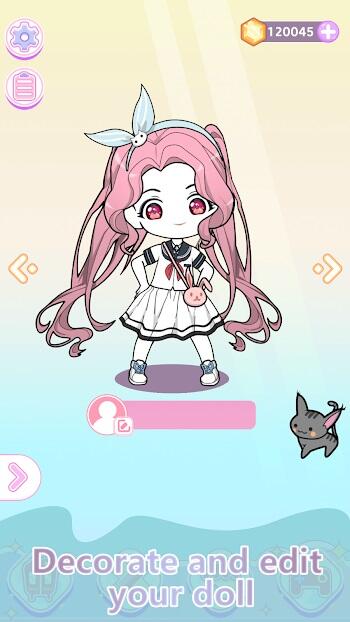 Emoji & Sticker Maker – in this game, you can create more than 30 amazing dolls and use the animated emoji of your character to chat with your loved ones in Facetime, iMessage, and Messenger. The application also features a charming sticker maker for your photos. So, just download the Vlinder Doll 2 app today and create your own avatar facemoji. Customize the emoji to your preferred appearance including the skin tone, hairstyle, eye color, and more.
Get More Followers – with the help of this application, you can create gorgeous photos and marvelous videos with your avatars. Afterward, you can share them with your friends and relatives on any social media platforms including TikTok, Instagram, Snapchat, WhatsApp. This way you can form a huge following for being the best fashion stylist. Because the game uses different stylings of fashion dresses, you can make a number of sharable content and make your following happy and always eager to see what your next creation will be!
Download Vlinder Doll 2 Mod APK – Decorate Your Cute Dolls
Download the latest version of Vlinder Doll 2 APK. With the Vlinder Doll 2 Mod APK, you can use a range of beauty and fashion items to create impeccable pretty dolls!