Download Coin Master Mod APK Unlimited coins and spins Latest version and engage in battles to build a sturdy Viking village. You'll collect cards, earn coins, and raid other players' villages.
Information of Coin Master
| | |
| --- | --- |
| Name | Coin Master |
| Updated | |
| Compatible with | Android 4.4+ |
| Last version | 3.5.1380 |
| Size | 75.31 Mb |
| Category | Casual |
| Developer | Moon Active |
| Price | Free |
| Google Play Link | |
| MOD | Unlimited coins, spins |
Coin Master APK is a popular casual game developed by Moon Active. It has over 100 million downloads on Google Play alone.
In Coin Master, you'll use coins to build your village and upgrade structures. You can also attack other players' villages to earn more coins and collect rare cards to help you progress in the game.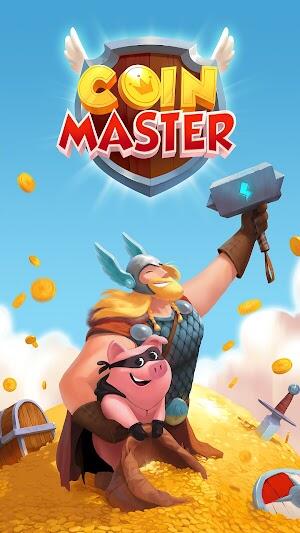 The game has a simplistic and addictive gameplay loop, but it also offers in-app purchases for extra coins and spins. It guarantees hours of fun for casual gamers.
Spin to Win Loot
This game is resources-intensive, requiring players to constantly collect coins and spins. Luckily, it features a daily spin wheel that can give you coins and spins for free. You can also earn them by raiding other players or completing card sets.
Your goal should always be to collect many coins and spins, as these will allow you to upgrade your village faster and become the ultimate Coin Master. You can also use them to attack and raid other players' villages for even more rewards.
Collect Cards and Build Your Village
Coin Master also features a collectible card system, where you can earn cards by attacking or raiding other players. These cards can be used to complete sets, giving your village special bonuses.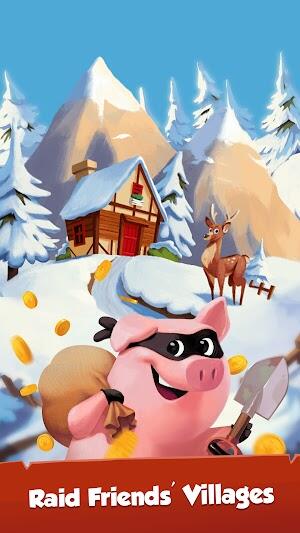 These bonuses include extra coin and spin rewards, an increased chance of successful raids, and more. As you progress in the game, you'll have the opportunity to collect rare and powerful cards that can give your village a major boost.
These will bring in unique abilities. For example, you can use a card to unlock powerful attacks punctuated by fiery weapons or secure your village with a shield.
Attack Vikings
In this game, you must revenge against Viking players who have attacked your village. You can use your coins and spins to launch attacks, to destroy their village structures.
To attack a Viking, press the red attack button and choose a target from the list. Each attack costs coins, but successful attacks will earn you more coins and potentially valuable cards.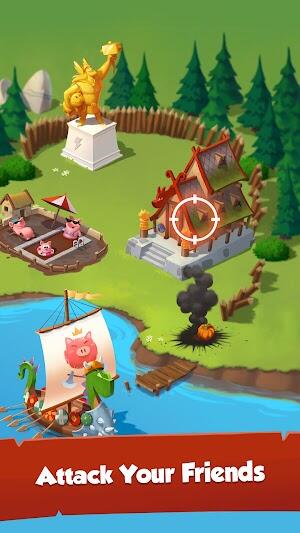 However, you should never expect it to be easy, as other players can also attack and raid your village. That's why it's important to constantly collect coins and spins and upgrade your structures for extra defense.
Ensure you navigate every nook and cranny of their village to look for loot. Steal as much as you can and ensure you decimate their village as much as possible. This way, you can earn maximum rewards and boost your standing in the game.
Play with Friends
Coin Master allows you to connect with your friends and play together. You can send them gifts and invite them to join your Viking clan.
It's a great way to have some friendly competition and work together in raids and attacks. Plus, you'll have someone to chat with about the game's latest updates and card collections.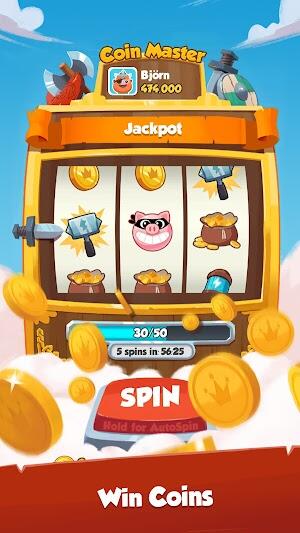 Besides, you can trade cards with your friends and complete sets faster. This makes the gameplay more technical since you'll have to strategize and plan out your trades. Ensure you get the best deals and collect the most valuable cards.
Other Features of Coin Master APK
Collect Pets. Besides cards, Coin Master also has collectible pets that can accompany you on raids and attacks. They can give you bonuses, such as extra coins or shields. As such, you should never ignore them and try to collect as many as possible.
Participate in Events. The game regularly holds events where you can earn exclusive rewards, such as special cards and rare pets. Ensure you participate in these events to boost your village's progress.
Dependable Slot Machine. This game features a dependable slot machine, which can give you coins or attack and raid opportunities. It's a great way to earn extra resources without directly attacking or raiding other players. Ensure you get rich and powerful by using the slot machine wisely.
Collect Gold Sacks. Gold sacks can be found in other players' villages and give a hefty coin reward. Make sure to keep an eye out for them during raids and attacks. They will come in handy in upgrading your village structures.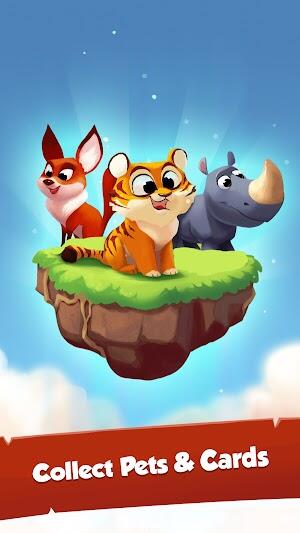 Millions of Players on Facebook. Coin Master has millions of players on Facebook, making it one of the most popular games on the social media platform. It's a great way to connect with friends and strangers alike as you progress in the game and build formidable communities.
Explore New Lands. As you progress in the game, you'll have the opportunity to explore new lands and build your village there. This adds a sense of adventure as you never know what kind of structures or rewards, you'll find in these new lands. Strive to become the ultimate king, warrior, pirate, Viking, or hippie!
Beautiful Graphics. The game features vibrant, colorful graphics that make it a pleasure to play. Each structure and character are uniquely designed, immersing players in the world of Coin Master. You will see the effects of your actions, such as the destruction of a village or the upgrading of your buildings.
Immersive Sound Systems. The game features background music and sound effects that enhance the gameplay experience. Hear the coins jingle and the slot machine spin as you play Coin Master.
Simple Controls. The game's controls are straightforward, making it easy for players of all ages and skill levels to play. All actions can be done with just a few taps on the screen.
Coin Master MOD APK Download
The Coin Master MOD APK 2023 version is modified to ease your gameplay. It has exceptional features, including: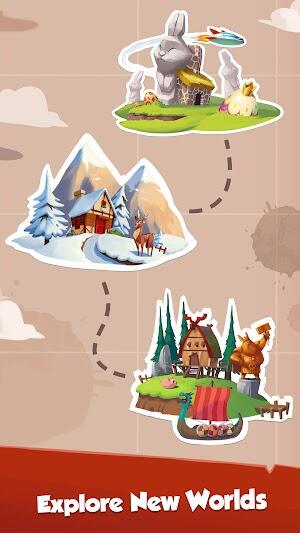 Coin Master MOD APK Unlimited Coins and Spins. With this MOD APK, you can upgrade your village structures without worrying about running out of resources. You'll also have more opportunities to attack and raid other players' villages.
No Ads. The Coin Master MOD APK for Android also has ad-free gameplay, allowing for a smoother experience. You will navigate various villages, launch attacks, and spin the slot machine without interruptions.
Everything Unlocked. In the Coin Master MOD APK unlimited spins version, all cards, pets, and lands are unlocked from the start. You can progress quickly and build the ultimate village without waiting or searching for specific items.
Conclusion
Coin Master is a thrilling game where you collect cards, build your village, and attack or raid other players' villages. It features cute graphics, events, and collectible pets that add to the gameplay experience.
The Coin Master MOD APK 2023 version has excellent features that enhance the game even further. Download it now for a fun gaming adventure!