If you want to perfect your typing skills, you can do so in style. Download Type Sprint now has fun playing the game and improves your typing speed and skills.
Information of Type Sprint
| | |
| --- | --- |
| Name | Type Sprint |
| Updated | |
| Compatible with | Android 5.0+ |
| Last version | 1.2.0 |
| Size | 95.99 Mb |
| Category | Trivia |
| Developer | Masterskaya DK |
| Price | Free |
| Google Play Link | |
| MOD | Unlimited money |
Are you ready to defy all odds and instantly improve your typing speed as you train your brain? Download Type Sprint by Masterskaya DK now and join a community with over 500,000 people who want to play and improve their typing speed. Notably, the game requires Android 5.0 and above and is also compatible with iOS devices. This game brings the ultimate fun that helps the player fast track their typing skills.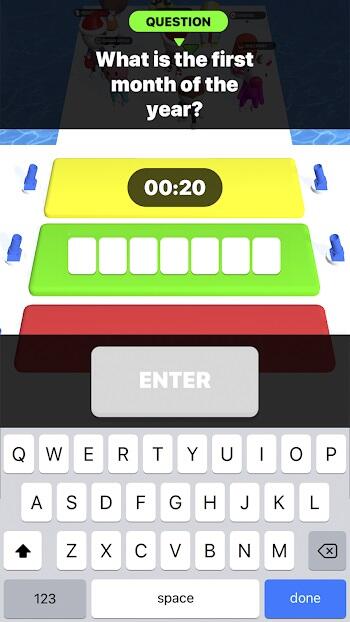 In this game, you race against other players to become the fastest. What's interesting is that you make the character run faster by typing the words or sentences that pop up correctly. Any mistake slows down the character and you are at the risk of losing to your opponents. The game uses the normal text keyboard on the game interface. Download the game today and enjoy the sensational gameplay as you perfect your typing skills now.
Type Sprint Epic Gameplay
Type Sprint offers one of the most exciting typing battles in gaming! Without a doubt, this texting game a huge range of typing practice brain-busting engagements! This game allows you to join a breathtaking typing contest against quick sly opponents. Go from one level to another to complete numerous missions and become the best typing runner. The game presents the gameplay in form of simple typing games to tricky word trivia quizzes.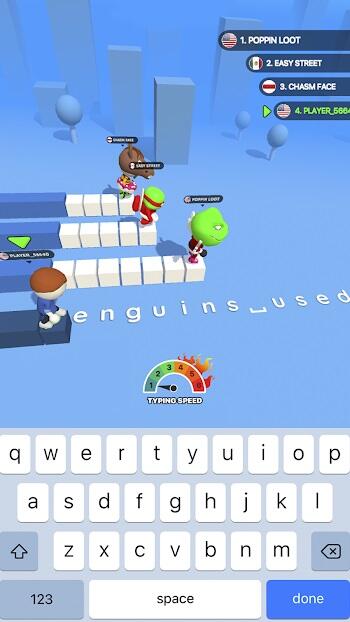 During gameplay, the player has to type words and sentences that appear on the interface during the race. This sustains the speed of the character! Most stimulating is the fact that you have to eliminate barriers along the track by typing as fast as you can. The more you type and win, the more you earn unlimited money that you can use to purchase more skins. The gameplay is packed with 3 games; different riddles, hidden objects, and word problems. Get the game now, test your memory, and improve your typing speed and tactical thinking!
Features of the Type Sprint Game
This game is as simple as ABC. It offers a fun and addictive gameplay, extraordinary design, and easy navigation. More to that, you need to type and compete against crowds of sneaky opponents. You have to win against everyone from beginners to experienced type runners! Here are features that make this game stand out in its genre.
Type to Beat Your Opponents – type the names indicated on the barriers or type sentences that appear on the runway. Enjoy uninterrupted typing and brain-teasing game levels and immerse yourself in an excellent typing practice. Type like a pro and have endless fun. Become the master of fast typing and maintain the speedy pace of your game character. Get a rating after every game level dubbed average typing speed. Be celebrated with electrifying background sounds every time you finish each level!
Various Prizes – with the unlimited reward in form of coins, unlockable items such as skins, and mystery boxes, you will never get tired of this game. Unravel your typing skills in style. You need to win various mini-games that the game has to offer. For instance, you need to beat your opponents in a typing race involving the typewriter machine or defeat them in tying words and sentences that pop up on the game interface. Win to earn more and limitless prizes!
Entertaining Gameplay – everything in this game is entertaining as much as it is educational. You learn as you have maximum fun. You have access to an online gaming mode where you can compete against players all over the world. Here, you can eliminate the rivals by demonstrating your typing speed. Download this dynamic and educational typing race and perfect your typing skills.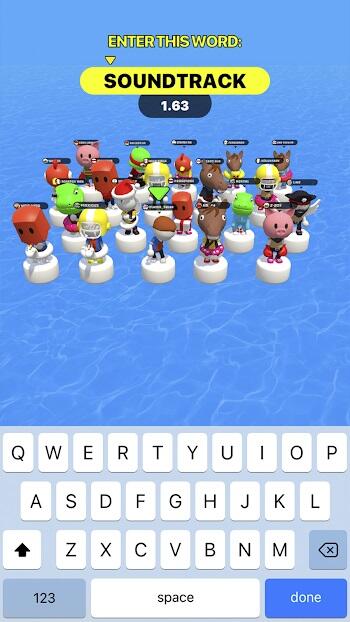 Simple Game Interface – the game has a user-friendly interface that integrates the system keyboard. It also displays a typing speedometer that gives you your typing speed rating. Your current race position, the names of the competitor, and their country of origin will also appear on the screen.
3D Graphics – the minimalist 3D graphics in this game bring out the game environment in a splendid way. The movement of the characters is smooth!
Get the Type Sprint Mod APK Free Download Now
Download the Type Sprint Mod APK now and enjoy an engaging typing game. The Type Sprint Mod APK latest version offers unlimited money and other prizes.