Do you trust your general knowledge? If so, test your skills in Guess Their Answer Mod APK and try to guess the most popular answers and get more audience on your side!
Information of Guess Their Answer
Game trivia shows are popular all over the world. They usually involve contestants, questions and an audience. More importantly, a lot of money and prizes are at stake. If you've always wanted to be part of one, you can now do so thanks to Guess Their Answer. Thanks to this game by TapNation, you will participate in a trivia game!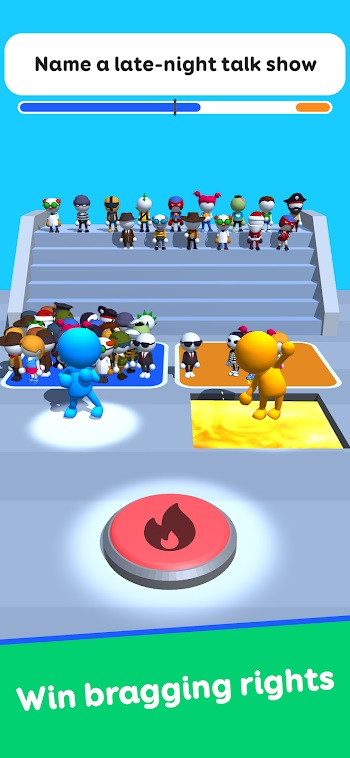 The way this game works is simple. First, you will fight against an opponent with an audience. You will be given common questions that you need to answer by manually typing them. You need to guess the most common answers to the question to get more audience behind you. The one who does win the game! Can you guess all the most popular answers and brag your victory?
What and How does Guess Their Answer Work?
Do you enjoy trivia and game shows? If you do, then it's your time to shine in Guess Their Answer! This game is similar to Family Feud but also incorporates unique mechanics. Overall, it's a game that tests your general knowledge, quick thinking and reflexes. The one with the most audiences at the end of the game wins the match!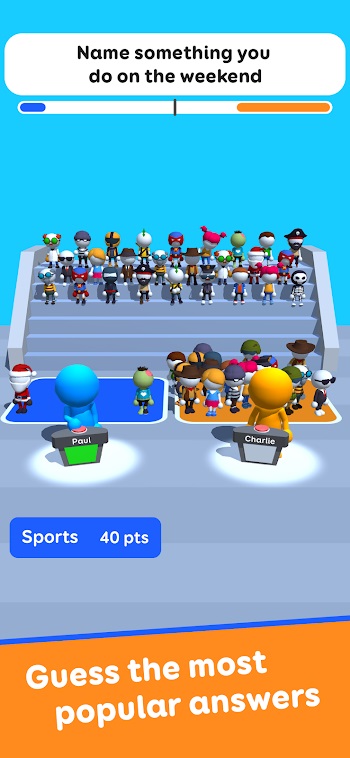 Here, you'll fight against an opponent. Then, you'd need to guess the 6 most popular answers from the audience. For instance, you may be asked to name a superhero. You can then answer Superman, Batman, Thor, Spiderman or any other ones you know. But remember, you should prioritize answering the most popular since that's what a lot of audience would know! The one who gets more audience at the end of the match wins! Guess Their Answer is a simple and fun trivia game you can enjoy when you have free time. Although it may be difficult for some, it's a fun game nonetheless.
Features of Guess Their Answer
Trivia games are a lot of fun for people. These are usually made into game shows such as Who Wants to Be A Millionaire and Family Feud. But if you want to participate in one, here are the features of Guess Their Answer.
A Unique Trivia Game – There have been plenty of trivia games in existence today. There's Trivia, QuizUp, HQ, Trivia 360 and more. But if you're craving for an action and trivia game like no other, then it's time to play A Unique Trivia Game. This one is unique in the sense that you will involve actual audience in the game. Here, you will fight against one opponent in a battle of knowledge. You will be asked a question in which you'll have to provide the 6 most popular answers from the audience. The questions could be to name a superhero, naming something you'd do on a weekend, the most popular breakfast juices, naming a talk-show host and many more! Try to answer the most popular one first so you get more audience on your side.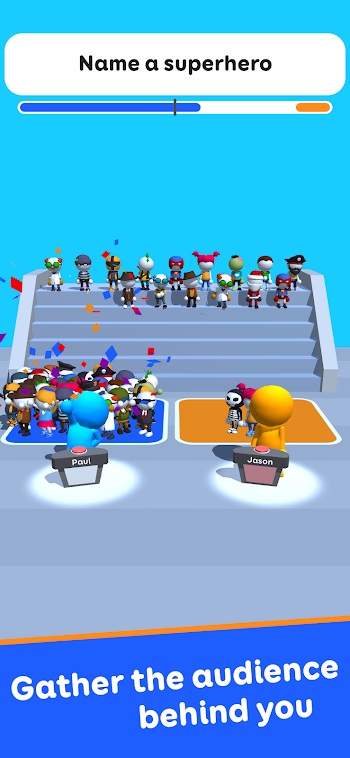 Fight plenty of opponents – Here, you'll have the opportunity to fight against plenty of opponents. Here, you'll play against real people online! This is why this game is such a fun one to play as the stakes are real and high. Once you win, you can proceed to bigger audiences!
Type your answer – You'll face a ton of random general knowledge questions in this game. You just need to type your answers. You may be asked to name a type of transport, a sport, a superhero, a yellow fruit, a fast-food brand and many more. The faster you can type and give the most popular answer, the higher the chances of winning the game!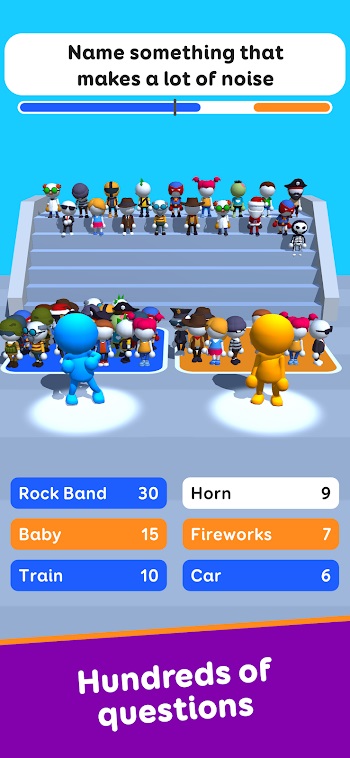 Qualify for tournaments – Each match with a player lasts for 3 rounds in this game. If you win 2 out of 3 rounds, you'll get to qualify for larger tournaments. This is where the audiences are larger and the stakes are higher.
Engaging graphics – This trivia game is a unique one since it involves the audience. Depending on your answer, you can get the audience to your side. The goal is to get as many audiences to your side as possible. This can only be achieved by getting the most popular answers!
Download Guess Their Answer Mod APK – Latest version
Are you a smart guy? Test out your trivia knowledge in Guess Their Answer now by downloading the latest version.