Download the Thief Puzzle Mod APK - Unlimited money, hints game now and solve all tricky puzzles today. Outsmart the puzzles with intelligence and creativity to be able to steal various in-game stuff!
Information of Thief Puzzle
Do you want to play a game where you solve various puzzles, challenge your mind and become a city thief? If that sounds like something you would want to try, join over 10 million playing the Thief Puzzle game now! This amazing game is developed by Weegoon and it is one game in the Puzzle genre that has taken the world by storm.
This game offers us an enjoyable experience where we have to put our brains at work to solve puzzles and steal all kinds of things! The game features a stickman who we will use to perform various actions in the game. You will also have to apply your wits in solving different puzzles while stealing all sorts of in-game stuff. If you are ready to become a cold-hearted thief, download and install the Thief Puzzle APK file now!
Brainpower is Better than Strength
As its name suggests, Thief Puzzle is a cool puzzle game that combines solving puzzles with being a thief! Here, players need to help a thief steal objects at each game level. It might look and sound easy. However, you have to use craftiness, logic, creativity, and precision to find solutions for each puzzle.
The primary objective in each game level will be attempting to steal the object hinted at by the criminal. The gameplay is very simple. The game only needs to swipe around the screen to sketch the movement of the character's arm, which stretches further to reach out for the objects we want to steal.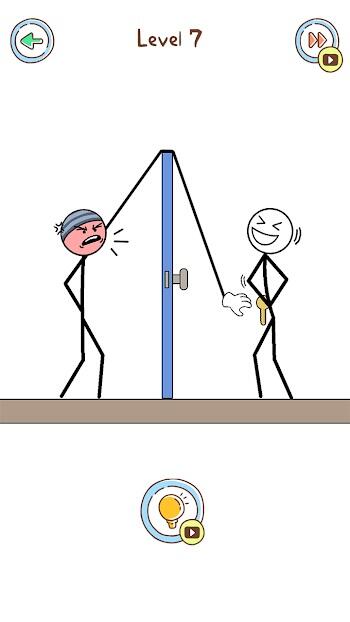 When stealing objects, we need to avoid traps and obstacles. Above all, you need to avoid being caught red-handed! To achieve this, you need to make use of the items in the setting to bypass the laws of physics. If we are stuck, we can watch an ad to get a hint. Download this game today and enjoy what it has to offer!
Thief Puzzle Features
This game comes with many features that make it stand out as one of the best puzzles games! Try it out now!
Solve Various Puzzles – enjoy brain-pushing and endless fun game levels in the Thief Puzzle game. Here, you will get a chance to train your logic, intelligence, memory, creativity, and problem-solving skills.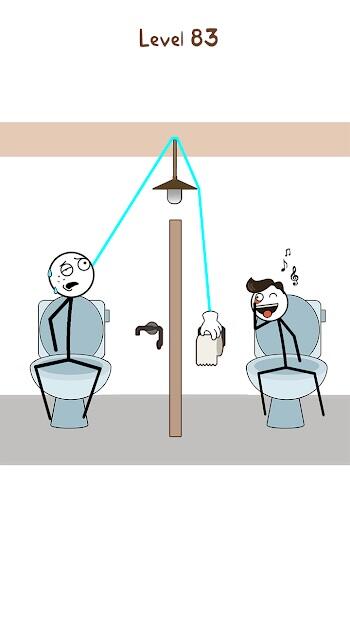 Of course, the puzzle nature and difficulty level of the game increases as you progress through to higher game levels. However, this is not something that will trouble you. All the available puzzles are solved within a few seconds and you do not even have to think hard!
For example, in the early stages of the game, you just have to stretch your arms out to steal a bag, a suitcase, a fruit basket, a ring, a gold bag, and so on. But for advanced levels, you will have to steal expensive things like gold crowns, treasures, pearls, ‌ and more. The real challenge is that they are well-protected.
Become a Crafty Thief – this game has become one of the most popular puzzle games within a very short time. It has made a name for itself, no wonder over 10 million people have downloaded it. The game developer considered creating this game as more of a casual game than a serious one. Therefore, Thief Puzzle is not like those puzzle games that have deeply engaging and complex puzzles.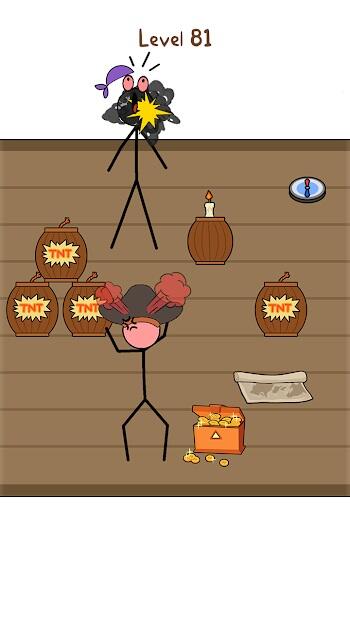 For this reason, the design of the puzzles in this game has a humorous aspect. In this game, you practically become a witty thief who has the task of solving puzzles to be able to steal various objects in each stage. The steps are very diverse. At the same time, they are very simple and you can easily solve them.
Amazing 2D Graphics – this is an original, fun, and simple game featuring the legendary Stickman, who becomes a thief. The 2D graphics in this game couldn't be simpler! With an interesting comic book style, you observe each setting on the vivid display and then slide your finger across the screen to move your thief's arm. The movement of the character is very realistic, courtesy of the sharp graphics effects! The sunny sounds entertain us as we endeavor to rack our brains to solve different puzzles.
Various In-Game Items – surprisingly, this game gives us one constant mission. In every puzzle, you'll have an element that you have to steal! There are lots of things you can steal here! You just have to mark the path the thief's arm has to follow to pick the item. Just ensure that you don't get caught!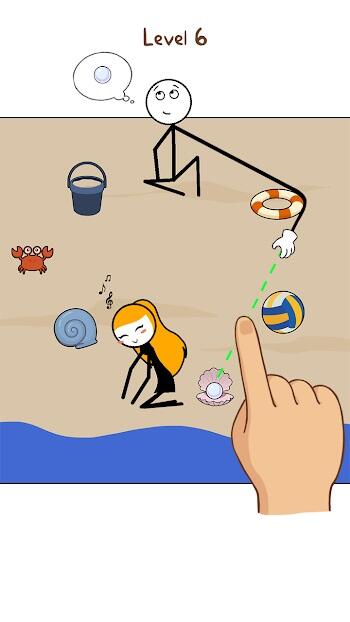 Play Offline – the best thing about this funny game is that you can play without an internet connection. It is basically an offline game that you can play without the internet.
Unlimited hints – if you are stuck and unable to get the solution to a puzzle, click on hints! Get clues on how to find the correct answers to the quizzes you face at any level!
Download Thief Puzzle Mod APK – Unlimited money, hints, no ads
The Thief Puzzle Mod APK offers gamers lots of unlimited money at every level. Every level that is successfully completed will reward us with unlimited money, which we can use to unlock various items!