Download Recharge Please! MOD APK and get engaged with a hilarious puzzle game. This is a perfect mate to enjoy some awesome and unique content.
Information of Recharge Please
| | |
| --- | --- |
| Name | Recharge Please |
| Updated | |
| Compatible with | Android 4.4+ |
| Last version | 3.3.7 |
| Size | 163.38 Mb |
| Category | Puzzle |
| Developer | Geisha Tokyo, Inc. |
| Price | Free |
| Google Play Link | |
| MOD | Unlock skins |
If you love puzzles and brainstorming games, then maybe you'd like Recharge Please! Download for Android now.
It's designed to deliver entertaining and unique fun puzzles, that follow a particular theme. Here, all tricks and riddles are based on connecting the mobile phone with the power outlet.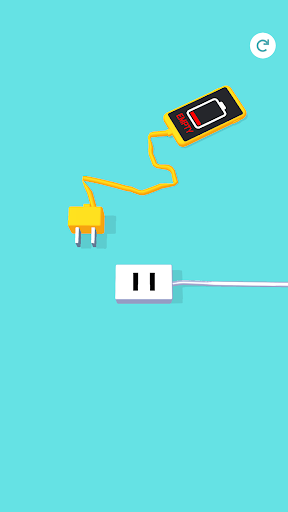 You might want to think twice about the graphics, as the entire game is really simple and features plain 3D graphics.
This amazing game can run perfectly on most medium configuration mobile devices. Apart from that, there are no other special requirements.
Give your phone some power!
It's level-based gameplay. You'll get started with something light, but that won't be forever. Be prepared for some really tough and challenging action as you progress.
In each level, there will be a power output, a phone, and a charger. All you have to do is recharge your dying phone.
However, in the beginning, it's as simple as plugging your phone to its charger in real life. But you got to believe that things are not going to last like this forever.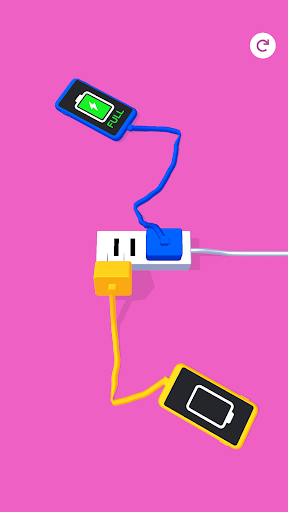 Imagine a complex web of charging wires, where more than 10 people need to charge their phones from the same outlet. Yes, it's all going to come in this game a while later.
More details to spice up
Now that the game is all about recharging the electronic device, it might become boring after some time. Hence, there are some interesting parts in the game to keep your gaming mood fresh and alive.
When connecting multiple devices, you need to connect it to the matching color charger.
Its controls are so easy, that you can play it with just one finger.
If you get stuck or have messed up, there is an option to restart the level. So don't worry, as things are not going to short circuit here.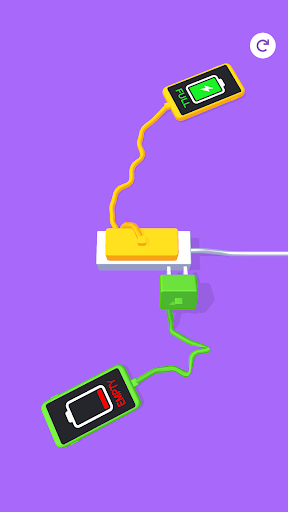 To make puzzles more complicated, one level will feature multiple missions. For example, blow off the paper from the power board by plugging in the fan, so you can recharge your smartphone.
Unpleasant front-end
The only poor part of the front end is its appearance. Not much graphics are featured. The entire screen appears to be plain and regular. Even the background is not appealing at all.
However, the animations are a little impressive. The game is designed in the average frame rate, hence delivering a beautiful viewing experience.
It does make use of multiple colors. Some shadows are implemented, and the level of clarity is satisfactory. You'll be able to enjoy it, but the overall experience is pretty sure to be unpleasant.
MOD APK Features
Recharge Please! MOD APK latest version can give you: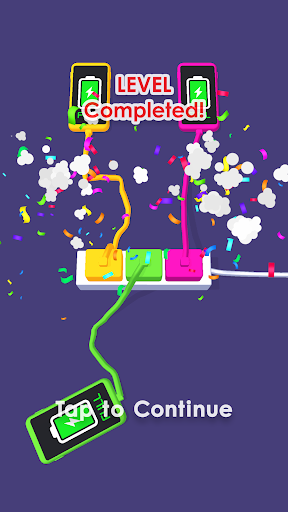 Conclusion
Save your phone from dying, give it some electricity. Solve such engaging puzzles in Recharge Please! MOD APK free download. Download now!