Do you have the wits and cleverness to solve puzzles? You might be surprised by the difficulty of Brain Out! Try it today and try to solve a lot of complex puzzles now!
| | |
| --- | --- |
| Name | Brain Out |
| Updated | |
| Compatible with | Android 4.4+ |
| Last version | 2.4.0 |
| Size | 94.03 Mb |
| Category | Puzzle |
| Developer | Focus apps |
| Price | Free |
| Google Play Link | |
| MOD | Unlimited keys |
Puzzle games are made to make us use our brains. It helps for brain development and exercise. So, if your favorite pastime is to solve crossword puzzles, try a different breed of puzzle game today with the game Brain Out! Test your common sense and complex thinking by solving a lot of levels. There are obvious answers and not so obvious ones throughout the levels!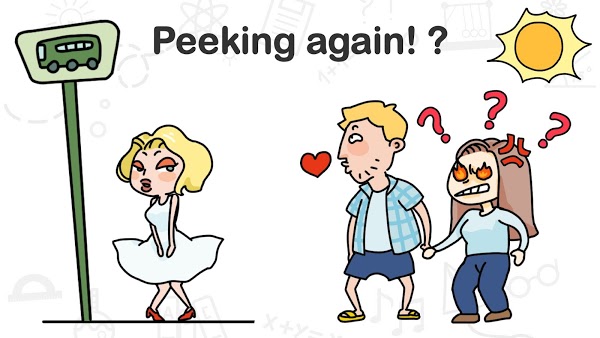 Developed by Focus Apps, this game features some of the most perplexing puzzles you'll ever come across. But you'll mostly need to use your common sense and wits to successfully solve the puzzles. Become an out of the box thinker so you can finish them. Here, the game will test a lot of your brain facets such as memory, accuracy, creativity and more. Enjoy incredible puzzles now!
Exercise Your Brain
Sure, action games may be the best ones in terms of graphics and gameplay, but there are other games that can stimulate you as well. Puzzle games are one of the best games to play when you're doing nothing. They are quick, complex and very exciting. Brain Out is a popular mobile game which has over a hundred million downloads now. What this game excels in is in clever puzzles that forces you to think hard.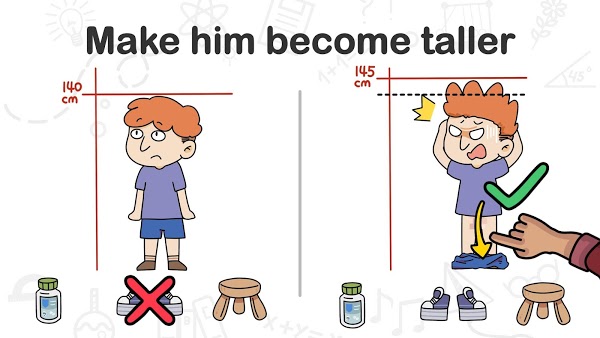 No, the puzzles don't involve you solving complex Algebra or the like although there are still lots of numbers here. Rather, you'll be forced to use your critical thinking skills, creativity, and problem-solving skills. For instance, it asks you to count how many ducks there are. But of course, this isn't an ordinary game as there's a chick that's mixed in with the ducks. This may throw a lot of people off! These are the types of puzzles to expect in this game. But the further you go, the harder it gets and eventually, you'll need to use some keys to get hints!
Brain Out Features
Do you think you have what it takes to solve complex puzzles? If you do, then you should try playing Brain Out at least just once!
A Different Kind of Puzzle – There are a lot of mobile games that can be considered as puzzles. There are crossword ones, matching ones, and lastly, games such as Brain Out. These types of games have become popular over the years thanks to the success of this one. Here, you'll not solve common puzzles. Rather, you'll dive deep into seemingly simple yet interesting puzzles. For instance, you may be asked to find the different watermelon among similar ones. But the answer is different to what you may think as there's a watermelon hiding amongst one! Do you see how you'd need common sense and creativity in solving these puzzles? Go ahead and try solving one!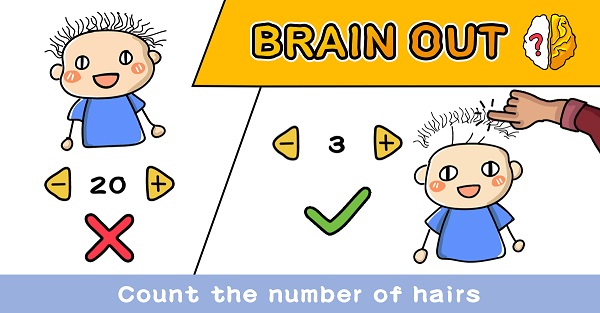 Solve tons of levels – At first, you'll be given some simple enough puzzles that you can solve within a few seconds. But as you complete more, you'll also face tougher puzzles. Sometimes, the answers may not be so obvious anymore! But whatever the case is, the more you solve, the more rewards you can get and the more you become accustomed to the game. Just remember to not take everything at face value. Sometimes, the questions are even involved in the answers! This is why you must try to do everything. Thankfully, you can try to tap and try as many answers as you can. Also, there are no time limits as the puzzles are hard enough as is. Overall, there are many puzzles to keep you busy for a long time!
Use hints – Sometimes, even the smartest ones won't be able to solve some of the puzzles in Brain Out. In those cases, you can get the help of hints! You can see the keys you've collected at the upper-right and you can use those to get clues. But the game rarely gives these out as that would defeat the purpose of the puzzle. For your sake, you should only try to use the hints when you're absolutely stuck on a level. Otherwise, try your best to solve the puzzles even if it takes you more than a minute each!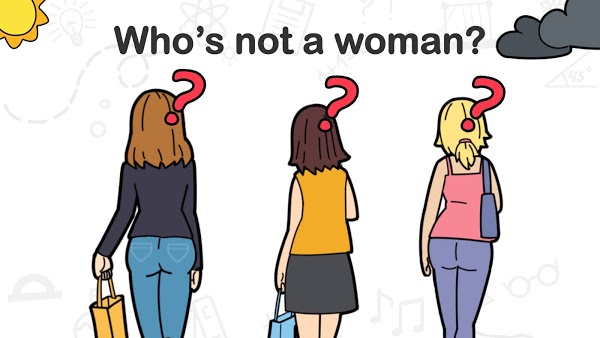 Full controls and amazing graphics – What makes this puzzle game different from others is that the controls are vast. This means that this game lets you drag, tap, drop and do everything just to get the answers. Aside from that, the game features colorful and simple cartoon graphics that are visually appealing! This alone attracts millions of downloads!
Download Brain Out Mod APK – Unlimited keys
Are you ready for the puzzle game of a lifetime? Download Brain Out unlimited keys and instantly get answers.