Download Subway Surfers MOD APK Unlimited coins and keys latest version and participate in hair-raising surfing & running escapades. It has vivid HD graphics to keep you glued to your screens!
Information of Subway Surfers
| | |
| --- | --- |
| Name | Subway Surfers |
| Updated | |
| Compatible with | Android 4.4+ |
| Last version | 3.18.1 |
| Size | 172.08 Mb |
| Category | Arcade |
| Developer | SYBO Games |
| Price | Free |
| Google Play Link | |
| MOD | Unlimited coins, keys |
Note:
Swipe up twice to jump higher
Keep swiping up to run on the air
Subway Surfers APK is an unending running game where you will support Jake to outrun the inspector and his dog. The game has top-grade graphics and a cool soundtrack to keep you thrilled throughout.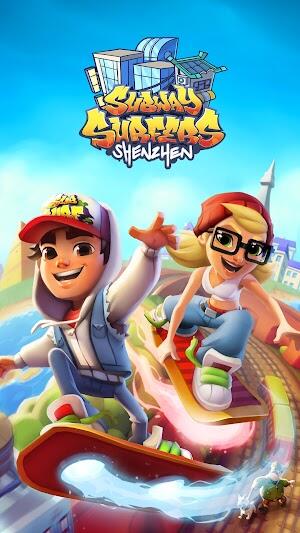 You need to surf through trains, dodge oncoming obstacles, jump over gaps, and collect coins on the way. The game becomes more challenging as you keep progressing. You can use the coins to buy new hoverboards and other cool stuff from the in-game store.
The game also has weekly hunt challenges where you can win prizes by completing certain tasks. Overall, it's a great game to kill time and have some fun.
Subway Surfers - Background Story
The story begins after Jake & his friends are caught spray painting a train by the inspector. To escape, they start running on the railway tracks, and thus, the unending running game begins. The game is set in different cities across the globe, including New York, Sydney, Miami, Beijing, Paris, and more.
You can also participate in the World Tour events that take place in different cities for a limited time. Every city has its unique environment and obstacles. This keeps the game fresh and exciting.
Jump Over Obstacles & Trains
This game features simple controls where you just need to swipe left/right to change lanes and up/down to jump & duck. Swiping down also lets you roll on the ground to avoid getting hit by obstacles. The game gets harder as you keep running because the inspector keeps increasing the speed.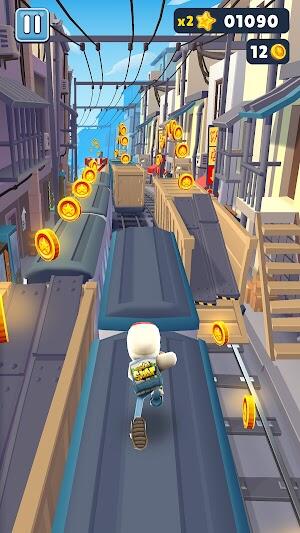 You must be careful while jumping over gaps because a single miss could result in falling off the train and getting caught. There are numerous power-ups to help you out on your journey. The hoverboard is the most useful one as it lets you float over obstacles for a short period.
Collect Lots of Coins
While running, you need to collect as many coins as possible because they are used to buy power-ups & other stuff from the store. You can also use them to upgrade your hoverboard so that it can float for a longer period. The game features numerous in-game items that can be bought with coins.
You can also use real money to buy coins & other stuff from the store. This is not required because you can earn enough coins by playing the game regularly. Overall, it's a great game with simple controls and lots of challenges.
Graphics
Subway Surfers APK features brilliant HD graphics that look even better on high-resolution screens. The colors are vibrant, and the environment is well-designed. The characters & boards are also well detailed and look unique.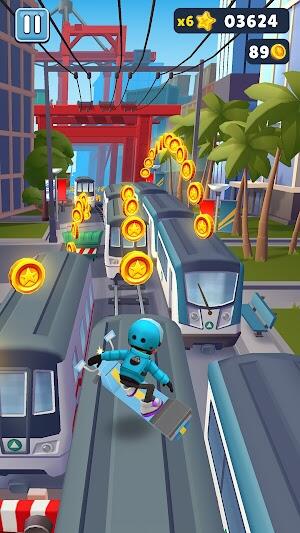 The controls are simple, and the graphics are brilliant. Overall, you can expect a fulfilling, refreshing, and engaging gaming experience.
Unique Features of Subway Surfers APK
Paint-Powered Jetpack. This feature comes in handy when you need a speed boost. It allows you to fly over the tracks and avoid obstacles. Once you activate it, you should keep collecting coins to maintain the jetpack's power.
Hoverboard Surfing. This is another cool feature that lets you float over the tracks for a short period. It comes in handy when you need to avoid an obstacle or jump over a gap. You can also use it to travel long distances without getting tired.
Lightning-Fast Swipes. The game requires you to swipe quickly to change lanes and avoid obstacles. This is a great way to improve your reflexes and coordination.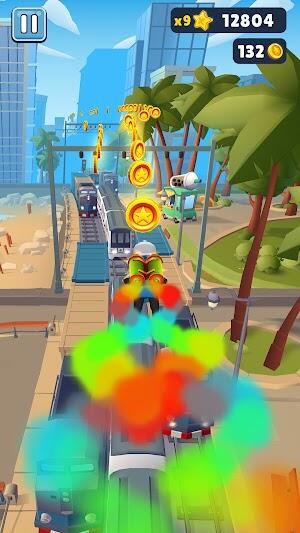 Perform Acrobatics! You can also perform acrobatics in the game by swiping up quickly. This is a great way to earn bonus points and travel longer distances. The more acrobatics you perform, the more points you earn.
Well-Designed Environments. You will go over different environments in the game including cities, forests, and more. Each environment is designed to be unique and challenging. However, what makes the game stand out is the underground environment. It's dark, mysterious, and full of surprises. You never know what's going to happen next!
Subway Surfers MOD APK for Android
If you want to boost your score and get an edge over your opponents, you can download the Subway Surfers MOD APK 2023. Here's how you stand to benefit:
Subway Surfers MOD APK Unlimited Coins and Keys. This MOD gives you an unlimited supply of coins and keys, so you can buy any power-up or in-game item you want. You will never run out of resources!
Subway Surfers MOD APK Double Jump. This MOD allows you to double jump, which comes in handy when you need to avoid obstacles or reach high places.
Subway Surfers MOD APK Long Jump. This MOD gives you the ability to perform a long jump, which is necessary when trying to reach distant places.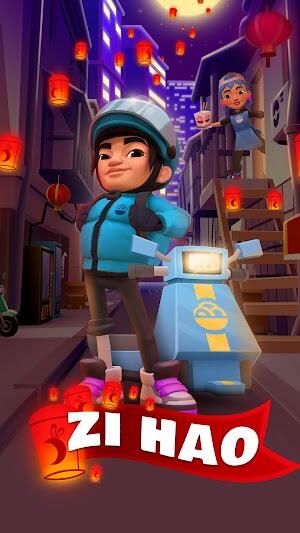 Subway Surfers MOD APK Unlocked Characters. This game has many cool characters to choose from, but they are locked at the beginning. With this MOD, you can unlock all the characters from the start and play as anyone you want!
Different World Tours Unlocked. Whether you want MOD APK Subway Surfers Edinburgh, Subway Surfers Mumbai MOD APK, or MOD APK Surfers Winter holiday, this game has it all! With this MOD, you can go on any world tour you want and explore different places.
No Ads. The Subway Surfers MOD APK unlimited money for android comes with an ad-free gaming experience. You will experience the thrill of the game without any interruptions.
Conclusion
Subway Surfers is a brilliant game with action-packed challenges. It has simple controls and great graphics. The game is also packed with unique features that make it stand out from the crowd. If you're looking for an endless runner game that's worth your time, look no further than Subway Surfers!