Download Zombie Tsunami Mod APK All unlocked and unlimited money to control a horde of hungry zombies. You will run through the streets and eat everything in your path.
Information of Zombie Tsunami
| | |
| --- | --- |
| Name | Zombie Tsunami |
| Updated | |
| Compatible with | Android 4.4+ |
| Last version | 4.5.128 |
| Size | 69.74 Mb |
| Category | Arcade |
| Developer | Mobigame S.A.R.L. |
| Price | Free |
| Google Play Link | |
| MOD | All unlocked, unlimited money |
In most Zombie games, you play as a human trying to survive a zombie apocalypse. But what if the roles were reversed? What if you played as the zombies instead? That's exactly what Zombie Tsunami lets you do.
However, the zombies in this case are not as huge & lumbering as you would expect. If anything, they are quite fast and agile, able to run and jump their way through the city streets. They are also small, and the graphics are not particularly detailed.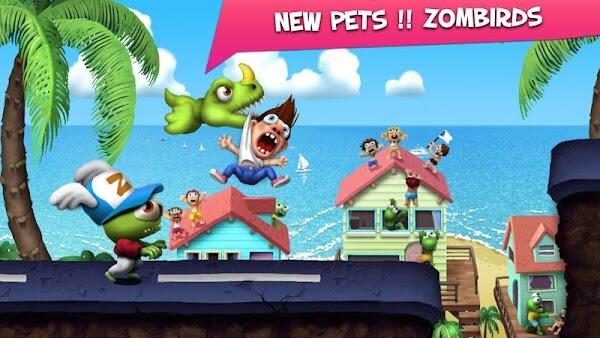 But what the game lacks in graphics, it makes up for in gameplay. The game's objective is to create a zombie horde & then lead them through the streets, eating everything in their path. You can be sure it will be fun. Download it and find out first-hand.
Control Your Zombies like a Pro
In this game, you must showcase your skills in controlling a horde of zombies. While it will be simple at the beginning, it becomes more complex as they increase in number.
You must ensure that they are well-fed so that they can keep running. You will also have to protect them from various obstacles and enemies. It is not an easy task, but it is certainly a fun one.
To keep them healthy & alive, you will devour people in the city. This will create tension in the city, and the authorities will be after you. They will try to stop you by any means necessary. You must use your agility, dexterity, and intelligence to outrun them.
Unlock New Pets - Zombie Birds
Zombie birds will be your loyal companions in this game. They will help you in your quest to create the ultimate zombie horde.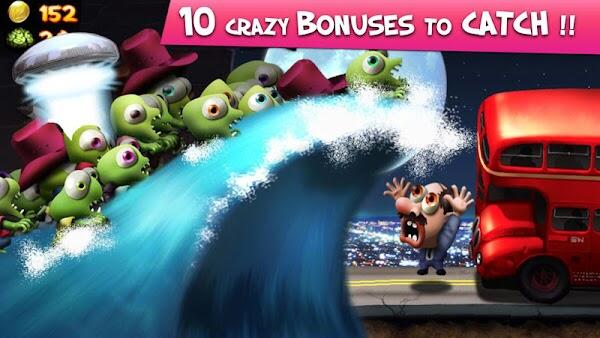 Each bird has a unique ability that will come in handy at certain points in the game. Besides, you can use their powers to destroy obstacles and enemies.
You can unlock them by completing certain tasks or by spending in-app purchases ($1.31 - $132.54 per item). Either way, they are worth it and add an extra layer of fun to the game.
Outstanding Features of Zombie Tsunami APK
Turn Pedestrians into Zombies. This game is about infecting as many people as possible to create the biggest zombie horde. Run through the streets and bite as many people as you can to turn them into zombies like you.
Eat Your Friends. You will require the help of your friends to create the ultimate zombie horde. But once you have reached a certain point, you can start eating them to regain health & boost your score.
Create the Biggest Zombie Tsunami. The game aims to create the biggest zombie tsunami possible. The bigger it is, the more destruction & chaos you can cause. As such, you should always strive to increase the size of your horde.
Many Upgrades. This game has many upgrades that you can use to make your zombies stronger, faster, and more resistant to damage. You can also upgrade their appearance to make them more intimidating.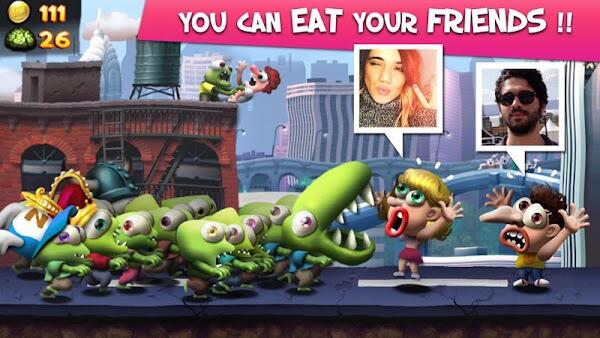 One-Touch Controls. This game has simple controls that can be mastered by even the most inexperienced gamers. All you need to do is tap on the screen to make the zombies jump, duck, or change direction.
300+ Missions. This game has numerous activities with varying difficulties. Once you complete a mission, you will earn rewards that you can use to upgrade your zombies.
Travel All Around the World
In this game, you will travel to different locations while infecting as many people as possible. You will have 11+ different environments to explore, each with its unique challenges.
Whether you want to explore the busy streets of New York or the ancient pyramids of Egypt, this game has it all. There are also many hidden secrets that you can discover along the way.
10+ Crazy Bonuses
This game lets you catch bonuses such as dragons, ninjas, UFOs, and more. These items will come in handy and help you achieve your goals.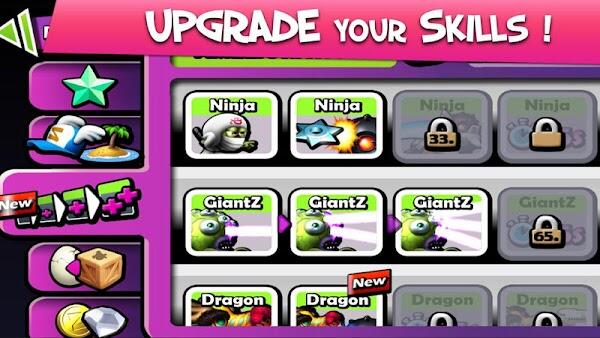 For example, you can use the dragon to breathe fire and destroy anything in your path. The ninja will help you slice through your enemies, and the UFO will allow you to fly over obstacles.
Beautiful Graphics & Sound Systems
This game has simple but beautiful graphics that are pleasing to the eye. The zombies are highlighted in blue, and the background is in a muted tone. This makes it easy to focus/concentrate on the gameplay.
The sound system is also well-done and enhances the gaming experience. The sound effects are realistic, and the music is upbeat and exciting.
Zombie Tsunami MOD APK Download
If you want to access unique features without using in-app purchases, you can download Zombie Tsunami MOD APK 2023. Here are its MOD features:
Zombie Tsunami MOD APK All Unlocked. The MOD version of this game lets you use all the features & items without spending any money.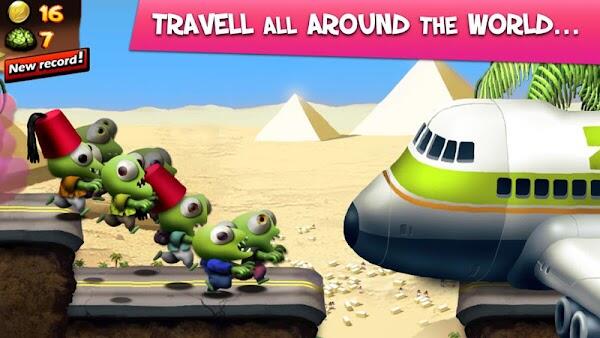 Zombie Tsunami MOD APK Unlock All Birds. Zombie birds are critical to your success in this game. With this MOD, you can unlock them without being bound by requirements.
Zombie Tsunami MOD APK Unlimited Money and Gems. Immediately you download the Zombie Tsunami MOD APK latest version, you will access unlimited resources. You can use these resources to buy anything you want, such as upgrades, bonuses, and more.
Zombie Tsunami MOD APK Unlock All Levels. With this MOD, you can access all the levels without completing missions. This will let you explore the game fully and have more fun.
No Ads. Zombie Tsunami MOD APK Unlock All Items version does not contain any ads. The menu is uncomplicated, and you can build your zombie team without restrictions.
Conclusion - Zombie Tsunami MOD APK Unlocked Everything
Zombie Tsunami is a simple game with an exciting premise. You will control a horde of zombies and travel the world while infecting as many people as possible. The game has simple controls, beautiful graphics, and an excellent sound system.
You can also download Zombie Tsunami MOD APK All Birds Unlocked to access unique features. The MOD version lets you use all the features and items without spending in-app purchases/real money.