Download Hungry Shark Evolution MOD APK Unlimited money and gems latest version and take charge of a ravenous shark to become the king of the ocean. It boasts 3D graphics & cool sound effects.
Information of Hungry Shark Evolution
| | |
| --- | --- |
| Name | Hungry Shark Evolution |
| Updated | |
| Compatible with | Android 4.1+ |
| Last version | 10.4.6 |
| Size | 183.74 Mb |
| Category | Arcade |
| Developer | Ubisoft Entertainment |
| Price | Free |
| Google Play Link | |
| MOD | Unlimited money, gems |
Unlimited diamond
Unlimited money
No ads
Note: Turn off the network to enter the game if the game starts downloading from chplay
About Hungry Shark Evolution
The shark is one of the most feared predators in the world. But what if you get to play as the predator itself? In Hungry Shark Evolution, you will play as a shark that must eat to survive.
The goal is to grow as big as possible and become the top predator in the ocean. The game features multiple environments, such as tropical reefs, underwater caves, and shipwrecks.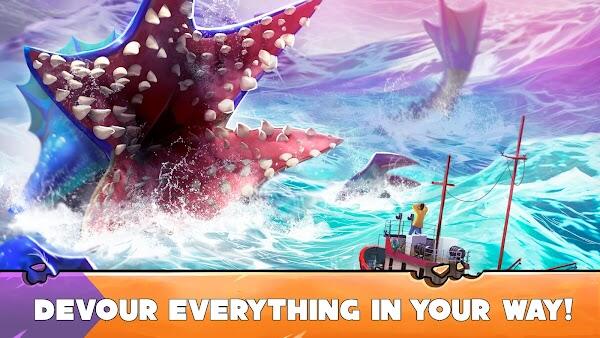 You will start as a small baby shark, but you can grow to be a massive great white shark. You will have lots of fish to eat but beware of the bosses and other predators that can hurt you.
The game is free to play, but there are in-app purchases available ($0.99 - $99.99 per item). You can buy new sharks, upgrade your existing sharks, and get access to special items. This way, you will be able to progress through the game faster.
Evolve Your Shark
If you understand how evolution works, you will know how to play this game. It is all about transforming your little shark into a massive one.
You will start as a tiny pup and then grow into a juvenile. From there, you can evolve into an adult and then a mega shark. Each evolution will give you new abilities and make you bigger and stronger.
Devour Everything on Your Way
This game features powerful sharks that were merged with a T-Rex. It has unimaginable powers, ensuring nothing can escape its wrath. You will have to eat everything on your way, including other sharks, dolphins, humans, and even submarines. The more you devour, the bigger you will become.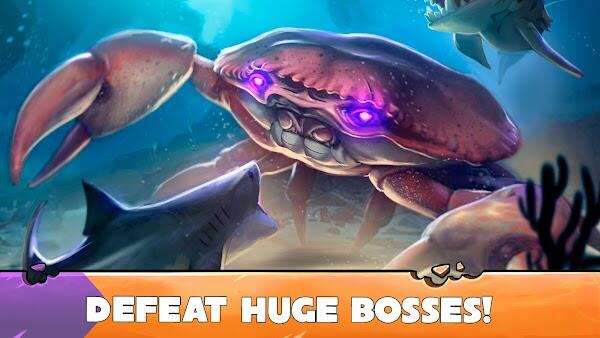 You will also have to be careful of the traps and enemies that are out to get you. The game has many gaming levels, each with unique challenges. You will have to use all your skills to complete the levels and become the top shark.
Explore the Mysterious, Dark Underwater World
While most of the game takes place in the open ocean, there are also levels where you will have to swim through dark underwater caves. Be careful of the creatures that live in these caves as they can hurt you.
The underwater world is full of mysteries and wonders. You will see amazing creatures, such as giant squids and sea turtles. You can also find sunken shipwrecks that are home to treasures. You can collect these treasures to buy new sharks and upgrades.
The game also features a day/night cycle. The environment will change as the sun sets and rises. At night, the underwater world is even more dangerous as there are more predators out to get you. You will have to use all your skills to survive in the Hungry Shark Evolution APK!
Unique Features of Hungry Shark Evolution
Offline Gameplay. Nothing can stop you from playing this game as it can be played offline. You will not need an internet connection to play, making it the perfect game to play when you are traveling.
3D Graphics & Unique Sound Systems. This game takes you on an authentic virtual reality experience with its 3D graphics. The underwater environment is very realistic, and the sound system makes you feel like you are really in the ocean. It gives the ocean a real feel as you can see boats, dolphins, and other sea creatures.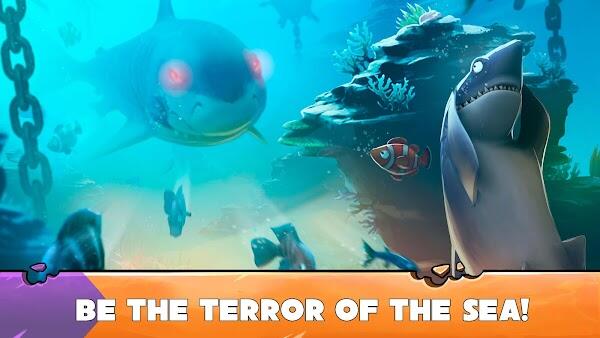 Activate Gold Rush. Besides eating, you must collect coins to progress through the game. One of the quickest ways to get coins is by activating Gold Rush. This will accelerate the rate at which you earn coins. It will prolong your lifespan and make you stronger.
Lots of Unique Creatures. You will have baby sharks and other unique creatures that will be your allies. Along with that, you will find other sea creatures that can help you in your journey.
Recruit Baby Sharks. In this game, you can have baby sharks that will help you in your quest. You can unlock them by completing levels and eating specific creatures. Each baby shark has its unique ability that can help you in the game.
Unlock Helpful Accessories. This game enables you to equip yourself with different accessories that will make you stronger. You can have lasers, top hats, and jetpacks that will make you more powerful. Use these accessories to take down your foes and become the best shark!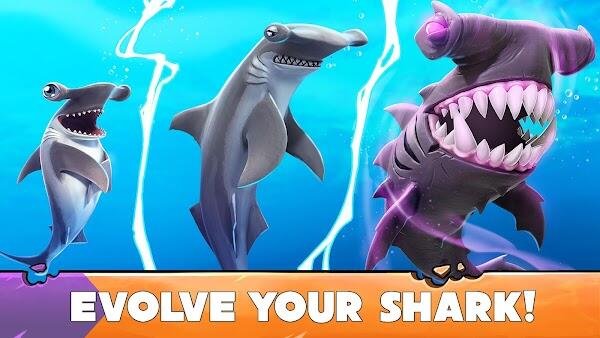 Participate in In-Game Events. This game features different in-game events that will keep you coming back for more. There are daily and weekly quests that will give you rewards.
Simple & Intuitive Controls. Swipe your finger across the screen or tilt your device to control the shark.
Hungry Shark Evolution MOD APK Download
If you don't want to use in-app purchases, you can download Hungry Shark Evolution MOD APK 2023. This modded version offers these extraordinary features:
Hungry Shark World MOD APK Unlimited Money and Gems. You can buy anything you want in the game as you will have an unlimited supply of money and gems. This way, you can buy the best sharks and upgrades.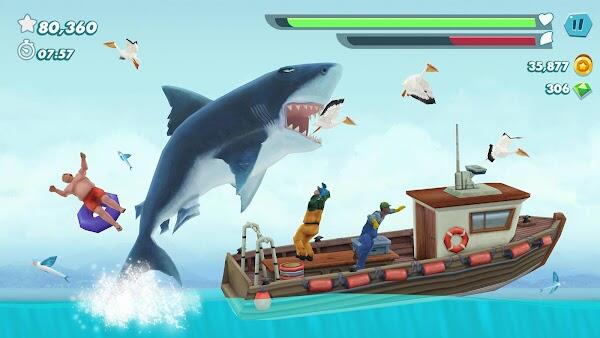 All Items Unlocked. With the Hungry Shark World MOD APK Unlimited Coins and Diamond version, you will have access to all the items in the game from the start. This includes all the accessories and upgrades.
No ads. The Hungry Shark Evolution MOD Menu APK is optimized to offer clutter-free & flawless gameplay. You will not experience any ads while playing this game.
Conclusion
If you would love to explore the ocean, you should download the Hungry Shark Evolution APK for Android. This game will give you the best underwater experience with its fantastic graphics and sounds.
Additionally, you can download the Hungry Shark Evolution MOD APK new version to get unlimited money and gems. This way, you will have the best sharks, accessories, and upgrades. Download it and start your ocean adventure today!