Do you want to pass time playing in hot pursuits involving a criminal and countless police, download Smashy Road 2? Explore various roads and escape the police!
Information of Smashy Road 2
| | |
| --- | --- |
| Name | Smashy Road 2 |
| Updated | |
| Compatible with | Android 4.4+ |
| Last version | 1.45 |
| Size | 132.55 Mb |
| Category | Action |
| Developer | Bearbit Studios B.V. |
| Price | Free |
| Google Play Link | |
| MOD | Unlimited money |
All Cars Unlocked
Unlimited money
If you have been looking for a game with moderate violence that will arouse the interest of kids and adults, download Smashy Road Wanted 2. This awesome game by Bearbit Studios B.V. is the new series of the all-time intriguing Smashy Road game. With over 5 million downloads on the google play store, you can bet that this is the game you have been looking for. Here, you will play as a criminal being chased by several police cars. Download the game now and drive like crazy to avoid being caught.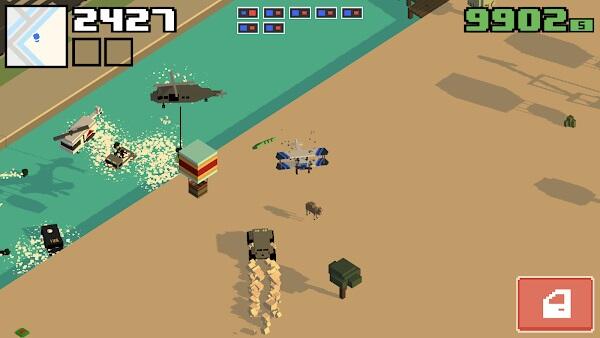 This game has won various awards for its engaging and addictive gameplay. Therefore, it is not a strange game in the world of gamers. It continues the success of the previous series of the Smashy Road game. Drive your vehicle and avoid capture by the police. Your mission is to keep running away from the police with vehicles and excellent car control skills. Ensure you escape the siege to earn more rewards. Top the leaderboard with stunts, destruction, and surviving the pursuits by the police!
Thrilling Police Pursuits
Smashy Road Wanted 2 is an exciting sequel to the racing action where the gamer will attempt to escape prosecution while driving vehicles. With a vast open-world with various locations and exceptional driving skills, the player will outwit the FBI, police, National Guard, FBI, and military. To make your escape easier, you should select the best car with a top speed. You can also customize your car all you want to make it classic and with the desired features like maximum speed.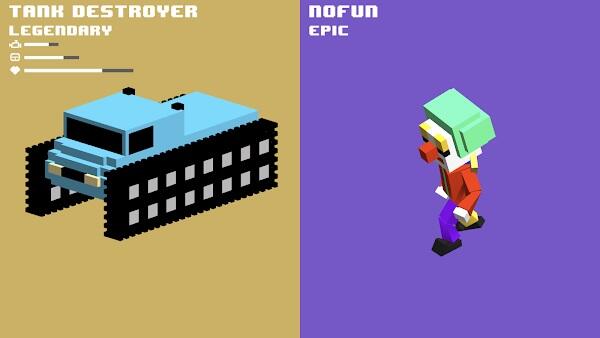 This game brings out better mechanics and new tricks as compared to the original version. All the action in this game is very realistic from the ability to alight and climb into new vehicles, to drifty driving, and more. The player will have a number of items to collect to make the game more stimulating. You will have to go around the 3D city, knock down ticket offices and posters, and cause some chaos by pushing police cars off the road. Download the game and enjoy an endless run in the hot police pursuits.
Features of Smashy Road 2
Smashy Road Wanted 2 comes with lots of amazing features that enhance the overall gaming experience. Here are some of the features that make the game uniquely designed.
Intriguing Gameplay – in the gameplay, players will take on the role of a criminal driving like crazy and being chased by police vehicles. The primary mission is to use any vehicle and your fantastic car control skills to escape the barricades. Smashy Road 2 has a pretty fast pace and more often than not, players will be caught up in rapid, dramatic, and choking car chases.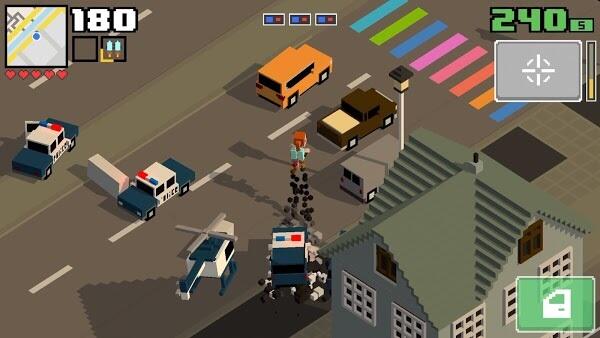 At the start of the game, your vehicles just will be simple cars. By passing challenges, you will collect unlimited money that you can use to buy and unlock modern vehicles. If you are lucky to increase the support for players, your vehicles will be upgraded gradually. Get the game now and experience the thrilling and challenging city roads and fierce races!
Dozens of Customizable Cars – this impressive racing game offers players a wide selection of vehicles to choose from to escape the police. There are 60 unlockable vehicles and some other 6 mysterious vehicles. It is worthwhile to note that you can test your driving skills using a range of vehicle options. However, you need to overcome a number of challenges to own them. With sufficient money, you will unlock the new vehicles and customize them.
That implies that you will have the modern capabilities of your vehicle and become victorious in every pursuit despite how difficult the challenge is. Customizing features will also be unlocked gradually. Your car collection shows your achievements. The more cars you have, the more likely you are skillful in driving. Download Smashy Road 2 and try to unlock as many cars as possible.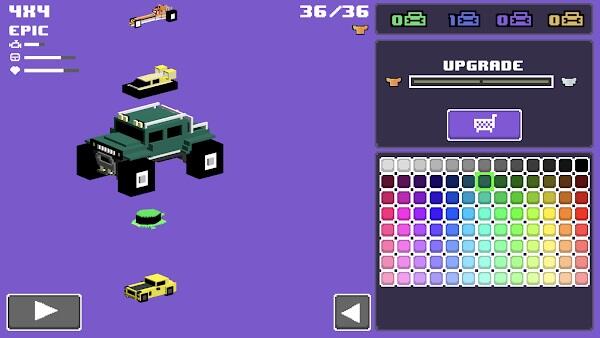 Graphics and Sound – there is nothing that makes a game more stunning than graphics and soundtracks. This amazing game comes with pixel graphics that make the game captivating. The characters are also created with pixel graphics. The police characters are shaped in a cool manner while the main character wears dark glasses like a real Rambo.
The graphics also vividly bring out perfect shapes of vehicles and tanks. The colorful pixel graphics in this game offers distinguishable shapers and player are always sure to tell the kind of car they have at first glance. The entertaining soundtracks make the game more electrifying as you attempt to outrun the police vehicles and tanks.
Different Environments – Smashy Road 2 has vivid background characterized by a design of unique racetracks. The game immerses the players in a recreated world with realistic objects and environments. For example, the game has dry and hot deserts, busy training roads, city highways, etc. On these roads, players will bump into mysterious challenges. In addition, they will have more chances to discover lurking mysteries of each road.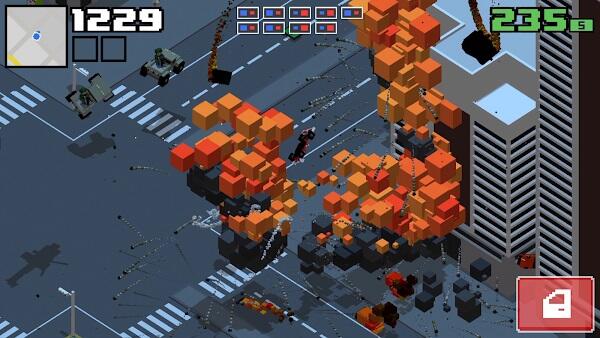 Unlock Everything – when playing this epic racing game, you be able to unlock everything. For instance, you can unlock cars with special features to help you speed off during pursuits or unlock over 60 game characters. In addition, you can also unlock more features. Continue winning to make more coins that can help you unlock anything you want!
Download Smashy Road 2 MOD APK Latest Version – Unlimited Money
If you are passionate about speed and satisfaction, download the Smashy Road 2 game. With unlimited money and game items, you will definitely not be disappointed.