Download Brotato Premium APK latest version for an intense top-down arena shooter game. It features roguelite gameplay challenging you to fight brutal aliens.
Information of Brotato Premium
| | |
| --- | --- |
| Name | Brotato Premium |
| Updated | |
| Compatible with | Android 6.0+ |
| Last version | 1.2.77 |
| Size | 87.5 MB |
| Category | Action |
| Developer | Erabit Studios |
| Price | $3.49 |
| Google Play Link | |
| MOD | No MOD |
As the name suggests, Brotato Premium APK for Android challenges you to use potato-like character models to fight off hordes of mysterious creatures. It features 46+ weapons, and you can use at most 6 of them at a time to annihilate fierce enemies.
In the beginning, the adversaries will be sparsely populated in the arena, giving you enough time to strategize. However, the game becomes more complex as the opponents increase in number & strength.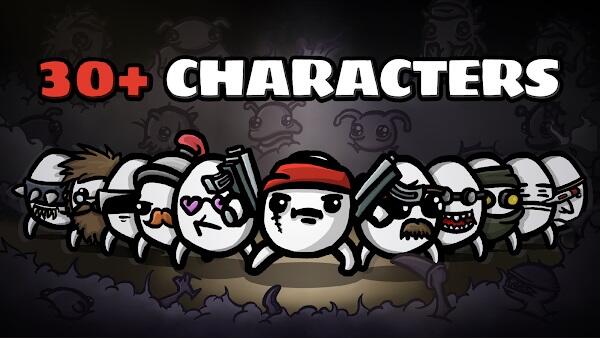 As such, you must be dynamic in your approach. Ensure you regularly change your strategy, weapon set, and battle tactics. This way, you will always have a sturdy defense in the onslaught.
Overall, this game guarantees an adrenaline-pumping & mind-stimulating adventure. Get the Brotato Premium APK 2023 (newest version) and unleash your shooter skills on a digital battlefield.
Brotato Premium APK Download- Background History
If you're an ardent gamer, you understand the roguelite principle. It requires you to sharpen your skills and take on relentless enemies. This game niche has rapidly risen in popularity due to the challenging story and enemy waves.
As a result, you can find many games in the niche, including Necromancer Returns APK, The Last Survivor APK, Nightmare Hero Rogue-Lite RPG APK, Ascent Hero Shooter APK, and Soldiers Never Die APK. The newest entrant, Brotato Premium APK (released March 27, 2023), heightens this concept, offering you an intense top-down shooter game.
To that end, Brotato Premium APK comes with even more weapons and epic levels to enhance your gaming experience. Download now and enter the ruthless battlefields of Brotato.
Fast-Paced Gameplay
In Brotato Premium APK, players take control of Brotato as he battles against waves of enemies. It is a top-down arena shooter roguelite that tests your reflexes and strategic planning skills. As you level up, you acquire access to an increasingly robust armory of firearms like laser guns, shotguns, and rocket launchers.
With Brotato, you can customize your character in countless ways. You'll select traits such as increased damage rate, decreased reload time, and regenerated health. What's more, the game is littered with items that can provide you with power-ups like invincibility and faster movement speed.
The game emphasizes strategic thinking, as each wave of enemies requires a different approach and load of weapons and items to succeed. You must carefully plan your attack to overcome the relentless waves of enemies. When it comes to utilizing your weapons and items, you must proceed with caution since they come in limited quantities. Be sure to track how many times these resources can be utilized before replenishment.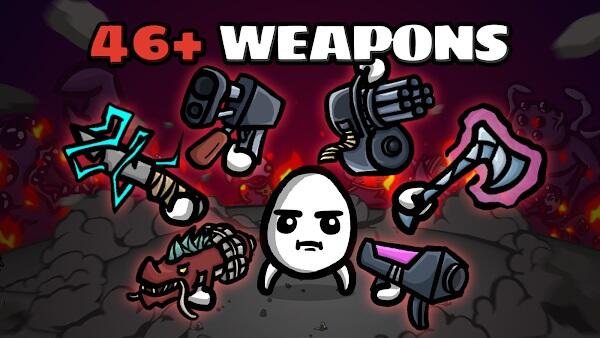 What makes Brotato Premium APK truly unique is its roguelite elements. With each game, levels are created anew, and you must start from the beginning. Thus, be prepared for any eventuality as you must muster quick thinking to succeed! As you progress, you can unlock new weapons & items to customize your build even further.
Overall, Brotato Premium APK is an intense top-down roguelite shooter that tests players' reflexes and strategic planning skills. With an ever-increasing arsenal of weapons, traits for customization, and AI-controlled buddy characters, there's plenty of content to keep players entertained!
Other Exceptional Features of Brotato Premium APK
Create Unique Builds. You can control your character's abilities, powers, weapons, and items 100%. As such, you must be creative to try different builds and strategies. Ensure you mix & match various traits and items to create a deadly, versatile build.
Choose your Characters. With over 30 characters, each with a unique shape, skill set, and personality, this game offers plenty of options for your gaming experience. Your decision will shape your weapon loadout, items, and health regeneration rate.
Survive as You Wait for Help. As the sole survivor of an alien attack, Brotato must bravely stay alive until his rescue team arrives. It is up to you to guide him through this tumultuous terrain with all your adept skills and strategic planning acumen for him to come out victorious.
Use 6 Weapons Simultaneously. This game is packed with a vast array of weapons and items, such as SMGs, sticks, flamethrowers, rocket launchers, stones, and grenades. However, Brotato can only wield up to 6 weapons simultaneously. Thus, you must meticulously strategize your loadout for each level to give yourself the best possible chance of survival.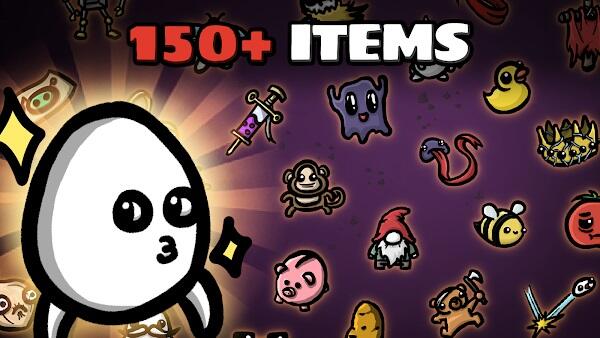 Offline Mode Available. Brotato Premium APK is available in online and offline modes, and you can continue your adventure anywhere. However, offline mode lacks cloud saving, meaning you can lose progress in case of a device malfunction.
Auto-Firing Weapons (Default) & Manual-Firing Weapons (Optional). Brotato Premium APK enables you to access auto and manual firing weapons. With the auto-firing feature, your weapon will fire on its own while you manage where it is aimed at. With a manual-firing option, you must press the screen each time for shooting, adding an extra layer of difficulty and giving more control over your arms.
20-90 Seconds Waves. This game features waves that last up to 90 seconds and escalate in difficulty from one wave to the next. You'll be faced with growing numbers of enemies, increased health levels, and more dynamic attack styles as you advance.
Numerous Items to Collect. With an extensive arsenal of 150 weapons, items, and power-ups, you can make it through this treacherous terrain unscathed. You can access these resources from crates, chests, or by defeating enemies. As such, arm yourself with health kits, guns, and armor for extra protection & special buffs that grant you a competitive advantage.
Easily Customizable. You can control your enemies' vitality, velocity, and destruction capacities. Plus, you can customize their strike strategies and regularity of assaults according to what suits your aptitude level or preferences best. This gives you the advantage of customizing difficulty levels (matching your skillset and desires).
Beautiful Graphics. This game utilizes simple yet mesmerizing 2D graphics and colors, immersing you in an enthralling atmosphere. Every wave introduces captivating visuals and thrilling particle effects.
Immersive Sound Effects & Music. As you wade through the waves in Brotato Premium APK, you'll be captivated by an intense soundtrack and sound effects that complete this immersive experience.
Simple Controls. This game provides pinpoint accuracy as you move and shoot. Furthermore, the controls can be tailored to your gaming style, making it effortless and natural.
System Requirements and Additional Information
Brotato's adventure requires at least Android 6.0 and up, which means it is compatible with most modern devices. It is only 60MB and requires approximately 200MB of free storage space with at least 1GB RAM (2GB recommended) to work optimally.
The game has in-game purchases (optional). You can use them to get extra lives, weapons, items, and traits.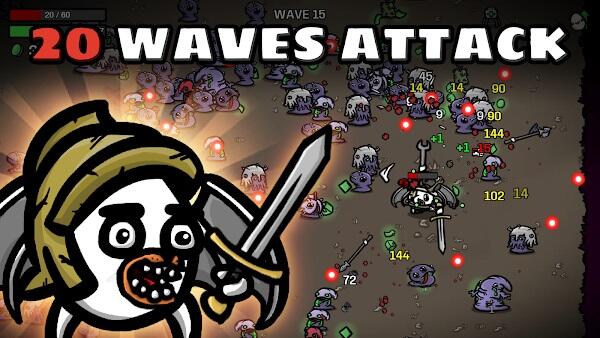 Ultimately, Brotato Premium APK MOD provides an enthralling experience with its intense roguelike gameplay and engaging visuals. With Brotato as your trusty potato hero, you must collect resources and fight against alien hordes to survive until help arrives.
Tried and Proven Tips & Tricks to Play the Game
Master the Controls. Practicing will give you the edge when steering and aiming with precision.
Customize Your Arsenal. Take a minute before each wave starts to ensure your weapons are ideal for the challenge ahead, from handguns to submachine guns or rocket launchers!
Collect Items on Your Way. Keep a sharp lookout for crates, chests, and other provisions that can help you stay alive longer.
Use Boosts Wisely. Utilize special buffs and power-ups to overpower your foes, thereby dominating the battlefield.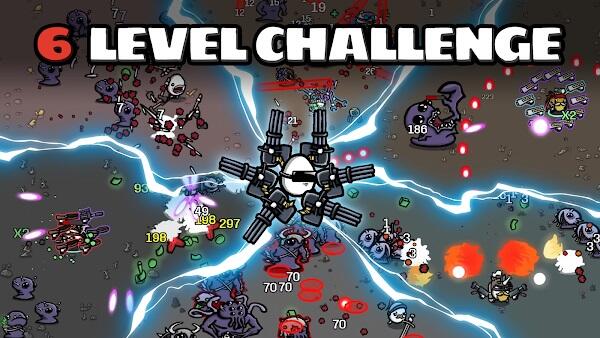 Stay on the Move. While shooting, always keep moving. This way, you won't become an easy target for alien hordes.
Take It Slow. Rushing will not help you in the long run, so take your time to analyze each wave for maximum efficiency.
Conclusion
Brotato Premium APK is an intense and action-packed roguelike shooter optimized for touchscreens. It challenges players to face off against alien hordes using up to 6 weapons. You must collect resources and use them wisely to survive while you wait for help.
Furthermore, the game boasts mesmerizing visuals and audio to draw you in until the last second. Moreover, you can personalize controls, weapons, items, and other details to create an experience suited to your desires. Download the game now and show off your potato-shooting skills.