Download Robbery Bob 2 Mod APK Unlimited money and coins Latest version and cunningly avoid traps, security guards, and dogs in your stealing missions. It has numerous levels & lots of rewards.
Information of Robbery Bob 2
| | |
| --- | --- |
| Name | Robbery Bob 2 |
| Updated | |
| Compatible with | Android 4.4+ |
| Last version | 1.9.9 |
| Size | 81.09 Mb |
| Category | Action |
| Developer | Deca_Games |
| Price | Free |
| Google Play Link | |
| MOD | Unlimited money |
Unlimited coins (Increase when spent)
Robbery Bob 2 APK is a sequel to the well-known and acclaimed stealth game, Robbery Bob. You will step into the shoes of Bob, the hapless burglar intent on changing his way, albeit unsuccessfully. In this game, you will help him steal, sneak and swindle his way through an assortment of levels if he wants to make it out alive.
Use your wits to avoid detection as you attempt to rob houses, stores, and museums. Steal to your heart's content but don't get caught – the ever-vigilant security guards, angry animals, and nefarious traps won't make things easy for you.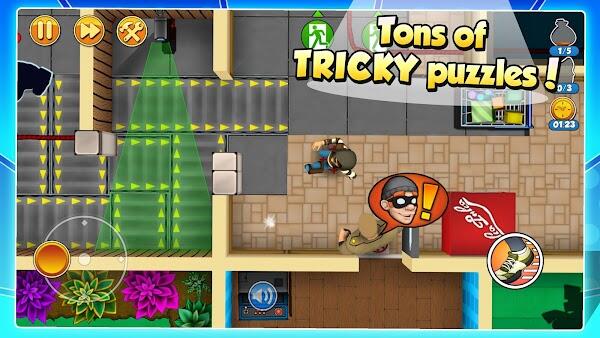 Robbery Bob 2 is an action-packed game of stealth and skullduggery. With more than 100 levels to test your skills, it's up to you to help Bob avoid the watchful eyes of guards and security cameras, and make a clean getaway with all the loot.
Puzzle-Laden Gameplay
Each level in Robbery Bob 2 is a puzzle you must solve to progress. To make your escape, you must use all of your cunning and guile – there is no room for error.
You should also think carefully about every move you make, as one false step could spell disaster. Use the environment to your advantage, and keep your wits about you if you want to make it out alive.
Additionally, you can now use Bob's new acrobatic abilities to reach previously inaccessible areas and find even more loot. Just be careful not to make too much noise, or you could attract unwanted attention.
Different Types of Traps & Obstacles
This game has different types of obstacles that will come your way. Your success in the game will depend on how well you solve the puzzles and avoid the traps. Some of the obstacles you will encounter include: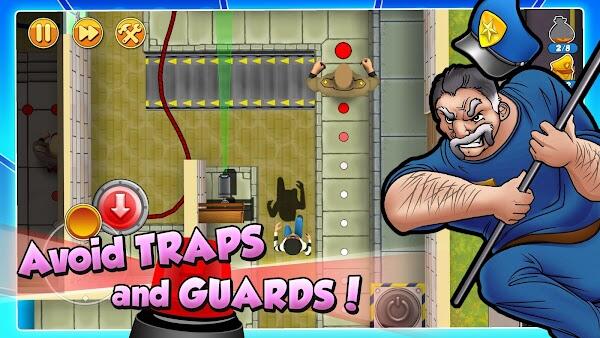 Security Guards. Most homeowners have hired security guards to protect their property. This is especially true for high-value targets such as museums and jewelry stores.
Traps. There are a variety of traps that you will need to avoid, including tripwires, pressure plates, and laser beams. Each trap is different, so you will need to think carefully about how to disable it.
Dogs. Dogs are one of the most difficult obstacles to overcome, as they can smell you and give away your position. You will need to use your cunning and guile to distract the dogs and make your escape.
Security Cameras. Security cameras are another obstacle that you will need to avoid. If you are caught on camera, the alarm will sound, and you will be caught. You will need to use your stealth skills to avoid being seen by the cameras.
Each of these obstacles requires a creative solution to pass, and it is up to you to figure out the solution. With more than 100 levels to play, you will have your work cut out for you.
Plan a Wedding for Mobster's Daughter
One of the challenges in this game is to help the mobster's daughter plan her wedding. This is a unique challenge that will test your puzzle-solving skills.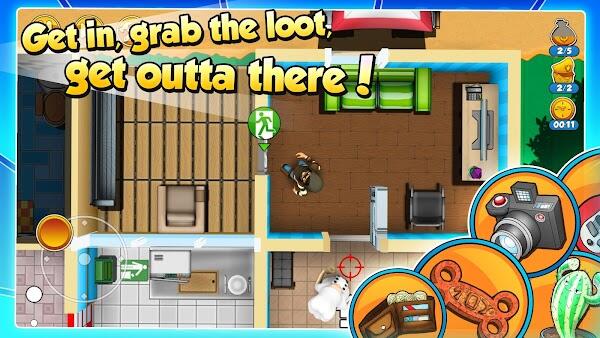 You will need to help the bride-to-be choose a dress, cake, and flowers, as well as solve various puzzles to progress. This challenge is not for the faint of heart – only the most cunning players will be able to help the mobster's daughter plan her perfect wedding.
New Features
This sequel features a few improvements and new features, including:
New Characters. This game features a few new characters, including Ghosts, Old Lady, Mountain Goats, Civilian, Dog, and Security Guard. These new characters will provide you with new challenges to overcome.
New Outfits. This game allows you to unlock new outfits for Bob. These outfits will help you to blend in with the environment and make it easier for you to avoid detection. Ensure that you find all the outfits to unlock your true potential.
New Levels. There are more than 100 levels to play in this game. Each level is different, and you must your expertise to make your way through them.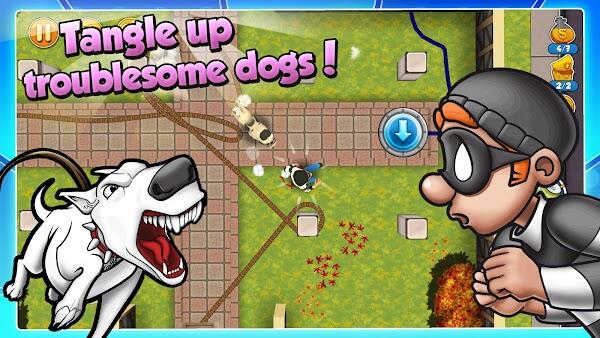 New Comics. This game features a few new comics that you can collect. These comics will provide you with a glimpse into Bob's life and his misadventures. Be sure to collect all the comics to unlock the true ending of the game.
Better Challenges. This game features improved challenges that will test your skills. With more difficult puzzles and traps, you must unleash your inner thief to make your way through this game.
Other Outstanding Features of Robbery Bob 2 APK
Stop Dr. Thievious Evil Plans. This game features the return of the nefarious Dr. Thievious. He is up to his old tricks, and it is up to you to stop him. This time, he has his sights set on world domination. Can you stop him before it is too late?
Do Aliens Exist? This game features a new conspiracy theory – aliens. Are they real, or are they just a figment of our imagination? You will need to use your wits & creativity to find out the truth.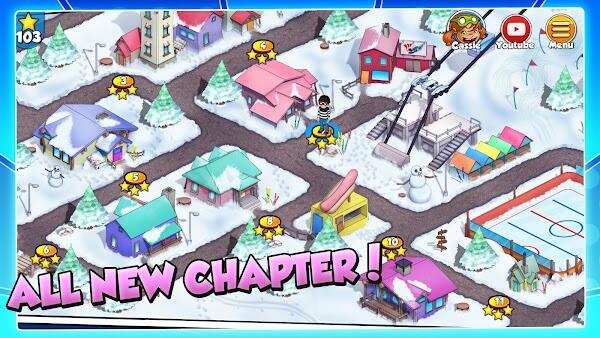 Hide and Seek. You will tip-toe, crawl, and sneak your way through this game. With improved hiding mechanics, you will be able to avoid detection more easily. Use your skills to make your escape without being seen.
Lots of Unique Locations. You will roam the streets of Seagull Bay, Playa Mafioso, and Shamville. You will sneak your way through each of these unique locations, avoiding detection while you try to find the treasure.
Be Mischievous. You can use Teleportation Mines, RC Cars, Springboards, and more to cause mischief. Use your skills to cause havoc and have fun with this game.
Robbery Bob 2 MOD APK for Android
The Robbery Bob 2 MOD APK download features improved gameplay mechanics. Here are some of its features:
Robbery Bob 2 MOD APK Unlimited Money. This game features unlimited money, which you can use to buy items and upgrades.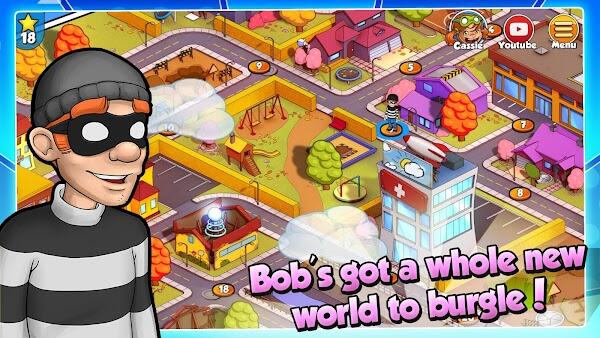 Robbery Bob 2 MOD APK Unlock All Level. This game features all levels unlocked. You can start playing from any level you want.
No Ads. Robbery Bob 2 MOD APK 2023 comes without any ads. It means you can concentrate on guiding Bob.
Conclusion
Robbery Bob 2 MOD APK is an interesting puzzle game that will keep you entertained for hours. With improved gameplay mechanics and new challenges, this game is a must-play for all fans of puzzle games. Download Robbery Bob 2 MOD APK now and start playing.