Download One Gun Stickman Mod APK Unlimited money and level Latest version for an intense shooting & fighting gaming experience. It has diverse enemies, including monsters and zombies.
Information of One Gun Stickman
One Gun Stickman APK is an RPG game that combines action and adventure. Its graphics are super crisp and has cartoon-like stickman characters. You will participate in a series of battles, using different weapons to kill opponents.
Fortunately, the controls won't give you a headache. You can use the on-screen joystick to move your character and tap on the screen to shoot. The game also has some simple puzzles for you to solve.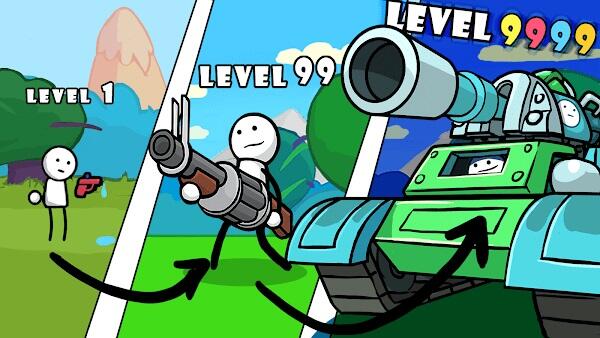 If you want a fast-paced game to keep you on your toes, download One Gun Stickman APK. You will enjoy shooting and exterminating your adversaries. Even better, the game is 47MB and works with any Android 4.1+ device.
Fierce Stickman Battles
This game is all about killing opponents as fast as you can. You will face different types of enemies, from monsters to zombies. The goal is to clear each stage by shooting all the enemies.
You have a diverse arsenal of weapons at your disposal, including small pistols and explosives. Choose the right weapon for each type of enemy. You can also use grenades and Molotov cocktails to clear a stage quickly.
The game gets more challenging as you progress. You will face larger numbers of enemies and more powerful opponents. Fortunately, you can buy better weapons with the coins you earn from each battle.
Be Ready to Face Powerful Bosses
Each stage has a boss at the end. These bosses are tough to beat and have different attack patterns. You need to study their movements and find the right moment to attack.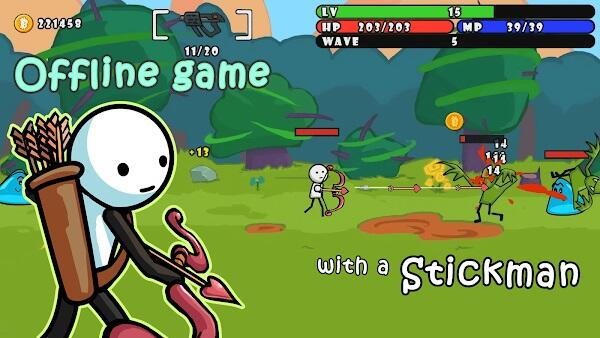 The good news is that you can use grenades and other powerful weapons against them. Be patient, and don't get hit by their attacks. With a little bit of luck, you will defeat them and move on to the next stage.
Your goal should always be to conquer the dark world characterized by deadly zombies and other fierce adversaries. Whichever route you take, the action will be non-stop.
Unique Features of One Gun Stickman APK
Offline Game Mode. This game has several stages for you to enjoy offline. You don't need an Internet connection to play it. They include Battle, Map, and Hell Modes. The offline feature allows you to enjoy the gameplay even when you're not connected to the Internet.
Online Multiplayer Games. You can also enjoy the game with friends by playing the online multiplayer mode. The game pits you against other players from around the world in real-time battles. Note that you need a strong Internet connection to play this mode.
Upgrade Your Items. This game has a wide range of weapons and items for you to choose from. You can upgrade your existing weapons or buy new ones with the coins you earn from each battle. The game also allows you to upgrade your characters' stats, such as health, attack, and defense.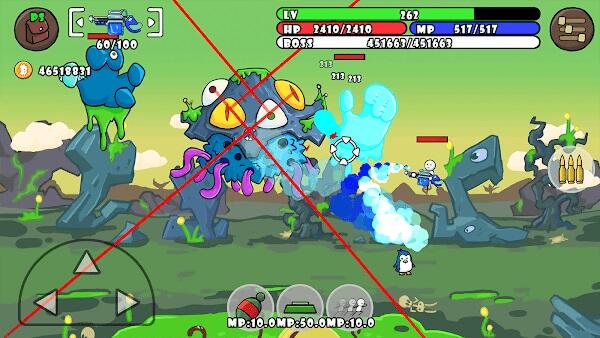 Many Active & Passive Skills. The game has multiple active and passive skills for you to choose from. These skills will help you survive the toughest battles and defeat the most powerful opponents. You can also use them to solve puzzles more easily.
Global Leaderboard. The game has a global leaderboard where you can compare your scores with other players. You will use it to rate yourself against the best players in the world. The leaderboard is updated regularly, so you can check your position at any time.
Super Stunning Graphics and Thrilling Sound Effects. This game has excellent graphics and thrilling sound effects. The graphics are realistic, and the sound effects make the gameplay more immersive. You will feel like you're in the middle of a real battle.
Unlock Unique Skins. This game allows you to unlock different types of skins for your character. Each skin has a unique design, and some of them even offer special abilities. You can use these skins to customize your character and make them more powerful.
Keep Leveling Up Your Gameplay & Weapons
While this game will be simple at the beginning, it will gradually become more challenging as you progress. You need to keep leveling up your gameplay and weapons to survive the tough battles ahead.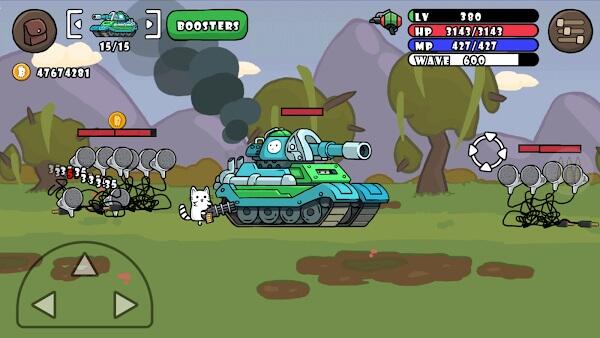 Fortunately, the game provides you with plenty of opportunities to do so. You can use the coins you earn from each battle to buy better weapons or upgrade your existing ones.
Some unique weapons even offer special abilities. They include tanks, guns, and grenades. These weapons will help you survive the most challenging battles.
Use In-App Purchases to Better Your Gameplay
As earlier indicated, this game will gradually become more challenging as you progress. If you find yourself struggling to survive the tough battles. In such cases, you will need to buy items with real money to improve your chances of winning.
There are many in-app purchases available ($0.99 – $28.99 per item), and they include different types of weapons, armor, and skills. You can also use them to buy special abilities. Choose the ones that best suit your needs and make your gameplay more enjoyable.
One Gun Stickman MOD APK Download
If you want to revolutionize your gaming experience and have more fun, download One Gun Stickman MOD APK for Android. This MOD offers these exceptional features: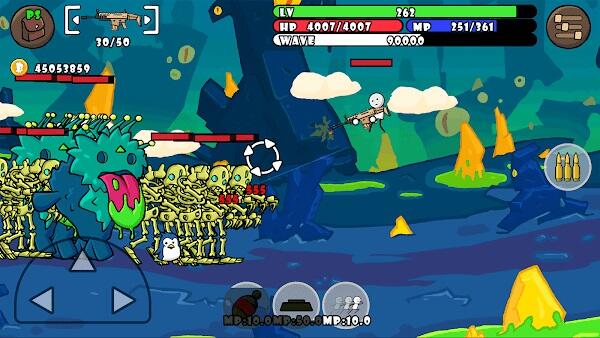 One Gun Stickman MOD APK Unlimited Money and Level. This game has a simple concept, but it's very addictive. The MOD makes it even more exciting by providing unlimited money and level. You can use the money to buy different weapons and items.
One Gun Stickman MOD APK Unlocked Everything. This MOD provides you with everything you need to progress in the game quickly. You will have access to all the weapons, items, and skills. You can use them to defeat your opponents more easily.
No Ads. This game is already exciting, but the One Gun Stickman MOD Menu APK makes it even better by removing all the ads.
Conclusion
One Gun Stickman is a game that combines the best of action and puzzle genres. It is immersive, challenging, and exciting. The One Gun Stickman MOD APK makes it even more enjoyable by providing unlimited money.