Download Magic Call Mod APK Unlimited credits Latest version to make customized calls. You can change the voice and the background to suit your needs and desires.
Information of Magic Call
| | |
| --- | --- |
| Name | Magic Call |
| Updated | |
| Compatible with | Android 5.0+ |
| Last version | 2.0.7 |
| Size | 76.94 Mb |
| Category | Entertainment |
| Developer | BNG MOBILE |
| Price | Free |
| Google Play Link | |
| MOD | Unlimited credits |
Magic Call is a personalization application offered by BNG Mobile. It is ideal for having fun and pranking your friends by changing your voice and background during a phone call.
It has many types of voices and backgrounds, giving you a wide range to choose from. You can test how you will sound before making a call. This is a great way to find the perfect voice for your needs.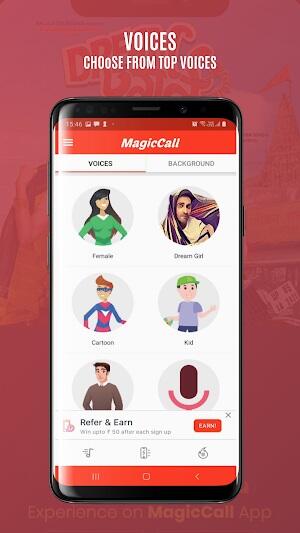 If you've been looking for ways to customize your calls, Magic Call is the perfect app for you. It is easy to use and works with Android 5.0 and above devices.
Why Use Magic Call APK?
With the hustles and bustles of life, you must find a way to break the monotony. Life can be stressful, and you must find ways to let loose and have fun. Magic Call is the perfect way to do that.
It is a great way to have fun with your friends by pranking them with changed call voices. For example, you can choose a kid's voice, and your friend on the other side will be surprised.
This app is also ideal for making anonymous calls without revealing your identity. You can use any of the available voices, and no one will be able to tell it is you. This comes in handy when you want to make a prank call or when you need to make an important call without revealing your identity.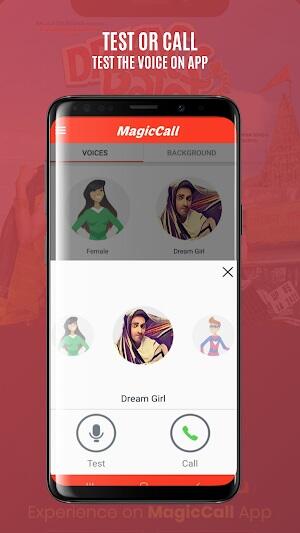 Besides the fun side, Magic Call is also a great way to change your voice for other purposes. If you need to make a professional call and want to sound more confident, this app can help. You can choose a deeper voice that sounds more authoritative.
How to Make Calls Using Magic Call
To make a call using Magic Call, you need to follow these simple steps;
Select a Voice. This app has many different voices that you can choose from. You can test how each voice sounds before making a call. You can choose a male, cartoon, female, kid, or dream girl.
Select a Background. After choosing a voice, you need to select a background. You can choose from different options, including traffic, music, raining sounds, office, and happy birthday tunes.
Select the Contact. The next step is to select the contact you want to call. You can either choose from your contact list or manually enter the number.
Make the Call. The last step is to click the Call button, and your call will be made using the selected voice and background.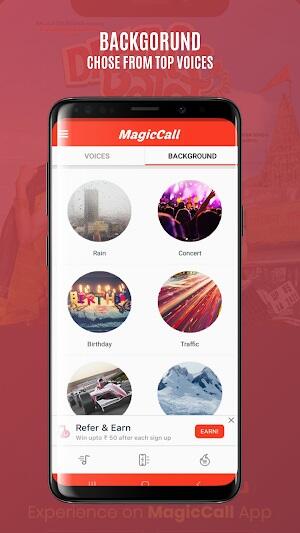 Immediately you start talking, the recipient will hear the customized voice, and the background you chose will play on their side too. You will hear them trying to figure out where you are, and it can be quite funny.
If you don't want to customize your voice, you will have the option of using the regular voice. Just call with no changes, and the person you are calling will hear your regular voice.
Outstanding Features of MagicCall APK
Real-Time Voice Changing. This app offers real-time voice changing. This means that the recipient will hear your changed voice as you talk. This eliminates any chance that the call recipient will detect mischief.
Easy to Switch Voices. You can switch voices in the middle of a call without any challenge. The voice change is seamless, and no one will detect that you changed your voice.
Earn Credits for Registering. When you first register on this app, you will be given some credits. You can use these credits to test out the different voices and backgrounds. After using up your credits, you can buy more or earn them by watching ads.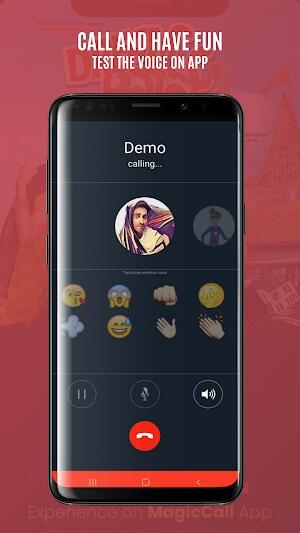 Use on All Devices. Magic Call is compatible with all devices, including tablets and smartphones. As long as you have an Internet connection, you can use this app. It also does not consume a lot of data.
Test Before Calling. This app allows you to test how a voice sounds before making a call. You can also listen to how the selected background will sound on the other side.
Many Different Voices and Backgrounds. Magic Call has many different voices and backgrounds for you to choose from. With so many options, you can be sure to find the perfect customization combination.
Incorporate Sound Emotions. You can use this app to add sound emotions to your voice. For instance, you can make your voice sound happy, sad, angry, or scared. This is a great way to add more fun to your call.
Refer and Win with MagicCall
This app has a simple way of referrals where you can earn credits by inviting your friends. You can use these credits to make calls.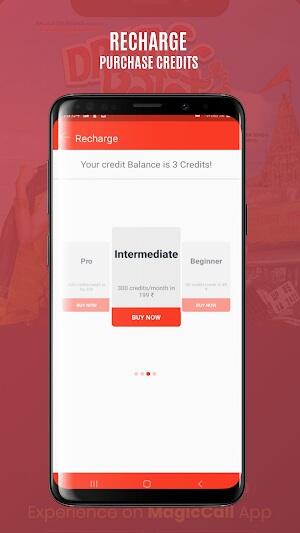 To refer a friend, open the app and go to the "Invite & Earn" section. Here, you will find the referral link that you can share with your friends. When they sign up using your link, you will earn scratch cards.
You will then use these scratch cards to get a chance to win prizes and earn credit. The more friends you refer, the more scratch cards & credits you will get.
Magic Call MOD APK Download
The Magic Call MOD APK 2023 eliminates all the limitations of the free version. For instance, the MOD version offers an ad-free experience.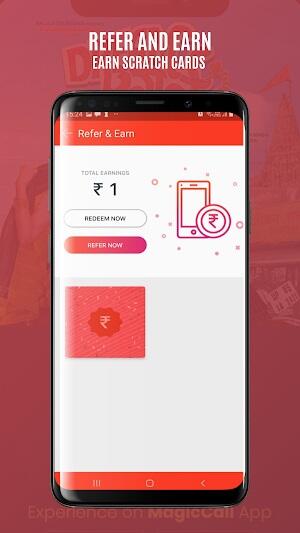 Additionally, the magic Call MOD APK unlimited credits ensure you can make as many calls as you want without worrying about credits. You will also have access to all the voices and backgrounds.
Conclusion
Are you looking for a voice changer for your phone calls? Magic Call APK is the best option. This app is safe to use, and it offers a great way to have some fun with your friends. You can also use it for prank calls. With the Magic Call MOD APK for Android, you will get more features. Try it today!