Live stream your favorite matches in various sports now. Just download Fan Code Mod APK Premium today and enjoy endless sports action! Get Real-Time Live Scores & Updates too!
In the world we are living in, sports unite people more than anything else does. With supporters of teams from various locations sharing the fun of supporting their teams, the world becomes a fun place to live in. in other words, sporting activities offer us a great way to make friends. If you would love to have all casual sports in the comfort of your smartphone device and have all the fun you desire, download Fan Code today! With this app, you will enjoy unlimited live stream sports matches.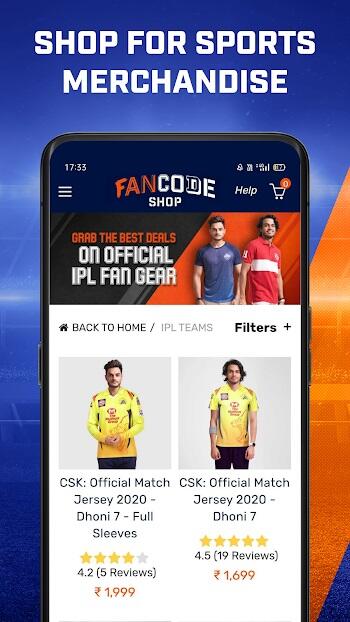 More to live streams, you will also get real-time scoring updates plus other crucial details about the players and teams. What is interesting about this app is that you will watch live broadcasts and follow live scores without interrupting ads. Moreover, the app provides sports broadcasts, sports news, and videos among more. This masterpiece by Sporta Technologies Private Limited offers Soccer, Basketball, Cricket, Volleyball, NFL (American Football League), Kabaddi, and other sports action.
Sports Live Stream And Real-Time Updates
Fan Code is the best sports app without ads where you can enjoy watching sports live streams. You can also record interesting moments of games, track live scores, and sports latest news. Using this app, you have a chance to follow a majority of the world's main sporting events such as Champions League, IPL, NBA, CPL, MLB, Indian Cricket, European Cricket Series, and more.
Currently, more than 10 million users have downloaded this app from Google Play Store. According to the countless reviews by users, the app is popular because it allows sports fans to stream live matches of the world's most popular games like football, Cricket, and NFL.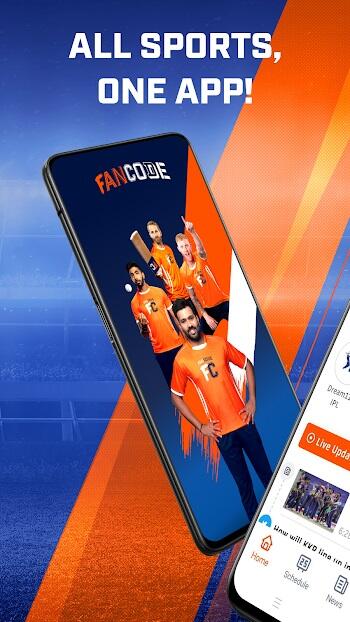 This is a multipurpose platform where users can search for the latest sports news and get fantasy tips and predictions. Notably, sports experts share their opinions and forecasts ahead of the match, making sports betting easier and fruitful. What's interesting is that you can watch an exclusive interview with star players. Aside from that, the app offers real-time scoring updates as well as comments and analysis on your favorite team!
Fan Code Highlights
For every sports fan, nothing excites than watching a match in real-time. It is not always possible since most live streams are premium and require a subscription. However, you can get live streams of almost every sports action and enjoy other features that make this app stand out.
Game Highlights and Pre-Match Analysis – did you just miss your favorite game? Don't worry when you have the Fan Code app! This app collects highlights for users so that they don't miss a single detail of their favorite games. With that said, you have access to all kinds of sports previews, news, and detailed video reports. In addition, you can get notifications of all these sports aspects directly on your smartphone.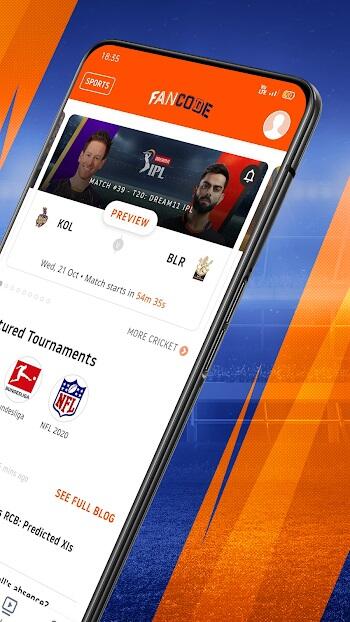 On the other hand, the app has a selection of sporting activities that we can watch including NBA games, live cricket, and live streaming of all sorts of football. Before a match kicks off, you also receive a detailed team analysis, player statistics, injured players' information, pre-match weather reports, and more. Get this app and enjoy all there is in the world of sports!
Unlimited Sports Action – Fan Code combines live broadcast and game live results from soccer, cricket, basketball, kabaddi, NFL, volleyball, etc., in one practical app. This awesome app collects all the news, videos, and sports broadcasts that delight every user and sports fan. However, a larger portion of the information provided by Fan Code covers Football, Basketball, Cricket, Volleyball, NFL (American Football League), and Kabaddi. Keep track of breaking news and live scores. Download this app now and enjoy the best ad-free sports app that you can use to watch live sports!
Availability of Major Sports – there are many sports activities that we can watch worldwide. In Fan Code, you can get to watch live streams and updates on most major sports like football, basketball, cricket, and other leagues. It features numerous international leagues including the NBA, NFL, Super50 Cup, English Premiere League, Bundesliga, La Liga, and more. This implies that you can get vast coverage for most sports when you have the Fan Code app!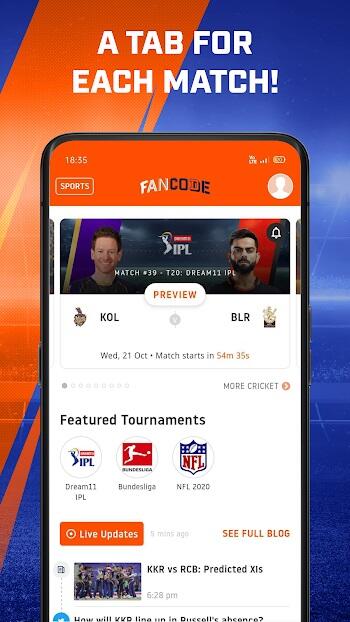 Real-Time Live Scores & Updates – apart from watching live matches, you can also get live scores. For each match, the app features a tab that displays all the actual scores by the second. The app also gives you match previews, match commentaries, video highlights for all matches. Besides, you can schedule upcoming matches for all major sports! This means that you can't miss a single vital thing about your favorite sports, teams, and leagues!
Purchase Sports Goodies – with this app, you can also shop for your favorite team's merchandise like jerseys, t-shirts, shirts, stickers, masks, and other accessories. You can buy any desired items with a click of a button.
Fan Code Mod Premium APK Download – Unlimited Sports Actions
With the Fan Code Mod APK, you can access premium and unlimited sports actions. You can also set and receive personalized notifications!