If you are a huge fan of Indonesian native movies, download this app now. It comes with a range of movies in various genres and has a kid's category.
Information of Bioskop Online
Are you from Indonesia and have been looking for a legal and safe way to watch movies, TV series curated in the Indonesian language? Stop the search now and simply download the Bioskop app! This is an amazing Android app developed and released by PT. Digital Cinema Indonesia. It allows users to watch and download popular Indonesian movies, series, short movies, and TV shows using their smartphones or tablets for free. Currently, thousands of Indonesians are watching their favorite premium content on this app without paying even a single Rupiah!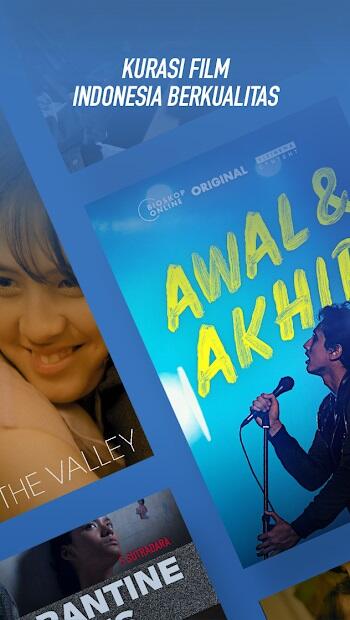 The app offers a variety of the best collection from Indonesian filmmakers. You can now watch various content in HD on your mobile device and avoid the cinemas amid the raging pandemic! This application not only spoils users with a wide choice of favorite shows, but is also equipped with extra features such as 'Share' that lets user us to recommend favorite content to their loved ones via Twitter, Facebook, Instagram, or WhatsApp. Download the app now and enjoy countless Indonesian movies in various genres.
Unlimited Indonesian Movies & TV Shows
In the past few years, the Indonesian government has made various changes in digital laws. Consequently, all android and iOS movies apps from their regions that provide unlicensed and pirated video content are removed. The beauty of this app is that it is legit and doesn't have any illegal content. You will enjoy endless Indonesian entertainment with a huge library of movies and TV shows. Kids have not been left out because this app features the best content for children.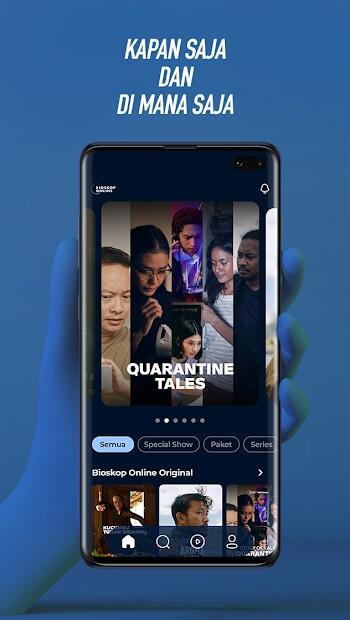 You can easily stream through this awesome application and enjoy the best content in your native Indonesian language. BIOSKOP Online App offers HD quality, through which you can experience the best real-time entertainment experience. Besides, there are multiple features available for the users that enhance better usage of the app.
Features of the Bioskop App
If you are looking for unlimited Indonesian Films, this is the app you should have on your android device. Here are the features of the app.
Unlimited Content – all movies and TV shows on this platform is quality Indonesian content. Bioskop has various options for streaming movies such as Tiga Dara, Quarantine Tales, Filosofi Kopi: Aroma Gayo, the series Awal & Akhir, and others. In addition, users can also enjoy watching virtual events like the Wave of Cinema music festival and other quality films including Kucumbu Body Indahku that got the Best Feature Film Award in the 2019 Indonesian Film Festival.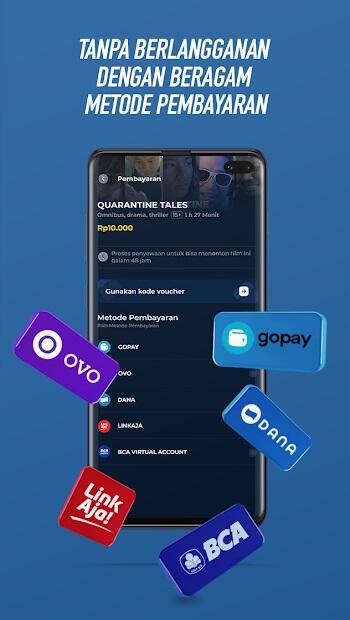 Undoubtedly, there is a vast collection of content available in this app. all content is well-managed in multiple categories for easy navigation. So, you can easily trace your favorite movie from the long list of the available content on the platform without any problem. You only need to select your favorite section, where you will get all the related content in no time. Download the Bioskop online app now and enjoy all the content there is to watch!
Premium & Free To Watch Content – this app welcomes you to a platform of free movies. Truly, the developer of the app understands the need of the Indonesian audience. There is free content and that to be paid for. As a result, users are required to subscribe to get their favorite content. However, they can only pay according to the ticket price of their subscription.
If you are willing to watch premium content, then you can easily buy it through the available payment services including OVO, GoPay, LinkAja, and more. You can also complete the payment services using any available E-wallet App. In case you don't want to pay using real money, there is lots of content you can watch free!
Kids Category – kids' desires have been taken care of with a huge list of Indonesian kids content. Using the Transactional Video on Demand (TVOD) feature, Bioskop Online offers children local video content. Download this app on your kid's Android device and help them get the best kids' movies for their leisure time!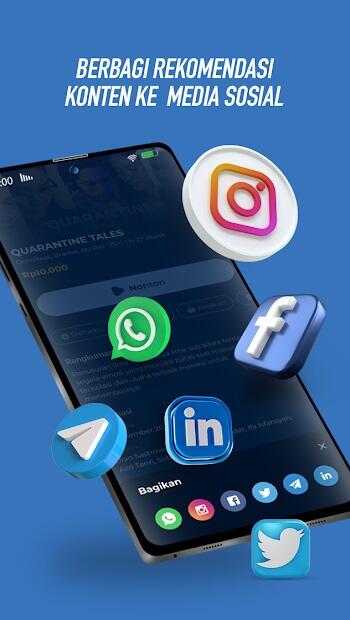 Share With Friends – the app offers a Share feature, through which users share or suggest favorite content with their friends via social media platforms such as Instagram, Twitter, Facebook, or WhatsApp. Don't watch great content alone! Share a link to the content on this app with your loved ones and enjoy watching together.
User-Friendly Interface – the UI of this incredible app is simple. Users can easily navigate the app on an HD-quality display. With thousands of video content on the app, there are various categories and a search button on the user interface to make it easy for you to get your content.
Multilingual Support – the app has subtitles in Indonesian, English, Sinhala, Malay, Burmese, Thai, and Vietnamese. You can select either of these languages to watch your favorite content in a language you easily understand.
Download Bioskop Online APK Latest Version – Unlimited Movies and Series
Enjoy unlimited content including Movies and Series and experience the best Indonesian entertainment. With the Bioskop Online APK, slow internet connectivity will not compromise quality.