Download Kunai Master Mod APK Unlimited money and gems Latest version and defeat dangerous and ferocious bosses. It has beautiful retro graphics and numerous warriors to aid your missions.
Information of Kunai Master
| | |
| --- | --- |
| Name | Kunai Master |
| Updated | |
| Compatible with | Android 5.1+ |
| Last version | 0.7.40 |
| Size | 151.29 Mb |
| Category | Action |
| Developer | CASUAL AZUR GAMES |
| Price | Free |
| Google Play Link | |
| MOD | Unlimited money and gems |
No ads

Unlimited money (get a lot when playing)
Kunai Master APK is a pixel game offered by Casual Azur Games. You play as a skilled ninja with the mission to defeat evil bosses and save the world.
Choose from numerous warriors, each with unique abilities, weapons, and equipment. You can also use your kunai to strike down enemies and collect coins to upgrade your skills and gear.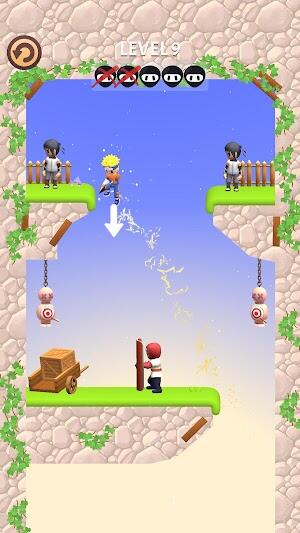 Besides, the game lets you experience countless levels filled with exciting battles and epic boss fights in this action-packed game. This way, you will always have an exhilarating mission to complete.
Overall, this is your go-to game if you're looking for a toned-down retro-style pixel game with non-stop action. Download Kunai Master MOD APK for Android and become the ultimate ninja warrior.
Intense Gameplay
This game offers intense gameplay with a series of missions and levels to complete. You must defeat enemies and bosses to progress further in the game.
However, your adversaries will not give you an easy fight. They will try to knock you down with their attacks and weapons.
While you'll begin with just a single warrior, you can unlock more characters with unique abilities and equipment. This will help you in your missions and make the battles easier to win.
Upgrade Your Skills
Not only can you upgrade your chosen character's skills, but you can also improve their weapons and equipment. You can do this by collecting coins during missions or completing levels.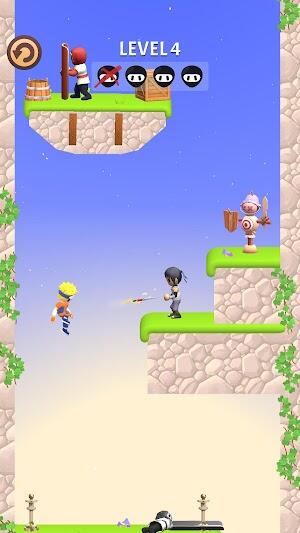 These upgrades will give you the edge you need to defeat even the toughest bosses. Plus, with numerous warriors available, you can upgrade them all to make your missions easier. This way, you can level up quickly and become a truly skilled ninja warrior.
Unleash Exceptional Abilities
When the battles become complicated and overwhelming, you can unleash your character's special abilities to gain the upper hand. Each warrior has exceptional skills, so choose wisely and use them at the right moments to defeat enemies quickly. They include:
This skill allows you to instantly teleport to a location, surprise your enemies, and attack them quickly. It's a great way to avoid enemy attacks and strike them down.
Flaming Kunai. This ability allows you to throw flaming kunai at your adversaries, causing massive damage and burning them instantly. It's a perfect skill for close combat battles.
Kunai Rain. Your character will unleash numerous kunai from the sky, causing heavy damage to your enemies and taking them down swiftly.
Dodge Attacks. Use this skill to easily dodge your adversary's attacks, allowing you to strike back and defeat them. You can even fly through the air to avoid enemy attacks.
Whichever warrior you choose, these exceptional abilities will come in handy in your battles. Ensure you unleash them only when necessary to save them for tougher battles.
Upgrade Your Kunai
In this game, Kunai (dagger) is not just your main weapon but also the key to upgrading your character's skills and abilities. The more powerful the kunai, the easier it will be for you to defeat enemies.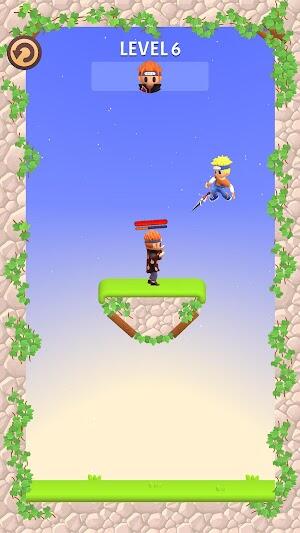 You can upgrade your kunai by collecting treasures and ensuring it has the right elements. These include fire, ice, electricity, and wind, each with its advantages in battles. You can also unlock new kunai with even more powerful abilities to aid you in missions. This way, you can enhance its power and make it even deadlier in battles.
Explode Barrels
On some levels, there are explosive barrels scattered around. Use them to your advantage by throwing kunai at them and causing massive damage to your enemies. This can easily defeat a group of adversaries in one go and make the battles much easier.
However, you must be strategic in using these barrels as they can also harm you if not used properly. Timing is key in exploding them to gain the upper hand and defeat enemies quickly.
Retro Pixel Graphics
Kunai Master APK offers retro pixel graphics that give the game a nostalgic feel. While the graphics may not be as advanced as other games, it adds to the charm and appeal of this action-packed game.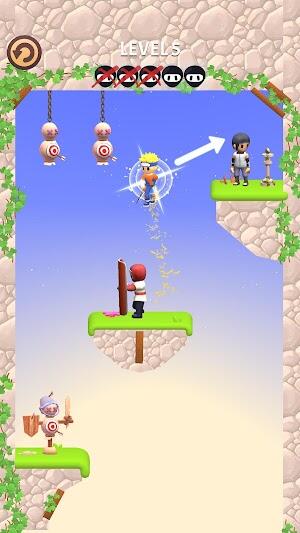 Plus, the graphics do not affect gameplay in any way. You can still easily navigate through the missions and levels, defeat enemies, and upgrade your skills and equipment.
Other Unique Features of Kunai Master APK
Learn the Art of Stealth Assassination. This game is about using stealth to your advantage, sneaking up on enemies, and taking them down quickly. As a ninja warrior, use the art of stealth assassination to defeat adversaries and complete missions successfully.
Various Missions and Levels. With numerous missions, you can keep playing and improving your skills as a ninja warrior. Each offers its own challenges and excitement, keeping the game engaging and entertaining.
Beautiful Graphics. While Kunai Master APK offers retro pixel graphics, the game also features beautiful backgrounds and environments. Explore various locations as you complete missions and defeat enemies, immersing yourself in the game's stunning visuals.
Smooth Controls. This game offers smooth and easy controls, allowing you to navigate the missions and battles effortlessly. Unleash your kunai abilities with precision and defeat adversaries quickly.
Unique Combat Mechanics. Kunai Master APK offers unique combat mechanics, allowing you to use your kunai in different ways. Strategize and plan each battle to defeat enemies effectively and complete missions.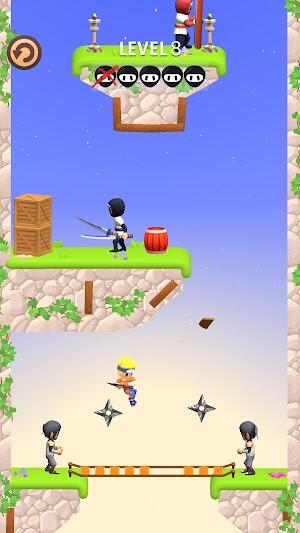 Different Warriors. This game offers various warriors with different skills & abilities, allowing you to choose the most suitable one for each mission. Train and improve your chosen warrior's skills to become a powerful ninja and master of the kunai.
Kunai Master MOD APK Download
If you want restrictions-free gameplay, download Kunai Master MOD APK Unlimited Money and Gems. This modified version allows you to easily upgrade your kunai and skills, making every battle easier and more exciting.
Besides, Kunai Master MOD APK for Android is ad-free. This ensures a smooth and uninterrupted gaming experience, allowing you to focus on completing missions. Immerse yourself in the action-packed world of Kunai Master with unlimited resources at your disposal.
Conclusion
Kunai Master APK offers a thrilling and exciting gaming experience as you navigate missions & upgrade your kunai abilities. With retro pixel graphics, unique combat mechanics, and various warriors to choose from, this game is worth checking out.
And for an even better gaming experience, download the Kunai Master MOD APK for unlimited money and gems. This modified version will give you unrestricted gameplay and an ad-free experience. Become a ninja master and unleash the power of the kunai in Kunai Master APK.