Are you serious about races and obstacle courses? If so, this is your chance to show off your skills in Join Clash 3D. Race, clash and win and get a lot of skins!
Information of Join Clash 3D
| | |
| --- | --- |
| Name | Join Clash 3D |
| Updated | |
| Compatible with | Android 5.0+ |
| Last version | 2.42.1 |
| Size | 88.95 Mb |
| Category | Arcade |
| Developer | Supersonic Studios LTD |
| Price | Free |
| Google Play Link | |
| MOD | Unlimited money |
Unlimited money
No ads between levels
Are you a huge fan of racing and obstacle courses games? Chances are, you've already played a lot of popular ones. But if you haven't tried Join Clash 3D, it's one of the most popular ones today. Published by Supersonic Studios LTD, this game now has more than a hundred million downloads on Google Play. With such a catchy and addictive gameplay, we're not surprised with this number at all.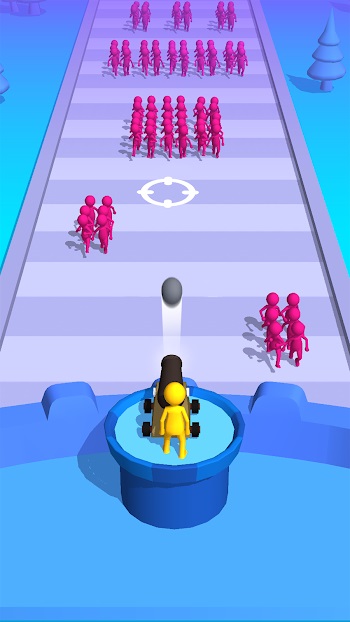 This game is part of the ever-growing obstacle courses games today. They are all similar in the fact that they involve obstacle courses and unique gimmicks. In this one though, you'll be running as a group. As long as there's one people in your group that's left at the end, you can complete the level. But before that, you'd need to go through strenuous obstacle courses!
Race and Fight
One of the best games to play on mobile are running or obstacle games. Nowadays, they are trending and they captivate millions of people with unique mechanics but relatable gameplay. Often, the new games under this category present a fresh concept but the obstacle course aspect is still present. Because of this, you can see a surge of the numbers of these games today.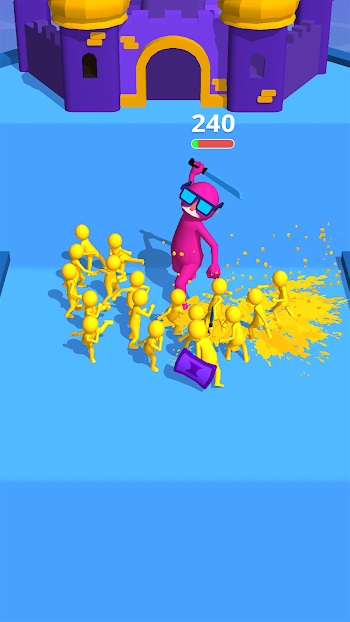 If you're one of the people looking for a new game to play today, why not try Join Clash 3D? This game lets you race through different obstacle courses levels. But the twist is that you will do it with a group of people instead of just one. Then, there are also obstacles along the way such as springs, spikes, wheels, ramps, and mob enemies. But the good thing is that you can get allies to your side by going through white avatars. The more people you get on your group, the better! At the end of each level, you'll fight against a mob of people. As long as you have 1 person that goes through the castle, you win.
What Join Clash 3D can offer
If you've played these obstacle courses games before, then you know what you're already getting into. But if not, Join Clash 3D has something fresh to offer.
Peculiar Gameplay – If you see the trend on mobile games today, you'll notice that they are mostly just the same. This is true with obstacle courses running games such as Join Clash 3D. But what this game offers are something different this time. Instead of the usual one character, you'll run around in a group of people. This means that you'll be able to collect crowd and avoid them. In order to distinguish foe from allies, the enemies are purple colored while the white are the neutral. Here, the more you get to your side the more chances of winning! But before you get to the finish line, you must go through different hurdles which includes multiple artful traps along the way.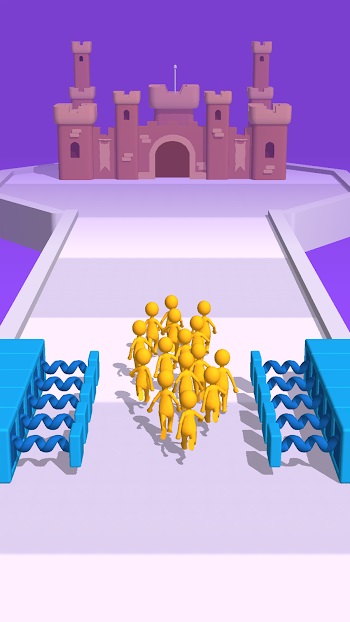 Finish levels – If you're feeling confident about your quick reflexes, then try Join Clash 3D today. This game tests your skills in running, evading, quick reflexes and more. There are a lot of levels to finish including bonus ones. But in each level, numerous traps await you. You must be quick in deciding which way to go as you'll automatically walk.
Collect keys and gather crowd – In Join Clash 3D, you need to collect keys scattered on the way. These keys contain great rewards when you get them all. Aside from that, you'll need to gather as much crowd as possible in this game. This is because there's a huge battle at the end. You'll either face with a variety of people or a giant human. Thus, it's more advantageous if you have more people on your side. The more people that are able to go through the castle, the better the rewards!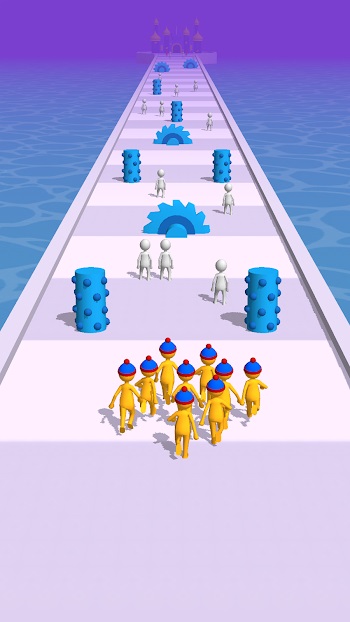 Clash at the end – As mentioned earlier, you'll have a huge battle you'll face at the end of every stage. In Join Clash 3D, you'll need every soldier that you can get as this fight determines how many rewards you can get. But the rule of thumb is that you can earn more the more people you get through the castle. Moreover, there are clashes all throughout the levels as there are enemies scattered alongside obstacles. Overall, this is an intense game where you'll need every ounce of your focus to finish.
Smooth gameplay - Join Clash 3D is a game with smooth graphics and animation. The controls are easy to learn as you'll only need to swipe left and right.
Download Join Clash 3D APK – Unlimited coins
Want to have fun fighting against mobs of people? Download Join Clash 3D now and race through obstacles.