Download Honor of Kings APK Mod Latest version for a 5v5 MOBA experience. It features various heroes inspired by Chinese historical figures and mythological characters.
Information of Honor of Kings
| | |
| --- | --- |
| Name | Honor of Kings |
| Updated | |
| Compatible with | Android 5.0+ |
| Last version | 0.2.5.3 |
| Size | 611 MB |
| Category | Action |
| Developer | Level Infinite |
| Price | Free |
| MOD | No MOD |
Honor of Kings APK for Android is a MOBA game developed by Level Infinite. It is a fast-paced game where players control their heroes to battle against other equally talented players.
The game features a 5v5 battle mode where players work together to destroy their opponent's base. This will be achieved by cooperating with teammates, killing opposing heroes, and controlling strategic points on the map.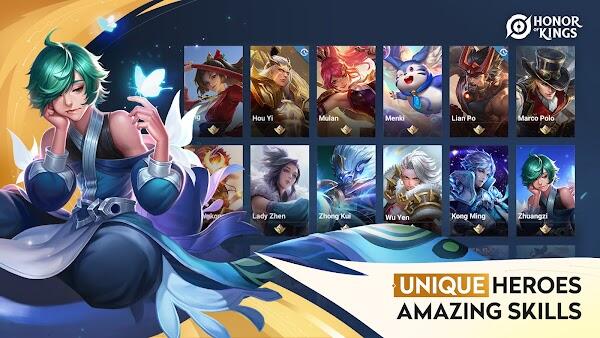 Additionally, the game offers many collectibles in the form of heroes, skins, and mounts. Ensure you gather all the treasures to dominate the battlefield and showcase your unique style.
Lots of Heroes to Choose From
In this game, you will be honored to control various heroes with unique backgrounds. You will find heroes inspired by historical characters like Mulan, Menki, Hou Yi, Wu Yeng, and Zhu Rong.
Each hero has distinct abilities and playstyle, making it important to choose the right hero for each battle. Moreover, there are various skins and mounts that players can collect to enhance their gameplay experience.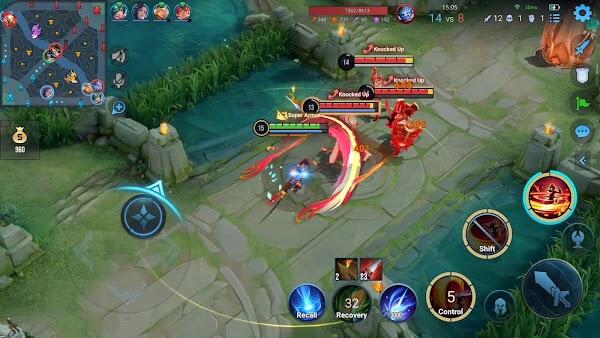 Ensure you have the perfect team composition and dominate the battlefield. If you make a mistake, quickly adapt and switch up your strategy.
Thrilling Gameplay Progression
Once you have chosen your heroes, dive into the intense and exciting battles. The game offers various maps for players to try out and master.
You must advance through the different levels and leagues to become the ultimate champion. The goal is to fight along three lanes, destroy the enemy's nine towers, and take their crystal to victory.
The crystal possesses immense power and can turn the tide of battle if used correctly. Once you capture it, you will weaken your opponent's defensive capabilities and progress toward their base.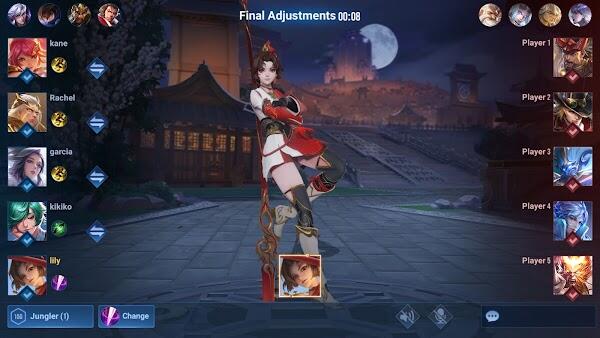 This will give you the leeway to attack and destroy their base, gaining victory for your team. However, don't be mistaken to think it will be easy. Your opponent can do the same, and you must stay alert to defend your base at all costs.
Different Hero Classes
The game also features various hero classes, including Fighter, Assassin, Marksman, Mage, Support, and Tank. Each class has unique strengths that can bolster your team's performance on the battlefield.
Fighters are well-rounded heroes with a balance of offense and defense capabilities. Assassins have high mobility and specialize in taking down enemy heroes quickly. Marksmen have high ranged damage and can attack from afar.
Mages wield powerful magic abilities while supports provide buffs and healing to teammates. Tanks are durable heroes with strong defenses, able to soak up damage for their team.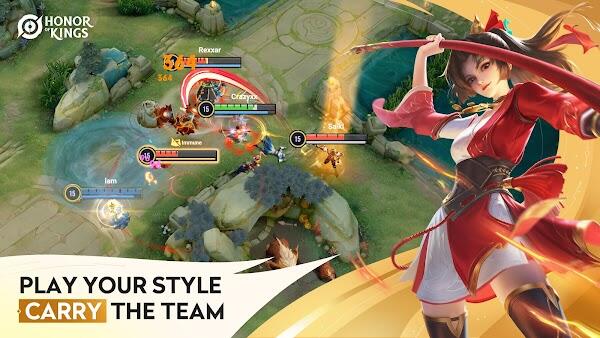 The hero you choose must work well with the rest of your team to ensure success on the battlefield. Ensure high-level synergy and work together to crush your opponents and win the game.
Other Unique Features of Honor of Kings APK 2023
60+ Heroes. Any action-packed game is only as good as its lineup of heroes, and Honor of Kings APK delivers. Choose from over 60 different heroes, ensuring there is always someone new to try out and master.
Free to Play. In this game, players are not limited by their wallets. The game is free for all to download and play, allowing everyone to join in on the fun. You can unlock heroes, level up, and collect skins through gameplay, not microtransactions. This gives players an equal chance to become the ultimate champion.
Regular Updates. To ensure players have a fresh and exciting experience, new content is regularly added to the game through updates. This includes new heroes, skins, mounts, events, and gameplay improvements.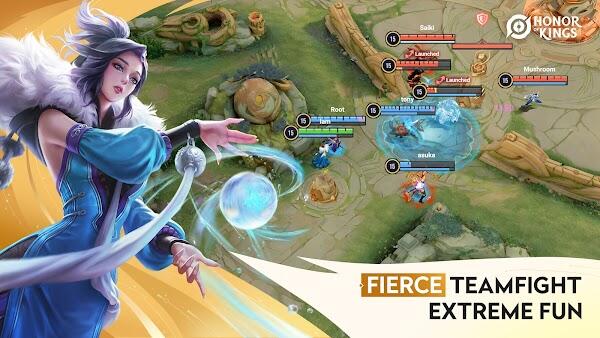 Immersive Music. This game features unique music tunes created by world-renowned masters, including Joe Hisaishi, Hans Zimmer, Howard Shore, and Harry Gregson-Williams. These tunes enhance the gameplay experience and immerse players in the battles.
Colorful Universe. The Honor of Kings APK features a vibrant and stunning world, with beautiful graphics and animations. The game brings players into its fantastical universe, making it hard to put down the device.
Smooth Animations. This game boasts smooth and fluid animations, ensuring gameplay is enjoyable and immersive. The heroes have unique movements and attacks, bringing them to life on the battlefield.
Highly Rewarding Gameplay
This game will not disappoint when it comes to rewarding your efforts. As you advance through the levels, you will get unique treasures to help strengthen your heroes and team. The rewards get better as you progress, creating an incentive to continue playing and improving your skills.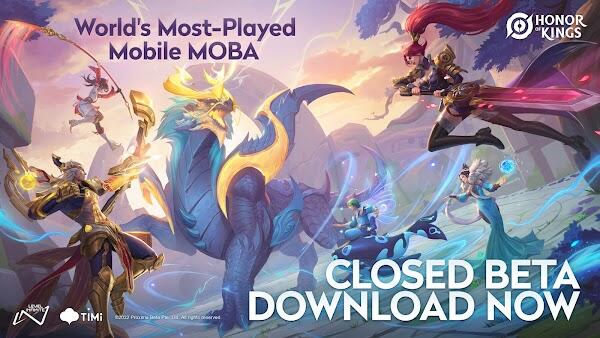 Besides, the sense of satisfaction that comes with leading your team to victory and emerging as the ultimate champion is incredibly fulfilling. It feels good to be the best and dominate the battlefield in Honor of Kings APK.
Easy Installation
Once you get the Honor of Kings APK OBB file, installation is easy and seamless. The game runs smoothly on both Android and iOS devices, allowing players from either operating system to join in on the fun.
It's time to gather your team and dominate the battlefield in Honor of Kings APK. No technical expertise is required and the game is free to play.
Honor of Kings APK MOD
The Honor of Kings APK Offline is in the beta stage and does not have a MOD version currently. However, you will get this MOD here as soon as it is released.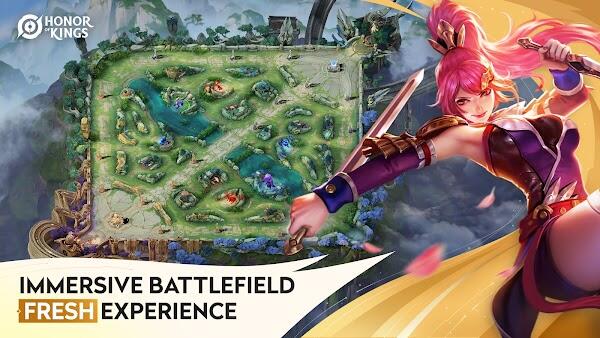 Keep checking back for updates on the MOD version, which will likely include unlimited money and possibly unlocked heroes or skins.
Conclusion
Honor of Kings APK is a thrilling and highly rewarding game that offers unique heroes, stunning graphics, immersive music, and regular updates. The game is free to play and easy to install on Android.
Additionally, the gameplay is quite addictive as players strive to climb the ranks and lead their team to victory. The MOD version, once released, will offer limitless possibilities for power and customization in the game.