Instagram is one of the top social media platforms today. Create fake posts, comments and chats to impress and make funny interactions with your friends!
Information of Funsta Pro
| | |
| --- | --- |
| Name | Funsta Pro |
| Updated | |
| Compatible with | Android 4.4+ |
| Last version | 3.3.1 |
| Size | 10.77 Mb |
| Category | Entertainment |
| Developer | Playfake |
| Price | Free |
| Google Play Link | |
| MOD | Pro Unlocked |
Instagram is one of the top social media sites today. With over 1 billion active monthly users, it's safe to say that it's not going anywhere anytime soon. Various people are on it be it celebrities, sports athletes, politicians and even businesses. Because of this, a lot of people will be impressed if you get verified or chat with famous people here. But what if you can do that with the app Funsta Pro?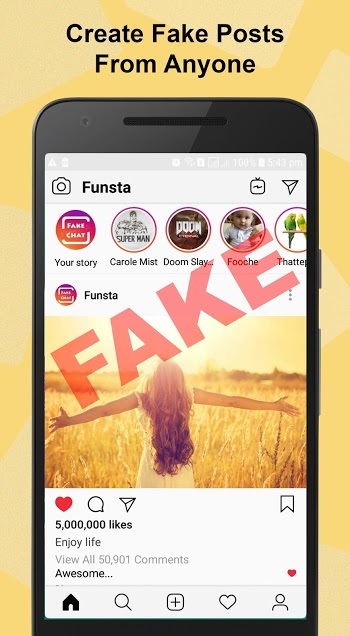 This app was created by PlayFake to impress and play pranks with your friends and family. Thanks to this app, you can do a variety of impressive things on Instagram. You can create fake posts, unbelievable chats with celebrities or even become a verified user instantly! Of course, this isn't the real app but just a fake one to have fun.
What is Funsta Pro?
Have you ever pranked your friends and family? Remember how it feels like? You may have burst out laughing while the ones you prank are either laughing or mad. Harmful pranks are such a good way to pass the time and it allows us to grow closer in bond. This is why a lot of people are always trying to look for pranks especially in this digital era.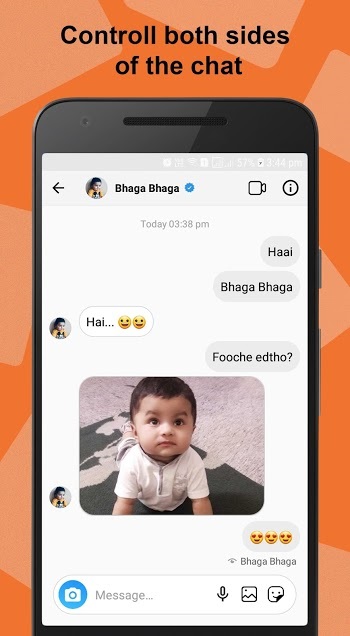 And thanks to the era we live in today, digital pranks have become easier! We now have an app called Funsta Pro. This is basically an app that allows you to create your customized posts, chats, profile and everything else you can do in Instagram! It provides you a platform that you can customize yourself to prank your friends and family into thinking that you've become famous.
5 Ways to Have fun with Funsta Pro
It's not bad to have a fun time sometimes and prank your friends and family. With Funsta Pro, you can turn any dull moment into a fun one! Here are the 5 ways you can have fun with it.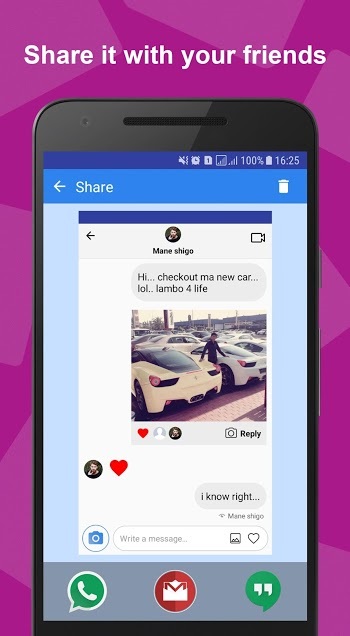 Create fake Instagram Posts – In Instagram, we encounter a lot of posts every day. There are approximately 95 million photos uploaded to Instagram every day! How funny would it be if you suddenly become an instant celebrity! Your post would receive millions of hearts, comments and shares. Then, you can brag about it to your friends and loved ones for fun. Record their hilarious reactions as they would not believe your claim. There are so many possibilities with Funsta Pro!
Create contact and group – How incredible would it be if you can suddenly converse in Instagram with your favorite celebrities or personalities? Would you go insane? Of course, this would normally be impossible unless you have a huge following. But with Funsta Pro, this is completely normal! You can create fake contacts and groups and add members to it. Pretend that you're a big shot and you can talk with just about anyone you want in here. Be it Obama, Trump, Leonardo Dicaprio – the possibilities are endless.
Stories – You can also create fake stories that would generate millions of views. Pretend that your stories are so controversial that it would be viewed by popular people all around the world with this app.
Chats, Emoji, photos and videos - Funsta Pro also features chats, emohis, photos and videos that you can fabricate! Create anything that will impress your friends and play a prank on them. You can control both sides of the conversation to make memes or just to share with your followers.
Fake video calls, automatic reply – For the premium version, it has fake video calls and automatic reply! This will allow you to make the prank even more believable! Now, there's not a soul out there that would dare question the authenticity of your Instagram status! Become who you want to be and increase your followers!
Conclusion
Funsta Pro is a fun app that lets you prank friends and family using Instagram! Create a ton of fake profiles, chats and groups to impress them.