Download Fishdom Mod APK Unlimited coins and gems latest version for a fun and addictive aquarium adventure. Unlock all exclusive features for free!
Give yourself a break from all the noise and worries of the world with this unique aquarium-themed game. Fishdom takes you to the colorful world of fishes with a ton of activities in store.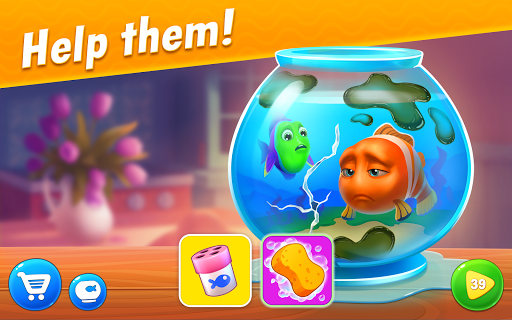 Fishdom offers different gameplays for you to enjoy. The main one is a puzzle match-3 game similar to Candy Crush. Here, you have rows and columns of sea shells, corals, pearls, and other sea-related items. You will need to move them with the goal of having three of the same item align in the same column or row. Prepare for countless hours of playing as there are hundreds of puzzles to conquer.
Apart from the puzzle game, mini-games are offered such as helping your pet fish escape a dangerous location or situation. There are times they get stuck in a place or get threatened by a cat. You can feed, play, and interact with them. Collect more of them as you advance in the levels. Take care of your fishes the same as you would do in real life.
Another interesting feature is the capacity to design aquariums. Every time you finish a stage, you will earn coins which you can use to buy decorations. It is up to you to give your fish the best aquatic home. More aquariums await for you to unlock.
Highlights:
Addictive and one-of-a-kind aquarium game with different game modes
Hundreds of match-3 puzzle games
Unlimited Coins and Gems
Fun 3D fish characters with interesting personalities
Decorate aquariums
No internet connection needed in playing
Can be shared on Facebook
Under the Sea Experience
Fun and lively graphics will welcome you open opening the game. If you are a fan of the sea, especially the beauty underneath it, this is a game you shouldn't miss. It uses a combination of 2D and 3D animation which captures the enjoyable vibe of cartoon characters. The interface is a splash of vibrant colors that are truly magnificent to the eyes. It has eye-candy graphics that will allow you to enjoy the game for hours.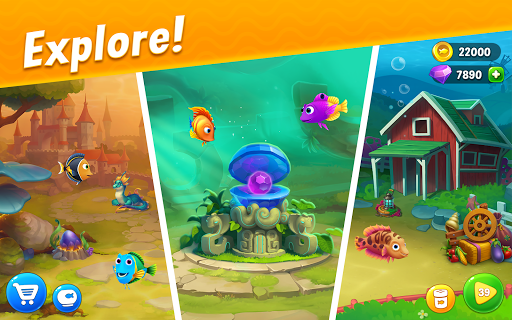 Available on Android
Don't have a real aquarium in real life? You can now have your own pet fish which you may have dreamt of when you were a kid. Save yourself the hassle of owning one in real life. Download Fishdom on your mobile devices.
Developed by Playrix, it enjoys huge support from players with over 100 million downloads on Google Play alone. Over 3 million positive testimonies have been left by players who got hooked to it.
Fishdom Mod APK Latest Version
Dive in the fun and meet the cute sea creatures of Fishdom. Level up your gaming experience with the Fishdom APK Free Download. Enjoy unlimited money to beautify your pet's aquarium and give it the best home. You are sure to lose track of time so find a comfortable spot to play for endless hours.