Download Button Fever Mod APK Unlimited money Latest version and earn money by merging buttons. It has a simple concept ideal for casual gaming. Its graphics are uncomplicated.
Information of Button Fever
| | |
| --- | --- |
| Name | Button Fever |
| Updated | |
| Compatible with | Android 4.4+ |
| Last version | 5.9.21 |
| Size | 121.63 Mb |
| Category | Puzzle |
| Developer | Rollic Games |
| Price | Free |
| Google Play Link | |
| MOD | Unlimited money |
Button Fever APK is a puzzle-themed game offered by Rollic Games. It challenges you to merge as many buttons as you can to earn money. It uses simple drag & drop controls for merging, making the gameplay effortless to understand.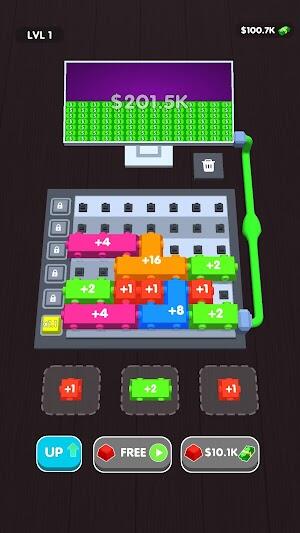 The game has simple graphics with a colorful interface. The buttons are available in different colors & sizes. This way, it becomes fun & exciting to play the game. The audio effects are cheerful, keeping you motivated throughout the game.
Even better, this game is quite light on your memory. It is only 132 MB in size and is easy to install on any Android 4.4+ device. You will not experience phone overheating or lagging issues when playing the game!
Merge to Earn
Merging the buttons is the major task you need to perform in Button Fever APK. The game starts with 2 buttons placed side by side. You can either click on them or drag & drop one button over the other to merge.
As you merge the buttons, they will dissolve & new buttons will appear in their place. These newly generated buttons are slightly larger. The catch is that you can only merge those buttons with the same value. For instance, you can only merge 2 '2' buttons to generate a new '4' button.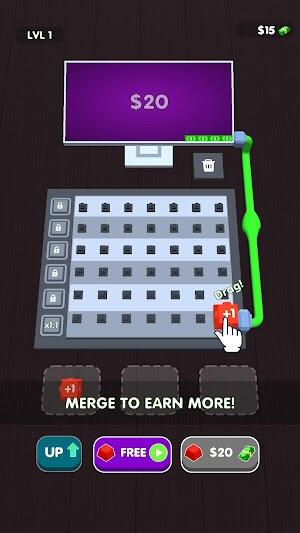 You can keep merging the buttons until you form a large button. Once this happens, all the smaller buttons will automatically merge into it. The bigger the button, the more money you earn!
Click, Click & Click to Earn
Besides merging, you can earn by clicking on the buttons continuously. Once you start clicking, your earnings will start growing exponentially with each click.
You can click on the buttons as many times as you want. There is no limit to how much money you can earn by clicking! Just make sure not to leave the game for too long or your earnings will start declining.
Even better, you can use the earnings to buy new buttons and special boosters. You can also unlock unique features, including offline earning. This means you can make money even when you are not playing the game!
Unique Features of Button Fever APK
Test Your Multitasking Skills. This game not only tests your reaction time but also challenges your multitasking skills. This is because you need to keep an eye on merging the buttons and clicking them consistently to increase your earnings. The more buttons you have, the more difficult it becomes to merge them!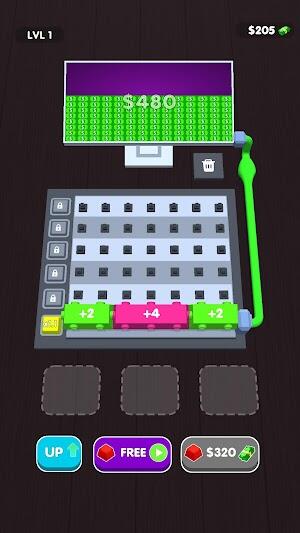 Play Offline & Earn Money. As mentioned earlier, one of the unique features of Button Fever is that it lets you earn money even when you are not playing the game. Once you have earned enough money, the game will continue to generate income for you offline. This way, you can keep on earning money without having to play the game all the time!
Boosters to Help You Earn More. If you want to earn more money, you can use boosters. These are special items that can help you merge the buttons faster or earn more money with each click. You can buy these boosters with the money you earned from playing the game.
Undertake Side Missions. In addition to the main game, Button Fever also offers side missions. These tasks are a great way to earn more money and unlock new features in the game! For example, you can run your hotel in the game.
See Your Keyboard Grow. All the money you earn will be presented on the keyboard. The more it becomes green, the more money you have earned. This way, you can keep track of your progress and see how much money you have made! However, the value will also be displayed in the form of buttons.
Simple yet Attractive Graphics
Button Fever uses colorful and attractive graphics. The buttons are designed to look like authentic buttons. They come in different colors, and they all have a unique value.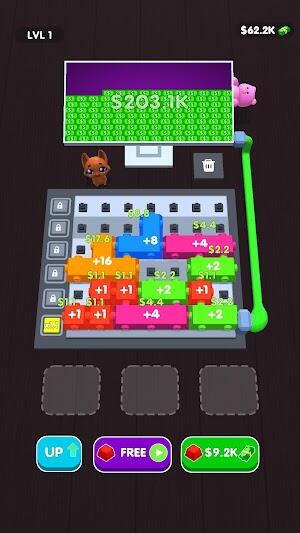 The values are well imprinted on the buttons, and they are easy to read. The game also uses a green color to show you how much money you have earned. This way, you will easily be able to see your progress.
This minimalistic approach makes the game light and simple. The graphics are also designed to be easy on the eyes, so you can play the game for long periods without feeling tired.
Button Fever MOD APK Download
The modded version of Button Fever offers lots of extraordinary features that make the game more interesting. The most significant advantage of using the modded version is that you can get unlimited money. This means you can buy as many buttons and boosters as you want!
The Button Fever MOD APK for Android also comes with special features, such as the ability to run the game offline and earn money. You can also get new buttons for free by completing side missions. These features make the game even more fun and exciting to play!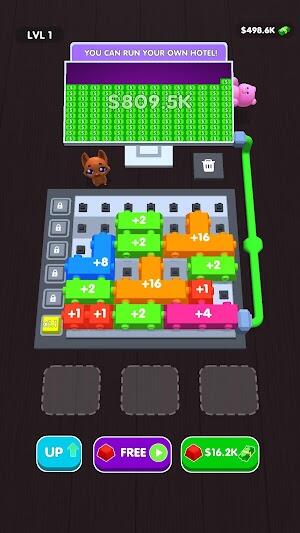 If you are looking for a challenging yet rewarding game, download Button Fever MOD APK unlimited money. With its simple mechanics and attractive graphics, this game will keep you entertained for hours!
Conclusion
Button Fever is a simple game that lets you merge buttons and earn money. The game is easy to understand and play. The graphics are attractive and minimalistic, and the game is designed to be easy on the eyes.
The Button Fever MOD APK 2023 for Android has extra features, such as offline earning and unlimited buttons. Download it now and have fun!