Enjoy this simple puzzle game designed to pass the time. Tap onto empty cells and watch as your blocks begin to grow. Download Blocks Vs Blocks for Android.
Information of Blocks vs Blocks
| | |
| --- | --- |
| Name | Blocks vs Blocks |
| Updated | |
| Compatible with | Android 5.0+ |
| Last version | 1.23 |
| Size | 66.26 Mb |
| Category | Puzzle |
| Developer | MOONEE PUBLISHING LTD |
| Price | Free |
| Google Play Link | |
| MOD | No MOD |
If you are a fan of puzzle games, then this is perfect for you. This game would be a mixture of Backgammon and Chinese checkers, but on a square board. Introducing, Blocks Vs Blocks for Android. You'll find yourself spending a lot of time enjoying the game, as you attempt to overwhelm your opponent.
Easy to Understand Gameplay
The concept of the game is amazingly simple to follow. Basically, Blocks Vs Blocks will be presented on a large board with square grid-like cells. Each player will control a specific color of blocks. You start by controlling green blocks, while your opponent(s) control red, yellow, etc… Each block occupies one square. The objective is to fill as many of these squares as possible with your blocks.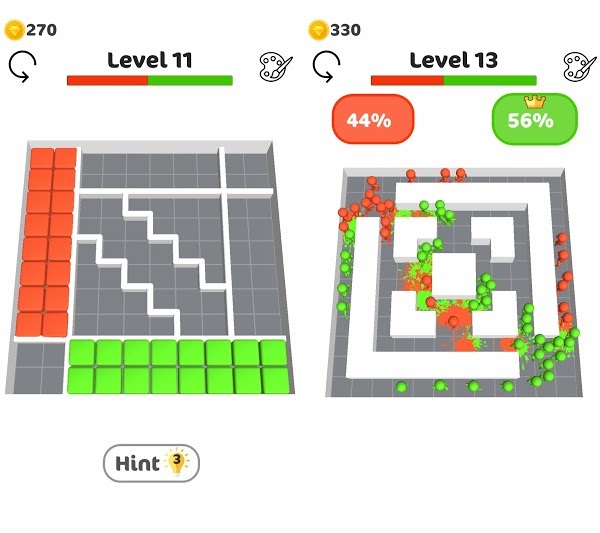 Furthermore, in order to fill the grid, you need to tap on the space you want to fill. Your blocks will immediately consume the entire open space and all of the cells within. Additionally, there are walls that separate certain parts of the grid. You won't be able to occupy any cells passed a wall. This means, you will need to wait your next turn until claiming another section of the grid.
Can You Pass each Level?
Remember, your opponent will also have a turn to claim cells with their blocks. So, it's a race against who can consume the most, before the board is full. Once there aren't any more cells in the board, the player with the most blocks wins.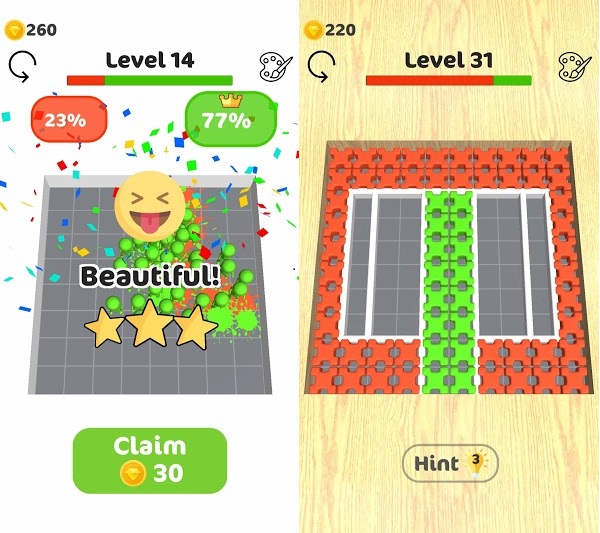 This makes the game much more strategic than it appears. You will need to think before making your next move every turn. One small mistake and it could cost you the game.
One Blocks Vs Blocks Tip
Fortunately, there is a strategy in getting good at Blocks Vs Blocks for Android. First of all, you will want to observe the board. Identify the largest portion of cells on the board, closest to you. Count the number of walls and ensure that you can reach it before your opponent does.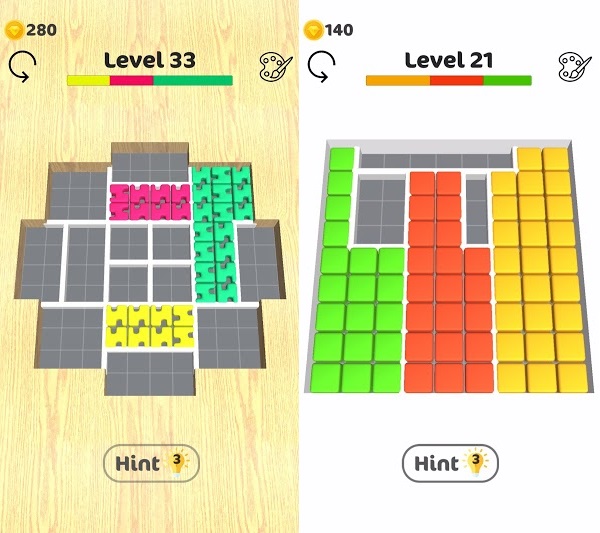 On the other hand, if your opponent has access to a large portion of cells, make sure you can beat them in quantity. Find multiple smaller calls that will add up to a higher amount. Keep in mind, your turn will always be first. So, you start the game off.
Blocks Vs Blocks Mod APK free Download
Go ahead and download the Blocks Vs Blocks Mod APK Latest Version free for Android now. As a simple puzzle game made for everyone, there isn't much that this file can offer you. Besides that fact that you have more control over the download folder, there aren't many benefits to and APK file for this game.