Download World Truck Driving Simulator Mod APK Unlimited money Latest version and transport cargo across cities. It has several truck models, 3D graphics, and authentic sounds.
Information of World Truck Driving Simulator
| | |
| --- | --- |
| Name | World Truck Driving Simulator |
| Updated | |
| Compatible with | Android 5.1+ |
| Last version | 1,359 |
| Size | 57.79 Mb |
| Category | Simulation |
| Developer | Dynamic Games Ltda |
| Price | Free |
| Google Play Link | |
| MOD | Unlimited money |
Money increase when spent!
About World Truck Driving Simulator
Do you love the thrill of driving a big truck and transporting goods from one city to another? If yes, you will enjoy every minute of playing World Truck Driving Simulator for Android.
This game challenges you to deliver cargo on time while maneuvering your truck through different terrains and weather conditions. It also features realistic truck models from popular brands such as Kenworth, Peterbilt, and Mack.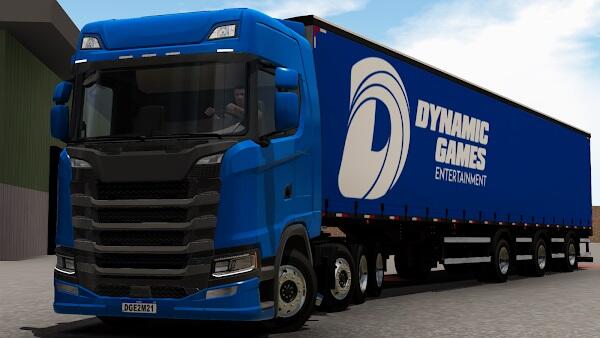 Besides, you can customize your truck and make it your own with different paint jobs and accessories. Ensure your truck is well-maintained by regularly visiting the garage to fix any damages and upgrade its performance.
This way, you can complete your missions and earn more money to unlock new cities and truck models. And with its 3D graphics and authentic sound effects, you will feel like a real truck driver in the game.
Highly Authentic Truck Driving Experience
Driving trucks is a complex job that requires unique skills and precision. Unlike small cars, trucks are much bigger and heavier, making it more difficult to navigate meandering roads. You will need patience and focus to complete missions in World Truck Driving Simulator APK.
You will start by selecting a truck in the garage and customizing it to suit your preferences. You can change its paint job and outfit it with accessories such as bull bars and flashing lights.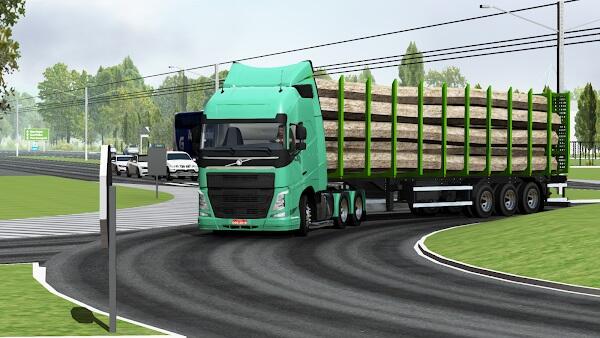 Once in the game, you will undertake several missions, ranging from transporting goods across cities to crossing borders. You must follow traffic rules and drive safely to avoid getting fined or damaging the cargo.
Whenever you complete a mission, you will earn money that can be used to upgrade your truck or unlock new cities and trucks. As you progress in the game, the missions will become more challenging with tighter delivery timeframes.
But fret not since you can visit the garage to fix any damages and improve the performance of your truck. This way, you'll complete your missions in a breeze and earn more money in the World Truck Driving Simulator game.
Highly Diverse World
This game offers an expansive and diverse world for you to explore. From bustling cities to narrow mountain roads, the game lets you experience different terrains and driving environments.
Each city has its unique landscape and landmarks, adding to the game's authenticity. And with realistic weather conditions such as rain and snow, you can experience driving a truck in various scenarios.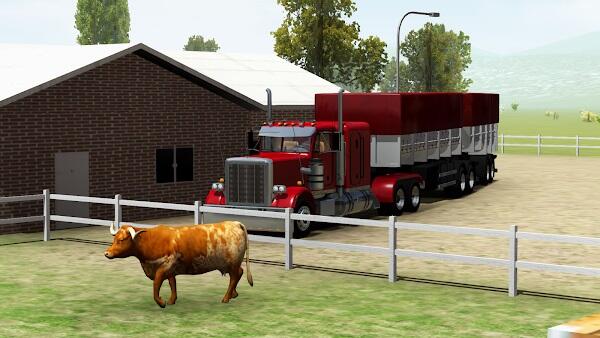 You can also choose from various truck models, each with distinct features and capabilities. Whether it's a small delivery truck or a towering 18-wheeler, you can experience the thrill of driving them all.
However, keep in mind that bigger trucks will require more precision and attention as they are harder to maneuver. You must also consider the weight and size of your cargo to ensure safe delivery.
Lots of Missions to Undertake
This game offers a variety of missions for you to complete, keeping the gameplay enjoyable and engaging. You can drive fuel tankers, transport construction materials, or even deliver livestock.
Each mission has pros and cons, and you must consider the requirements and risks before accepting them. For example, transporting hazardous materials can earn you higher rewards but will require extra caution to avoid accidents.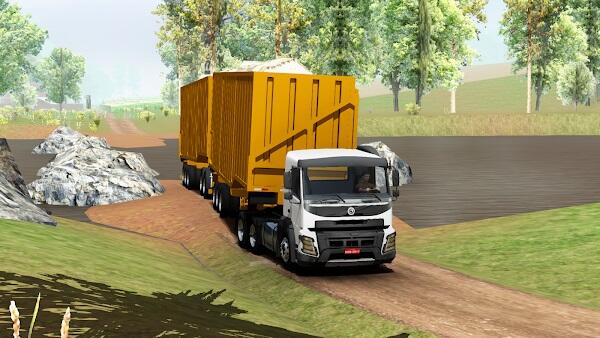 You can also grow your trucking business by hiring drivers and managing their tasks. This way, you can earn more money and expand your trucking empire in the game. Ensure you assign the right driver for each mission and properly maintain your trucks to ensure successful deliveries.
Realistic Gameplay and Graphics
World Truck Driving Simulator APK offers stunning 3D graphics that make the game feel realistic. The truck models are highly detailed, from their interiors to exterior designs. You can also see other vehicles on the road, adding to the authenticity of the gameplay.
The sound effects are also realistic, from the roar of the engine to the squealing of brakes. This immerses you further into the game and makes you feel like a real truck driver on the road. You will almost forget that you're just playing a game.
Numerous Customization Options
In this game, you can customize various elements to make it your own. You can change the physical appearance of your truck with different paint jobs and accessories. Ensure your truck stands out on the road with unique decals and personalized license plates.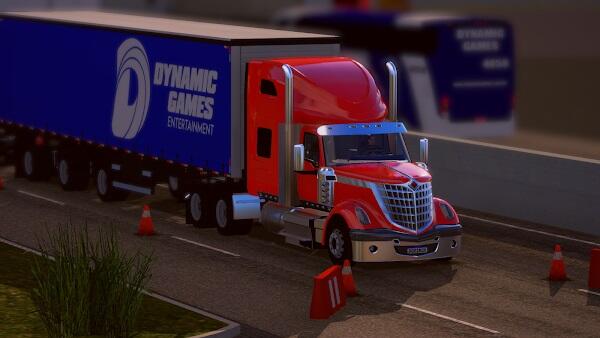 You can also upgrade and improve its performance by installing new engines, gearboxes, and tires. This will make your truck more efficient and powerful, allowing you to tackle even the toughest missions.
Additionally, you can change the interiors of your truck to make it more comfortable and functional. Install a radio or GPS, or add a bigger bed for those long hauls. This way, you will never get bored during the long drives in the game.
Other Unique Features of the Game
Different Truck Models. This game features American, Brazilian, and European truck models, each with its distinct features and capabilities.
Realistic Fuel System. You must refuel your truck at gas stations to continue driving in the game. Keep an eye on your fuel consumption and plan your route wisely to avoid running out of gas.
Realistic Physics. This game gives a superior driving experience. You'll feel the weight and power of the truck, especially when making sharp turns or accelerating. Ensure you follow road rules and drive safely to avoid accidents and damage to your truck.
Automatic & Manual Gearbox. If you're a fan of realistic driving, you can choose the manual gearbox option. This allows you to shift gears and control your speed manually, just like a real truck driver.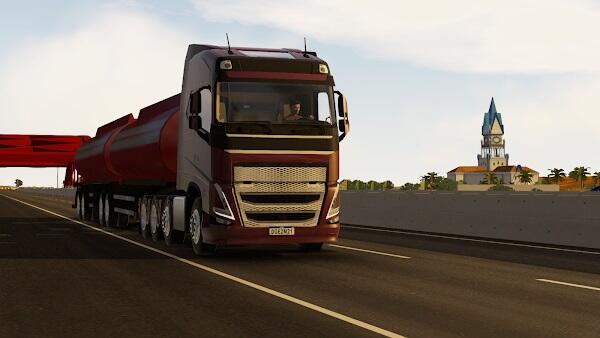 Realistic Day/Night Cycle and Weather. You must adjust to the changing conditions, just like in real life. The time of day and weather will affect your visibility and driving experience. For example, night driving can be more challenging with reduced visibility, and heavy rain can make the roads slippery.
Accurate Simulation of Main Functions. This game accurately simulates truck functions, including blinkers, headlights, and mirrors. It also includes other elements, like rest stops and weigh stations.
Regularly Updated Leaderboards. This game features regularly updated leaderboards, allowing you to compete with other players and strive to be the top truck driver.
Realistic Driver's License (With a Photo). This game allows you to obtain a driver's license, complete with your photo. This adds another level of immersion and personalization to the game.
World Truck Driving Simulator MOD APK Download
Download World Truck Driving Simulator MOD APK OBB to add a layer of depth and personalization to your gameplay. Once installed, this version will offer these benefits: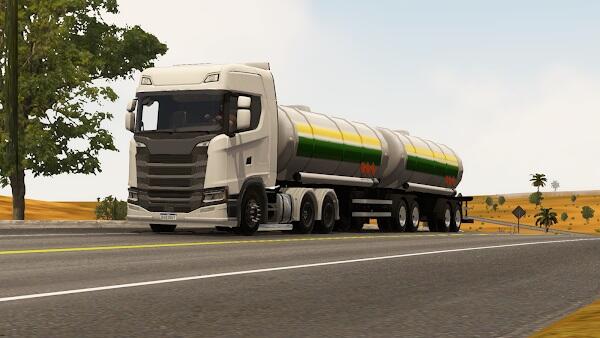 World Truck Driving Simulator MOD APK Unlimited Money. This game requires in-game currency to purchase upgrades and customize your truck. With the MOD APK, you will have unlimited resources to make purchases without worrying about the cost.
World Truck Driving Simulator MOD APK All Unlocked. The MOD APK will unlock all trucks, accessories, and features in the game. This allows you to fully customize your truck and gameplay experience without limitations.
World Truck Driving Simulator MOD APK Max Level. The MOD APK will allow you to instantly reach the maximum level in the game, giving you access to all missions and challenges. This way, you can progress through the game and compete with other players without grinding for levels.
No Ads. The World Truck Driving Simulator MOD APK for Android also eliminates all ads, giving you a seamless driving experience. You'll not be bothered by pop-ups during gameplay.
Conclusion
World Truck Driving Simulator APK takes you on a realistic truck driving journey with various features and customization options. It offers a unique gaming experience that allows you to fully immerse yourself in the life of a truck driver.
Its MOD APK version takes this experience to the next level with unlimited resources. You will access all trucks, features, and upgrades without limitations.