Are you a big bike head? Play Traffic Rider all bikes unlocked and enjoy weaving through traffic in your motorcycle. Try to evade collisions and enjoy riding your bike in the streets!
Information of Traffic Rider
| | |
| --- | --- |
| Name | Traffic Rider |
| Updated | |
| Compatible with | Android 5.0+ |
| Last version | 1.95 |
| Size | 141.51 Mb |
| Category | Racing |
| Developer | Soner Kara |
| Price | Free |
| Google Play Link | |
| MOD | All bikes unlocked |
The world has evolved so much thanks to the existence of vehicles. Now, we can go in different places in just seconds, minutes, hours and even days when it will usually take us weeks and months by foot. Due to the rapid evolution of this technology, there are many brands and many types of vehicles you can use today including motorcycles. These are vehicles with 2 wheels that allow you to go fast.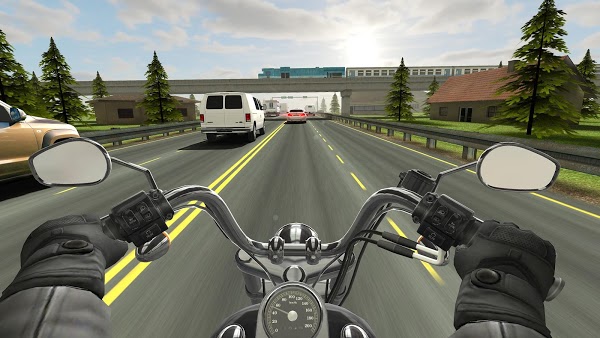 In Traffic Rider, you get to enjoy going through the streets at high speeds! If you have the guts to go fast in the streets using bikes, then you'll have a ton of fun in here. Published by Soner Kara, this classic game takes you to the streets as you finish the Career Mode. Perform dangerous combos and try to evade any obstacles in your way!
Race Through Traffic
We perceive motorcycles to be these dangerous vehicles that are very fast and loud. In reality, most of these are true as you will rarely see them on highways as there are fast cars everywhere. But driving a bike is undeniably fun especially when you're fast and weaving through traffic. If you want to have fun with motorcycles freely, download Traffic Rider. Here, you can let wild and let your instincts and skills takeover as you go through traffic!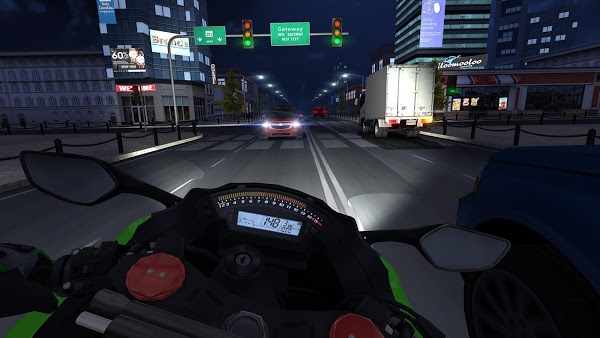 In here, you'll go through numerous modes as you try to complete quests. Enjoy the fresh air and dodge through oncoming traffic as you gain speeds! You'll need to be on full alert in this game as you try to beat your high score and perform dangerous stunts. There are also a lot of different motorcycles you can unlock which have different horsepower and designs. Entertain yourself as you get near-collision experiences and get rewards.
There are more than 70 missions to fulfill and 30+ achievements to complete in this game. Have fun with the detailed surroundings and realistic gameplay and sounds in this game.
Traffic Rider Highlights
Do you own a motorcycle in real life? You'll appreciate Traffic Rider all the more then! Enjoy high speed races in this game.
Go Fast at the Highway – In the real world, there are speed limits everywhere to prevent accidents from occurring. Even so, there are still quite a lot of these accidents that happen every day which also includes motorcycles. In fact, motorcycles are considered dangerous especially when in high speeds. But if you've always had a fascination for these vehicles, then you'll love Traffic Rider! Here, you're free to reach speeds that go for hundreds of miles per hour without a care!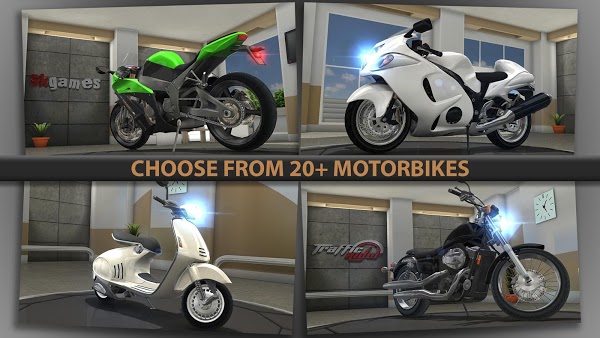 Enjoy thrilling escapades as you try to complete all 70+ missions in the Career Mode. Here, you'll go through highways in the fastest speeds you can get and try to dodge any cars on your way! Try to break records and avoid collision so you can score more and earn money. There are many motorcycles to choose from as well and you can customize it too. Have fun in this ultimate motorcycle racing game today.
Complete 70+ Missions – In this game, there are over 70+ missions you can do in the Career Mode. Here, you'll go through different places and face different obstacles. Each mission rewards you with coins that you can use to unlock different motorcycles. Then, there are also other game modes such as the Endless where you can ride for as long as you want. Then, there's the Time Trial and Free Ride!
Enjoy these game modes as you please and you can even choose the traffic that you want. You can choose one way or two way to increase the difficulty. Try to beat your high scores today!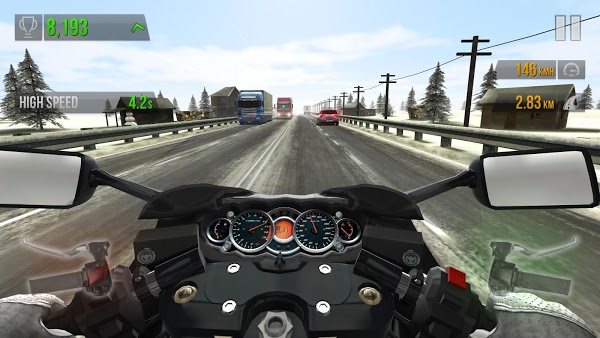 Various Motorcycles to Choose From – There are a lot of bikes to choose from in Traffic Rider. From scooters to big bikes, you can unlock a variety of them with unique features and performance. Here, there are bikes such as the BMW S 1000 RR, BMW K 1200 S, 2003 Dodge Tomahawk, Ducati 1098 R, 1970 Honda CB 750 F, Kawasaki KX 450 F and many more! Bike geeks will love the classic and modern bikes that you can unlock here.
Detailed environments and bikes – What's even more fun in this game is that the environment and the vehicles all look realistic. You'll enjoy the different stages such as the Highway, Desert, City, and Winter. You can also choose the time of race such as noon, evening and night.
Online leaderboards and 30+ achievements – Compete in online leaderboards and get insane scores! Complete achievements too to get rewards.
Download Traffic Rider Mod APK – All Bikes Unlocked & Unlimited Money
Are you a huge bike fan? Download Traffic Rider and go through numerous traffics and race now.