Download Real Racing 3 Mod APK All cars unlocked Latest version and race in licensed tracks with 40+ circuits & 19 real locations. It features 3D graphics and incredible rewards.
Information of Real Racing 3
| | |
| --- | --- |
| Name | Real Racing 3 |
| Updated | |
| Compatible with | Android 4.4+ |
| Last version | 11.6.1 |
| Size | 51.71 Mb |
| Category | Racing |
| Developer | ELECTRONIC ARTS |
| Price | Free |
| Google Play Link | |
| MOD | All cars unlocked |
Real Racing 3 is a sequel to the award-winning Real Racing series from Electronic Arts Studios. It features a rich roster of officially licensed tracks, a 43-car grid, and over 250 meticulously detailed cars from manufacturers like Ferrari, Porsche, Chevrolet, Lamborghini, Mercedes-Benz, Bugatti, and Audi.
The game effectively puts you in the driver's seat of some of the world's most powerful cars. Race against friends or other players in real-time multiplayer challenges.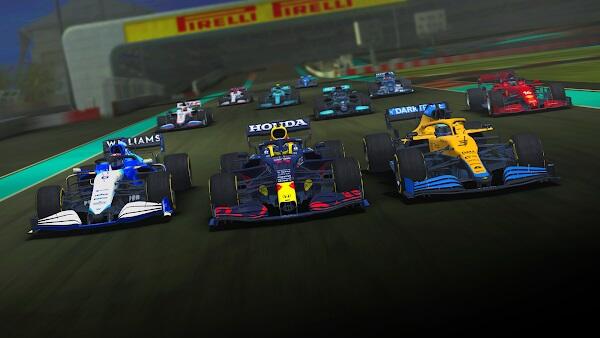 If you love speed and racing games, Real Racing 3 is worth checking out. It is designed for optimum functionality with Android 4.4+ devices.
Highly Immersive Racing Experience
Real Racing is the epitome of mobile racing games. It features console-quality graphics, licensed tracks, and real-world locations. The level of detail is impressive, right down to the smallest nuances like tire smoke and heat haze.
The game also features day/night cycles and dynamic weather conditions that affect how the cars handle the track. These weather conditions are based on real-world data, and you might find yourself racing in the rain one minute and under the stars the next.
The vehicle types, models, and liveries are also impressive. The cars are designed with meticulous attention to detail, both inside and out. You can even change the paint job and race livery for each vehicle.
There is a large selection of officially licensed tracks from around the world. These include Yas Marina, Monza, Hockenheimring, and Circuit of the Americas, Les Mans, and Silverstone.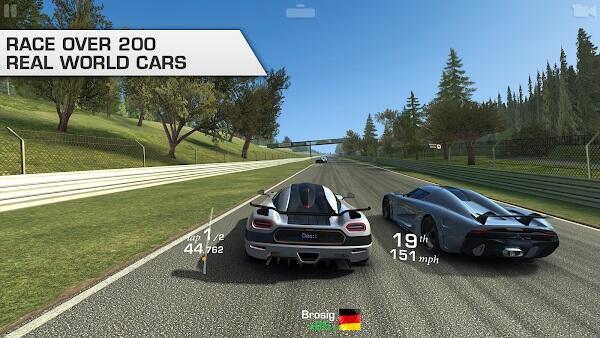 The controls for the mobile version are well-optimized, and you have a choice between tilt/gyro controls or on-screen buttons. You can also customize the controls to your liking.
Other Outstanding Features of Real Racing 3 APK
Immersive Motorsports. The game has over 4000 events, including Cup races, eliminations, endurance challenges, and drag races. You can also participate in Formula 1 to experience the rush of speed.
Unlock Powerful Cars & New Tracks. This game is all about collecting and upgrading cars. You can buy new cars or upgrade your existing ones with the money you earn from racing. There are over 300 vehicles to collect, from manufacturers like McLaren, Ford, Aston Martin, Mercedes-Benz, Porsche, Bugatti, and Lamborghini.
Multiple Camera Angles. You can choose from a variety of camera angles to get the best view of the action. These include interior, bonnet, and chase cameras. You can also change the camera angle while you are racing.
Optional In-App Purchases. In case you need a little help, there are optional in-app purchases available ($0.99 - $99.99 per item). These can give you a boost to help you win races and unlock new cars and tracks faster.
A Unique Time Shifted Multiplayer Experience. TSM lets you race anyone, anytime. This dynamism allows you to test your skills against friends and other players. The AI-controlled driver system creates a field of AI-controlled drivers that look and feel like real people.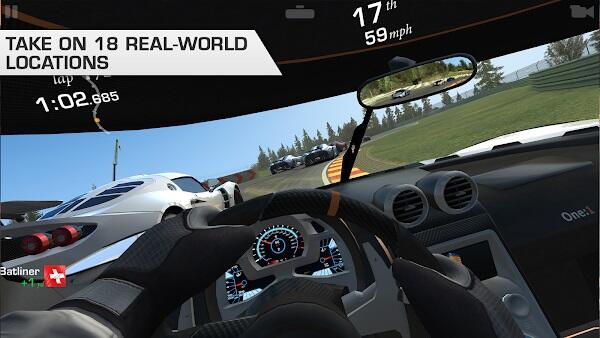 Race Themes & Modifications. You can change the color of your car, add decals, and adjust the rims to give your car a unique look. You can also change the race theme to suit your mood.
Many Game Modes to Explore
This game allows you to explore many different game modes. They include:
Championship Events. This is the main mode where you can earn stars by winning races. These stars unlock new events and increase your driver level. There are different series of events, each with its own set of challenges.
Time Trial Events. These events task you with setting the fastest lap time possible. You can compete against other players' ghost cars to try and improve your time.
Daily Race Events. These events are available once per day and offer different rewards. They include eliminations, sprints, challenges, and head-to-head races.
Special Events. These are one-time events that usually coincide with real-world racing events. They offer unique challenges and rewards.
Night Racing. This mode is available after you unlock the required cars and tracks. It features different lighting conditions that affect how the cars handle it.
Realistic Car Damage & Driving Physics
There is nothing quite like the feeling of smashing your car into a wall at 200 MPH. This game features realistic car damage that affects both the visuals and performance of your vehicle.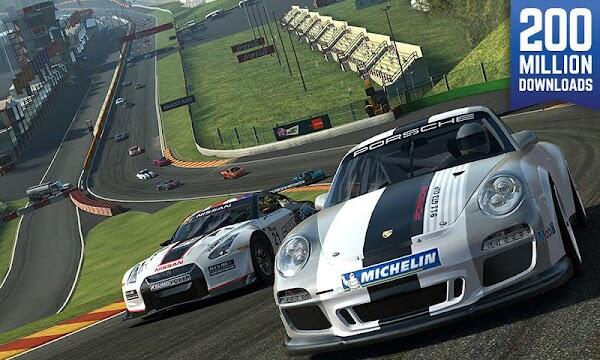 You will see scratches, dents, and broken windows after a crash. The damage is not just cosmetic; it will also affect the way your car handles.
The driving physics is also very realistic. The cars feel weighty, and you can feel the difference in traction when driving on different surfaces.
The racing experience is further enhanced by the game's excellent sound design. The cars sound different depending on the engine type, and you can hear the tires squeal as you drift around corners.
The music is also pumped up to get you into the racing spirit. This way, you can immerse yourself in the game and feel like a professional racer.
Real Racing 3 MOD APK Download
The Real Racing 3 MOD APK for android is a modified version of the game that gives you restrictions-free access to all the game's features. Here are its special features:
Real Racing 3 MOD APK All Cars Unlocked. This game allows you to use any car from the start, regardless of your driver level. This gives you more flexibility in choosing the right car for each race.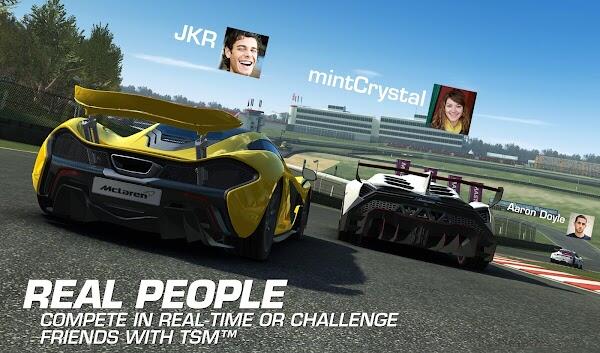 Real Racing 3 MOD APK All Tracks Unlocked. You can also race on any track from the start. This means you don't have to waste time unlocking tracks as you progress through the game.
Real Racing 3 MOD APK Unlimited Money and Gold. This game gives you an unlimited amount of in-game currency. You can use this to buy new cars, upgrade your existing ones, and pay for repairs.
No Root Required. When you download Real Racing 3 MOD APK OBB offline, you will not be required to root your android device. This makes it quite elementary to install.
No Ads. The Real Racing 3 MOD APK 2023 update will also get rid of all the annoying ads that pop up in the game. This ensures that you can focus on the racing and not be distracted by anything else.
Conclusion
Real Racing 3 features amazing graphics, realistic car damage, and a large selection of cars and tracks. It guarantees hours of racing fun.
You can also download Real Racing 3 MOD APK data to get unrestricted access to all vehicles, tracks, and in-game items. Download it now and start your engines.