Download Thetan Arena Mod APK latest version if you're a fan of MOBA and Battle Royale games. It features dynamic skins, realistic graphics, and superior sound systems.
Information of Thetan Arena
Thetan Arena is an action-packed game that offers a refreshing way of playing MOBA and Battle Royale gameplays. The game was developed by WolfFun to be used with Android 4.4 and above devices.
The app has many modes that give you an unforgettable gaming experience. You'll enjoy deathmatches, battle royale, tower destruction, and other highly engaging sessions.
If you want to test your creativity, tenacity, and grit, then you should download Thetan Arena for Android today! Start consolidating your team and attack your opponent's camp to become the last team standing!
Exciting Gameplay
The game is designed to allow you to showcase your fighting skills as well as your team management abilities. While you can engage in solo battles, you'll an opportunity to form formidable teams that will outshine your competitors.
When forming teams, you should always select members with diverse skills and abilities. This way, you'll have a greater chance of defeating the other team(s). The game allows you to level up your characters. You should also arm them with powerful weapons and skills which can help you conquer challenges.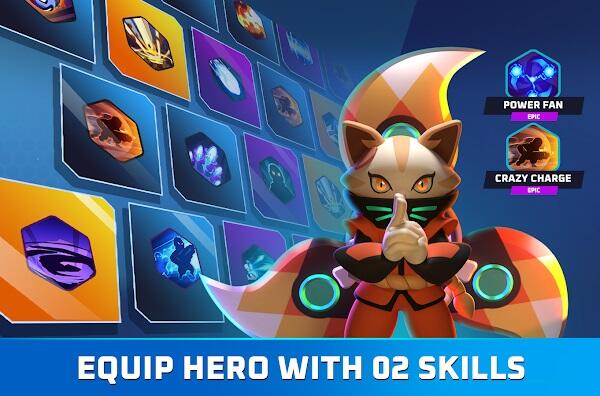 The more challenges you win, the more treasures you'll collect. These rewards are critical as they will help you to unlock better gaming features. Always aim at getting the maximum number of skeletons and other rewards.
Thetan Arena Game Modes
Thetan Arena has simple controls that make gaming fun. Simple touches on your screen will allow you to maneuver and control your characters. You'll be able to use powerful attacks and skills with taps and swipes.
The game offers exciting gameplay modes such as:
Deathmatch. This mode will pit two teams (4 members each) against each other in a fight for survival by gathering skeletons. Each kill will be equal to one skeleton. Additionally, you'll be awarded an extra skeleton if you destroy your enemy's camp!
Battle Royale (Duo/Solo). You'll be up against 42 players. You can choose to fight as an individual player in the solo mode. Here, you must fight all the 42 players and be the last one standing. If you choose the duo mode, you'll be required to pair with a teammate. The last squad standing gets the victory!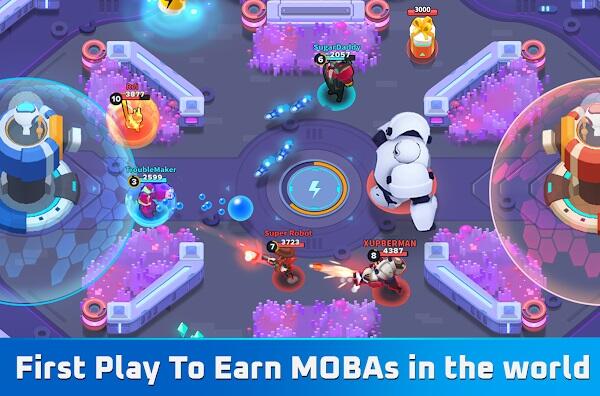 Tower Destruction. This mode requires players to destroy towers before advancing to the next stage where they can face even tougher towers.
Superstar Mode. In this mode, you'll be competing against other players. The challenge is to collect as many superstars as you can and outsmart your enemy.
Unique Features of Thetan Arena
Thetan Arena offers a host of features that will excite you. It has skin and sound systems that affect your body and mind to increase your focus and energy levels during playtime. Here are some of its features that'll turn around your gaming experience:
Fierce PvP Battles. This game offers unique battle modes that will test your skills and creativity.
Team-based Challenges. You can choose to fight with or against preselected teams in the game's multiplayer challenges. With this, you'll be able to acquire high-ranking points which you can use to unlock rewards.
Leveling Up Characters. The game has two mechanics that will help you level up your characters; talent and bonus points. The talent is used to increase the abilities of each character while bonus points are used to unlock new features like skins and weapons. You can earn these points by defeating challenging opponents and collecting rewards in the game's daily quests.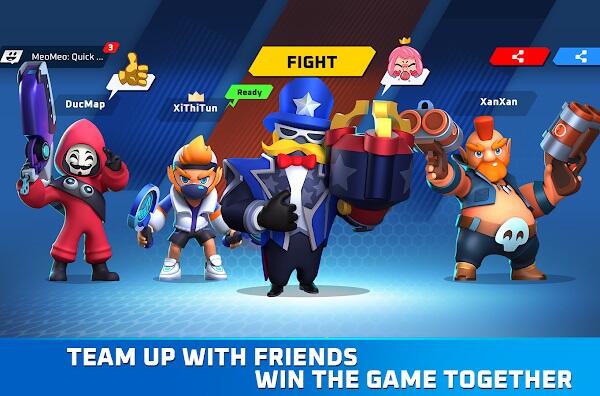 Customized Skins. The game will allow you to change the appearance of your characters by collecting gemstones. These stones are collected when you beat challenges and other players in the game's multiplayer battle modes.
More than 30 Heroes. You'll get to choose from more than thirty heroes. Each hero uses different fighting styles which will diversify your gaming experience.
Lethal Weapons. The game has lots of lethal weapons for you to use in the battle arena. These weapons are designed with high damage rates that ensure each blow delivers critical results. You can earn most of them by collecting gemstones in the game's multiplayer challenges.
Multiplayer Battles. The game allows you to go solo or form teams so that you can engage in high-energy battles with other players. You must appreciate this option since it keeps your mind sharp and active, allowing you to become better at setting strategies.
Unique Awards. This game allows you to earn awards after completing every mission. Even better, you'll be able to earn cryptocurrency, thus giving value for every minute you spend gaming. You can also engage in campaigns as you try to rise on the global leaderboard!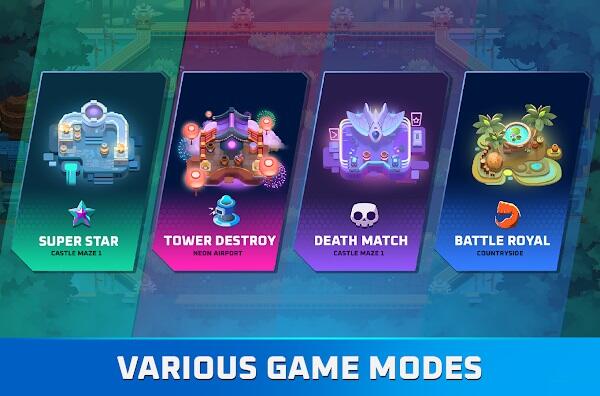 Theta Arena is designed to offer players a highly interactive environment that allows them to create strong teams, improve their gaming skills, and play against highly competent players.
Thetan Arena Exquisite Graphics and Soundtracks
When you play Thetan Arena, you'll be immersed in a rich environment where sound effects and graphics take the center stage. You'll feel like you're in an actual battle arena with awesome special effects, realistic imagery, and cinematic sounds.
You can also wear different costumes, which will make you more powerful, faster, or even deadlier.
Equip Your Heroes with Skills!
This game has classified skills to ensure that you get the best combination to survive on the battlefield. It has 3 distinct categories, including:
Effect Skills. These are useful when you want to inflict status on yourself, enemies, or allies.
Damage Skills. When you gather these skills, you'll be able to increase your ability to cause damage within a short time.
Support Skills. These skills will help you whenever you're overwhelmed. They will increase your chances of conquering the enemy.
Conclusion
All in all, Thetan Arena- MOBA & Battle Royale is an exciting game that you can use to test your battle strategies. You won't get bored when playing this game because it has lots of features and customizations for you to enjoy!