Enjoy the Wolf Game Mod APK all episodes unlocked and play as a wolf. Keep upgrading your wolf's qualities to become better for every game level. Live a wolf's life in its entirety!
Information of The Wolf Game
| | |
| --- | --- |
| Name | The Wolf Game |
| Updated | |
| Compatible with | Android 4.4+ |
| Last version | 3.1.1 |
| Size | 191.32 Mb |
| Category | Role playing |
| Developer | Swift Apps LTD |
| Price | Free |
| Google Play Link | |
| MOD | Unlimited coins |
Unlimited coins
Unlimited gems
Note: Buy everything for Coins and Gems, even when not enough or quantity 0!
Have you ever wondered how the Apex predator of the wilderness survives? How do wolves live out their lives daily and what makes them so endearing? Now, anyone has the opportunity to find out all this by placing themselves in a game where these beasts are the main characters.
The Wolf RPG by Swift Apps LTD for mobile is finally here for gamers to enjoy. Plunge yourself into the world of wolves and live your entire game life as one of them! Explore the remarkable game surroundings created with intriguing 3D graphics.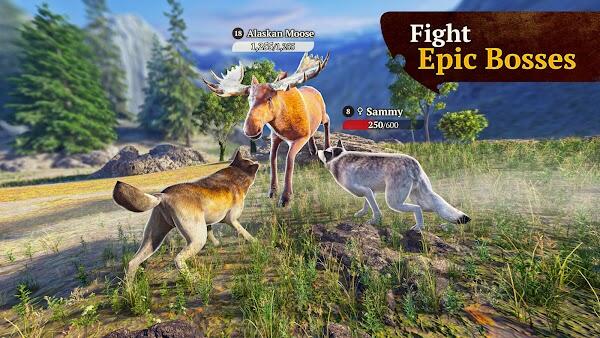 Download The Wolf game now and become a wolf yourself. Hunt, live, survive, and thrive, as a wolf normally does in this entertaining and addicting simulator game. You will also play with people from all over the World!
The Ultimate Wolf Life Simulator
The Wolf game is everything you would expect from any simulator game. That implies that you will live the life of a wolf. This game carries many RPG elements to keep you absorbed in gameplay for as long as you can. Watch and play as your wolf starts to develop and grow more powerful with every hunt.
You can select to give your wolf four skill types like Basic, Special, Auras, and Totems. Each category has about seven to nine skills variety. Try out all of them to discover the most suitable one for your wolf.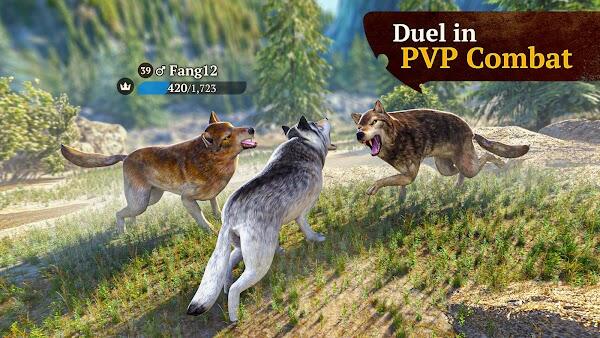 The basic group is displayed in copper-red color and involves skills that poison, damage, or slow down the enemies. On the other hand, the Auras group has a pastel blue color and includes skills that support health, boosts HP, enhance abilities for you and your allies. The Special Group is coded in purple and includes external environmental attacks like fire, hurricane, cold blast, thunder, or icy spikes. Lastly, the Totems group comes with skills that work as obstacles and deploy the enemies.
The Wolf Game Highlights
Here are highlights of The Wolf Game that make it stand out as one the most interesting animal RPGs of this era.
Breathtaking RPG Gameplay – The Wolf game gives you a chance to be the king of your destiny. That is because there is no imposed path to follow in this breathtaking animal simulator game. Here, you will decide which characteristics to develop and which skills to enhance and become the Alpha of the pack!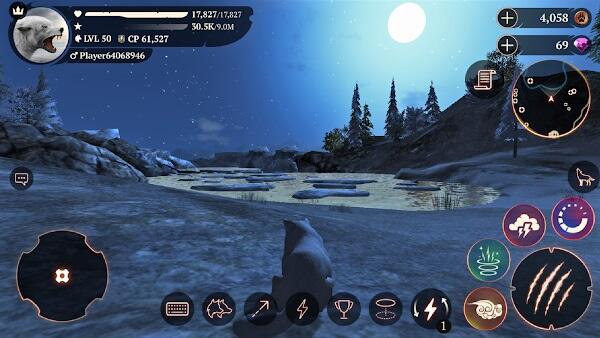 If you become the Alpha wolf, you will gain the power to open a portal at a location you want. That way, other wolves in the pack will be able to teleport to this spot. Besides, you will also be able to use the howling button placed directly above the attack panel to open the portal. Here, you will live the life of a wolf without preset gameplay.
Download this game today and start living the life of a wolf with interesting activities such as hunting and more. Compete with other gamers from all around the World! Note that the wilderness is never empty because you will meet other wolves in real time and together conquer the forest!
Character Customization – you can choose to become a mighty Gray Wolf, a Dhole Wolf, or even a mysterious Black Wolf! Select your favorite wolf qualities and create your unique character. You can customize numerous aspects of your wolf character such as the name, skills, fur color, and more. As you progress through the game levels, you will be able to continue customizing your wolf´s skills and qualities even more.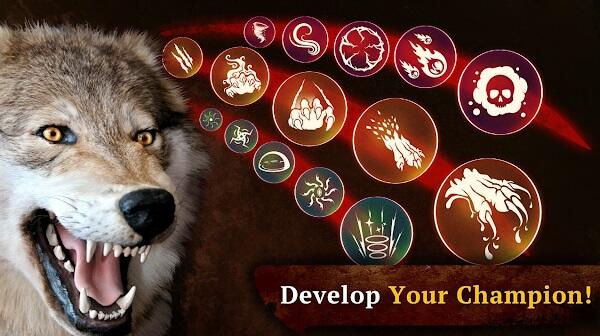 Moreover, health, attack, defense, and speed are the four key attributes that make a wolf. Explore your Character Statistics to see their exact value. You can boost them by buying them using your gold coins. For example, the highest value for health and attack enhancement is 300 while that of defense and speed is 60.
Amazing 3D Graphics – enjoy strolling around the entire map and admire the stunningly created environment! Move from your den to the mountains and the streams, enjoy the vivid surroundings courtesy of the high-end 3D graphics, and make the game incredibly pleasant. The animals also look realistic. The Wolf is a unique MMORPG that provides you with an original gaming experience with great visuals. Download this game now and find plenty of surprises that will keep you entertained.
Simple Game Controls – The Wolf´s gameplay is simple and comes with easy controls. Just with the left virtual 'stick', you will be able to move your wolf freely. On the other hand, with the attack button you will be able to harm other animals you come across, especially during your hunting. Fight raccoons, foxes, rats, and other wolves with just a few clicks of the attack button.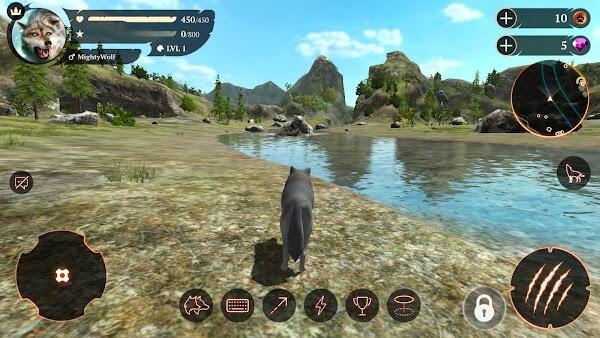 Various Game Modes – the hunting mode allows you to explore the map while searching for prey including rats, rabbits, foxes, raccoons, all the way to bulls and bison. Collaborate with other players online to battle the strongest packs! Moreover, if you want to enjoy a bigger and thrilling gameplay, participate in the Battle Arena mode. Team up with other wolf players to go up against another pack. Go to war against other packs and enjoy the game even more!
Play with Friends – the battle arena game mode allows you to bring friends and family into this game. Create a formidable team and compete against another team.
Download the Wolf Game Mod APK Unlimited Diamonds & Health
Download The Wolf Game Mod APK and accumulate unlimited money and gems. You will be able to unlock various in-game items and gain unlimited health.