Download T3 Arena Mod APK Unlimited money and gems Latest version to enjoy a thrilling shooter game with 3D graphics. It has a rich roster of heroes to help you form the ultimate team.
| | |
| --- | --- |
| Name | T3 Arena |
| Updated | |
| Compatible with | Android 5.1+ |
| Last version | 1.40.1897817 |
| Size | 1.21 Gb |
| Category | Action |
| Developer | XinDong Entertainment Pte Ltd |
| Price | Free |
| Google Play Link | |
| MOD | Unlimited money, gems |
T3 Arena APK is a mobile shooter game offered by XinDong Entertainment Pte Ltd. It is a free-to-play shooter game with exhilarating gameplay and high-end graphics.
The game has several game modes, such as team deathmatch and domination. This diversity allows you to enjoy different gameplay experiences, ensuring the game never gets stale.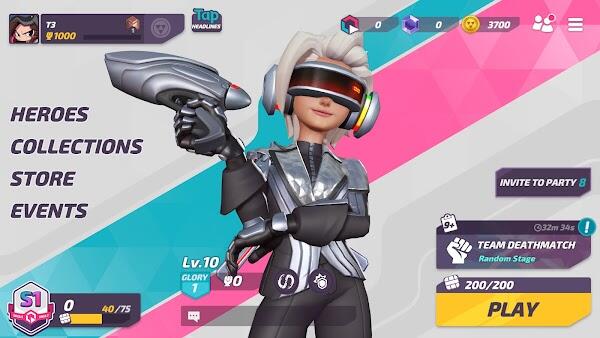 Additionally, this game also has a rich roster of heroes to choose from. Each hero has unique abilities and playstyles, allowing for varied team compositions and strategies.
Highly Intense Gameplay Experience
This game is quick, intense, and action-packed. You will constantly stay on your toes, making split-second decisions to survive and defeat your enemies.
When you begin, your first task is to choose your hero and equip them with powerful weapons. Then, the battle begins! You have to work closely with your team to dominate the enemy team and capture their points.
Furthermore, T3 Arena APK has a smooth control system that allows precise aiming and shooting. This gives you a fair chance at victory, as your skills determine the match outcome.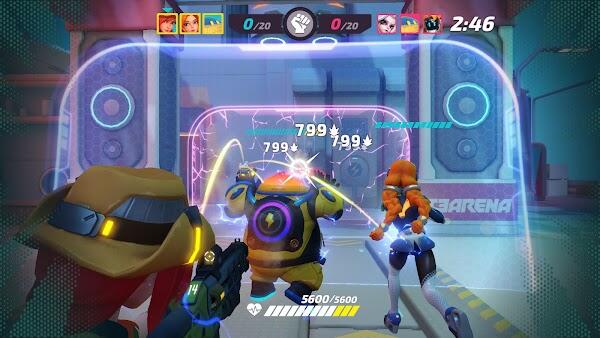 Ensure you are always at the top of your game by upgrading and customizing your weapons. This will give you an edge against your opponents and ensure victory is within reach.
Different Game Modes
This game offers various game modes for you to enjoy. This diversity ensures that the gameplay never gets dull and repetitive. They include:
Team Deathmatch (3v3). This is a classic game mode where your team has to defeat the enemy team to win. You face your opponent head-on in a battle to the death. The first team to achieve 20+ eliminations win the game.
Crystal Assault (3v3). This is a game mode that challenges you to choose between attacking & defending. Your primary goal will be to keep your crystal safe. This will be a mind-blowing game of strategy, as your team must protect the crystal while also attacking the enemies.
Control (3v3). This game mode is about conquering and controlling points on the map. Your team has to capture the point and defend it against enemy attacks to gain points. This will call for a strong sense of teamwork and coordination.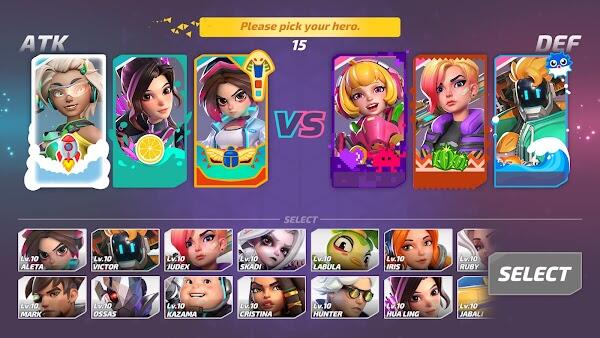 Payload Race (3v3). This game mode requires your team to escort a payload to its destination while fending off enemy attacks. It will require intense strategy and cooperation as you push the payload forward while defending it.
Free-For-All (Solo). This is a solo game mode where it's every man for himself. Six heroes will face off against each other in a battle, and the first one to reach 12 eliminations wins. This is a test of individual skill and strategy.
Payload Escort (3v3). This is similar to the Payload Race game mode, but with a twist. In this game, you will have one payload to escort. You will then have attackers and defenders. If the attackers safeguard the payload to the final destination, they win. If the defenders stop them in time, they win instead.
Clash (3v3). In this game mode, players will participate in thrilling clashes with the potential to turn the tide of battle. These clashes will occur periodically, and whichever team wins more of these battles, wins the game. Be careful as your heroes will not respawn after being eliminated in a clash.
Collect or Unlock Heroes
As you play, you will gather coins and gems to unlock or collect heroes. The game offers unique & cool heroes with diverse abilities and playstyles. This allows for endless team composition possibilities and strategies to dominate the battlefield.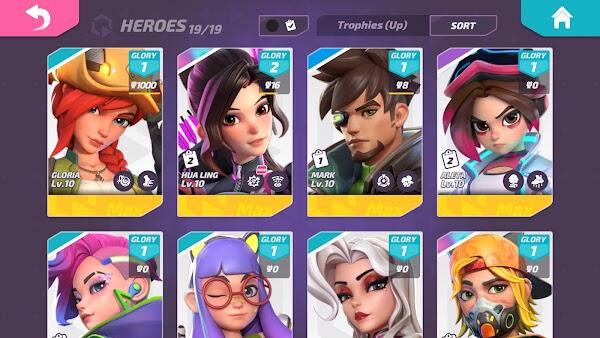 Besides, you must study your needs and the enemy's team composition to choose the perfect hero. The goal is to have an all-inclusive team with a good balance of offense, defense, and support.
This way, you will have a higher chance of victory and domination in the T3 Arena APK for Android. So, gather your team and gear up for an intense battle! Download now to experience high-stakes battles and emerge as the ultimate champion.
Powerful Weapons to Use
In T3 Arena APK, there are various weapons for you to use and upgrade. From rifles to sniper guns and even shotguns, the possibilities for your playstyle are endless.
Customize these weapons with skins and upgrades to make them stronger. This will give you an edge against your opponents in battle and increase your chances of victory.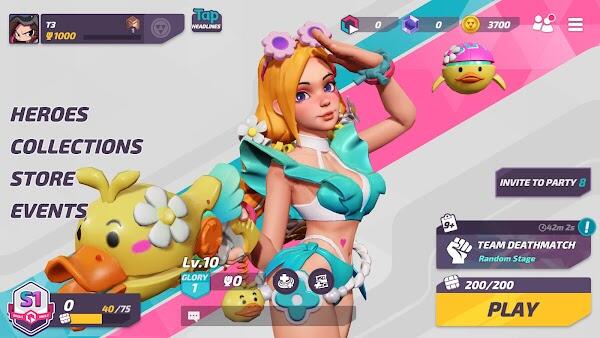 Besides, you can use the various gadgets and items provided to give you an advantage in battle. These include protective shields, health packs, speed boosts, and more.
Other Game Features of T3 Arena APK
Voice Chat. This game allows players to communicate via voice chat. This is crucial in team battles as it allows for quick and efficient communication. You can strategize and make split-second decisions with your team to increase the chance of victory.
Easy-to-Play. This game offers a simple and user-friendly interface for players to easily navigate and understand. The game's mechanics are also easy to grasp, making it accessible for both new and experienced players.
Advanced Game Physics. T3 Arena APK offers realistic and advanced game physics for a more immersive gaming experience. This includes realistic gun firing and reloading, as well as character movements.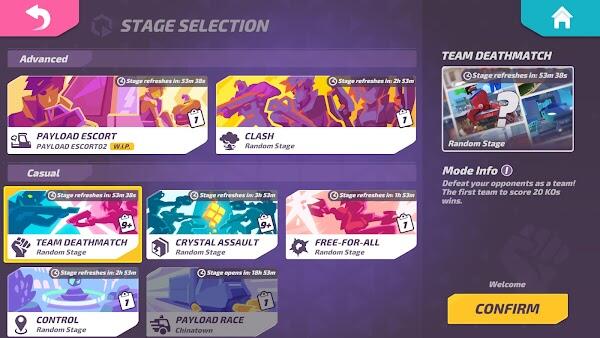 Beautiful Graphics. This game showcases stunning graphics with detailed character models and in-game surroundings. Immerse yourself on the battlefield with the realistic visuals of the T3 Arena APK for Android. You will feel like you're actually in the midst of battle.
Authentic Sound Effects. Any action game is not complete without realistic sound effects. T3 Arena APK offers just that with its authentic sounds from gunshots to character movements and even voice chat.
T3 Arena MOD APK Download
The T3 Arena MOD APK for Android unlocks all the features, giving you unrivaled advantages in battle. Here are some of the benefits you'll accrue:
T3 Arena MOD APK Unlimited Money and Gems. This MOD APK offers unlimited money and gems for easy unlocking and collecting of heroes, skins, gadgets, and more.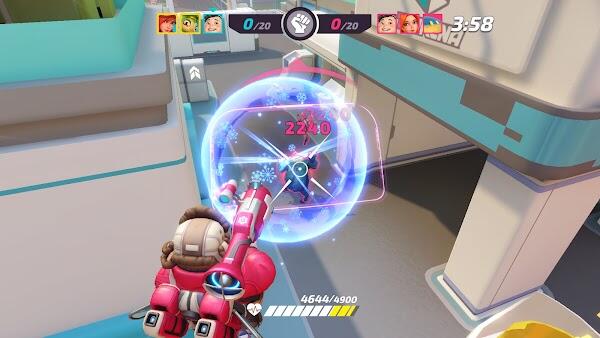 T3 Arena MOD APK No Cooldown. The MOD APK also removes all cooldowns so that your abilities can be used without delay. This gives you an upper hand in battles by constantly spamming powerful skills.
T3 Arena MOD APK All Characters Unlocked. This MOD APK also unlocks all the characters in the game, giving you more options for team composition and strategies.
Ad-Free Gameplay. The T3 Arena MOD APK 2023 also removes all advertisements. This guarantees a more seamless and distraction-free gaming experience.
Conclusion
T3 Arena is a fast-paced, intense battle game where strategy and quick thinking are crucial to victory. Gather your team and dominate the battlefield with diverse heroes, powerful weapons, and advanced game features.
And with the T3 Arena MOD APK for Android, you can gain even more advantages in battle. Download now for a thrilling gaming experience!