Download Sword Art Online VS APK Mod Latest version and control characters from the SAO anime story in epic battles. It features 3D graphics and exceptional sound systems.
Information of Sword Art Online VS
| | |
| --- | --- |
| Name | Sword Art Online VS |
| Updated | |
| Compatible with | Android 9+ |
| Last version | 1.2.1 |
| Size | 129.07 Mb |
| Category | Action |
| Developer | Bandai Namco Entertainment Inc. |
| Price | Free |
| Google Play Link | |
| MOD | No MOD |
About Sword Art Online VS
Sword Art Online VS APK is a free-to-play action RPG mobile game based on the popular Sword Art Online franchise. It is offered by Bandai Namco Entertainment and lets you control characters from the SAO anime, including Kirito and Asuna.
The game features fierce battles and fast-paced action where you must use sword skills and special powers to defeat enemies. You can also upgrade your characters and equipment to increase their power, making them stronger and more formidable in battle.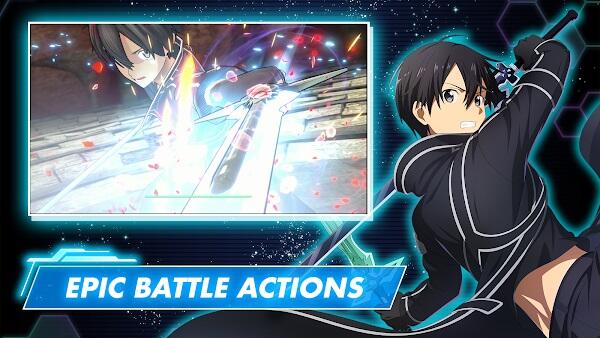 Additionally, Sword Art Online VS APK features a wide variety of quests and challenges that test your skills as a warrior. There are daily events and rewards that offer exceptional opportunities to earn coins and better your gameplay.
Sword Art Online VS APK - Background Story
Kirito is a curious and investigative young swordsman searching for the truth behind the mysterious world of Cross Edge. This popular game has drawn the attention of many players, and its reviews are worrying.
Kirito has heard unsettling rumors that Cross Edge has mysterious players appearing from the blues. These players wear a garment to hide their eyes (commonly a hood pulled low). The rumors are rife that losing to these players leads to memory loss, and some players are even disappearing completely.
As a fearless sword fighter, Kirito sets out on a quest to uncover the truth behind these mysterious happenings and end the sinister forces that revive the memories of Laughing Coffin in SAO.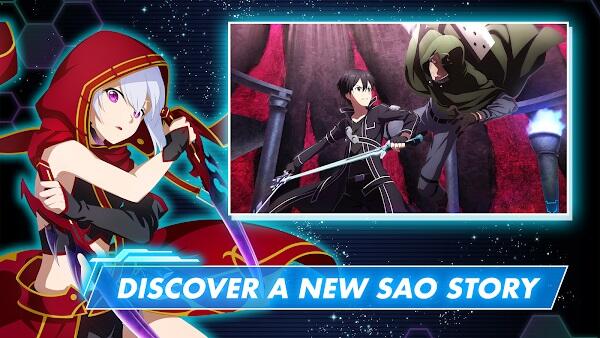 As a result, Kirito and his friends start playing Cross Edge at Dicey Cafe. Will they face the mysterious characters that haunt their memories of SAO? What dangers do they encounter in Cross Edge's virtual world? Only you can find out by downloading and playing Sword Art Online VS APK for Android.
Intense Gameplay & Detailed Mechanics
Sword Art Online VS APK offers intense and fast-paced gameplay with detailed combat mechanics that require skill and precision. There are also a variety of quests, tasks, and challenges to keep you engaged as you fight your way through the virtual world of Cross Edge.
As Kirito and his friends continue to enjoy the game, they are ambushed by an inexplicable presence. To uncover the truth and defeat this shadowy figure, Kirito must use his powerful sword skills, battle tactics, and special powers to prevail against all odds.
However, defeating one enemy will lead to a cascade of new challenges, and Kirito will need to keep evolving his skills if he wants to prevail. For example, The Gleam Eyes is a powerful boss with exceptional abilities and an army of minions at his side.
To defeat The Gleam Eyes, you must use offensive and defensive tactics to overcome its powerful attacks. This requires focusing on your strengths while capitalizing on your enemies' weaknesses.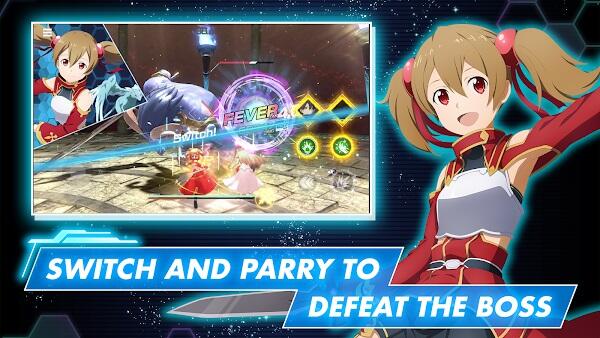 Overall, this game will challenge your reflexes and strategic thinking while immersing you in the world of SAO. It will test your swordsmanship and push you to your limits in battle. If you think you have what it takes, download Sword Art Online VS APK and have fun.
Unique Features of Sword Art Online VS APK
The SAO Battle System (SBS) uses character-specific sword skills, special powers, and tactical prowess to defeat your opponents. You can also use elemental attacks and other skills to counter your enemy's attacks.
Additionally, this system is super flexible, allowing you to switch and parry your enemy's moves in real-time. This way, you can counter their attacks and unleash devastating blows.
Customizable Characters & Equipment
Sword Art Online VS AP also features customizable characters, allowing you to choose every aspect of their appearance and equipment. This way, you can create a unique avatar that reflects your style and strategy.
As you fight through the virtual Cross Edge, you can earn coins and upgrade your equipment. This will enhance your character's abilities and give you an edge in battle.
Endless Gameplay & Side Quests
Aside from the main storyline, Sword Art Online VS APK offers endless side quests that allow you to explore different parts of the game world. You can also fight powerful bosses and other challenging enemies in these quests.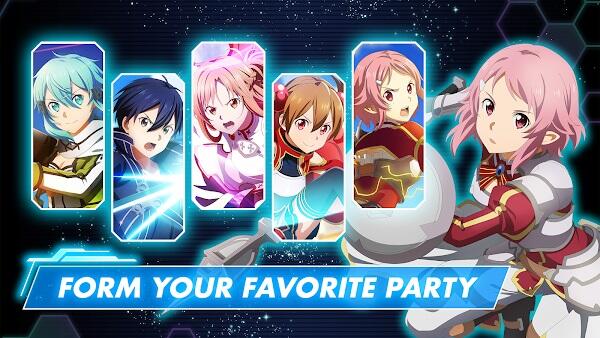 These quests are an excellent way to build up your characters, equipment, and skills. Plus, they offer a break from the main storyline and provide a chance to take on powerful foes.
You can choose 3 characters from SAO to form your party, meaning you can create unique teams tailored to your fighting style and strategy. Each brings special abilities and skills to the table, so choose wisely!
You must ensure synergy between your party members. This will allow you to use each character's strengths to overcome enemies and succeed in every task.
To become even more powerful, you can collect and equip cards in Sword Art Online VS APK. These cards offer boosts to your character's skills and powers, so choose carefully and ensure they are the right fit for your team.
The power-ups and boosts offered by the cards can give you a significant advantage over your enemies. As such, you should be keen on features like elemental boosts and other bonuses that can help you stay ahead of the pack.
This game has a new character called Layla. She is a powerful character with unique abilities and skills that can help you stay ahead of your opponents.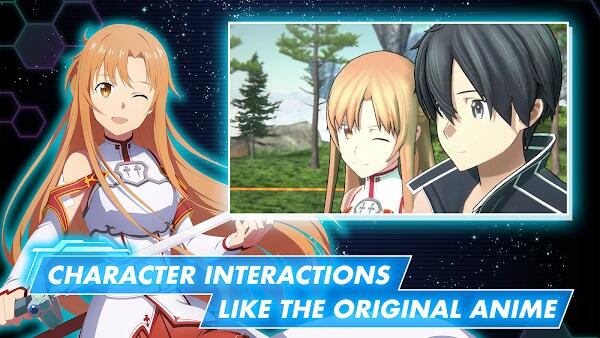 Layla is also highly customizable, allowing you to outfit her in the gear and equipment you think will be the most effective in battle. Ensure you explore all options and find the right combination for success.
Pros & Cons of Sword Art Online VS APK Download
Pros
Exciting, fast-paced gameplay that pushes you to your limits
A flexible battle system that allows for strategic and tactical play
A vast game world with a variety of side quests and challenges
A diverse selection of characters, equipment, and skills to choose from
Competitive and engaging PvP battles
Cons
A high degree of difficulty and complex controls may be challenging for some players
Some users may find the characters and story a bit generic or clichéd
Proven Tips for Playing Sword Art Online VS APK 2023
Familiarize yourself with the different characters, skills, and equipment. This will help you choose a party that fits the bill for every situation.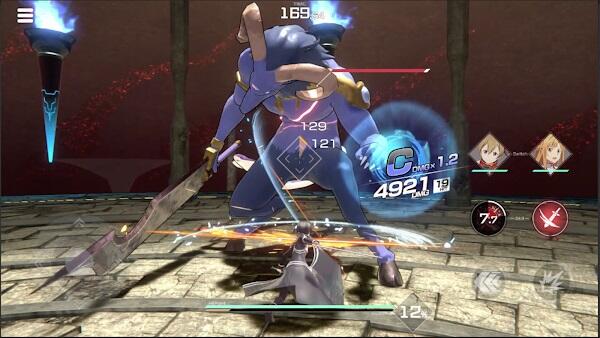 Pay close attention to each character's strengths and weaknesses. Understanding these factors will allow you to counter your enemies and gain an edge in battle.
Take advantage of side quests to build up your characters and equipment. This will give you plenty of opportunities to hone your skills, build up your team, and grow more powerful over time.
Be mindful of your character's armor levels and special abilities. Managing these factors and using them strategically in battle can help you win tough fights and emerge victorious against the most powerful enemies.
Always look for new and exciting opportunities to improve your character and gear. This may mean investing time into farming coins, upgrading equipment, or unlocking new skills and abilities.
Sword Art Online VS APK MOD
While this game is relatively new, you can expect the release of its MOD version in the coming months. This version will offer exciting new features and updates that will further enhance your gameplay experience.
Some of the key benefits will include unlimited gold and gems for upgrading your characters and equipment. Additionally, the MOD version will likely include additional characters and skills, making it easier to defeat tough opponents and succeed in every scenario.
Conclusion
Sword Art Online VS APK is an action-packed RPG that will push your skills to the limit and test your strategic abilities. With its diverse cast of characters, powerful equipment, and exciting gameplay features, this game offers endless hours of fun.
It guarantees endless challenge and excitement and is the perfect game for anyone who loves a good adventure. Download it and experience the rush of epic battles.