Wish you can play Among Us but with a different setting? In Suspects Mystery Mansion Mod APK - unlimited money and gems, you'll find the killer and perform investigations! Play with friends now.
Information of Suspects Mystery Mansion
| | |
| --- | --- |
| Name | Suspects Mystery Mansion |
| Updated | |
| Compatible with | Android 4.4+ |
| Last version | 2.1.0 |
| Size | 188.72 Mb |
| Category | Action |
| Developer | Wildlife Studios |
| Price | Free |
| Google Play Link | |
| MOD | Unlimited money, gems |
About Suspects Mystery Mansion
Unless you've been living on a cave these past months, you've heard of Among Us. This popular multiplayer game has sparked conversations online worldwide as millions of players joined in on the fun. Now, it's close to dying and there's a new kid on the block called Suspects Mystery Mansion. This game is similar to the former but presents the game in a much more fun way. The characters are cute and there are new roles!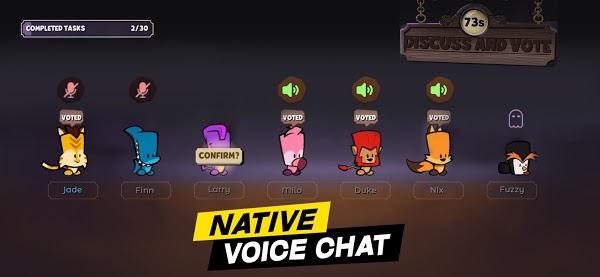 From Wildlife Studios, this game lets you enjoy and solve a murder mystery at a mansion. Here there are 3 roles the players can take which are the Guest, Detective and Assassin. There can be 9 players on a match and you can play with real ones all over the world. You will have respective tasks depending on your role and then you can also chat with others and discuss the situation at hand. Enjoy a new type of mystery game today with real people!
Find the Killer
When Among Us suddenly rose in popularity, a lot of people joined in on the hype and enjoyed the game for a long time. There are now many similar games that have been popping up left and right and some are so obvious that it hurts. If you just want to enjoy something similar to Among Us, then you need to play Suspects Mystery Mansion now. This has almost the same mechanics but they have unique characters and even an extra role. This game lets you experience a different type of mystery multiplayer.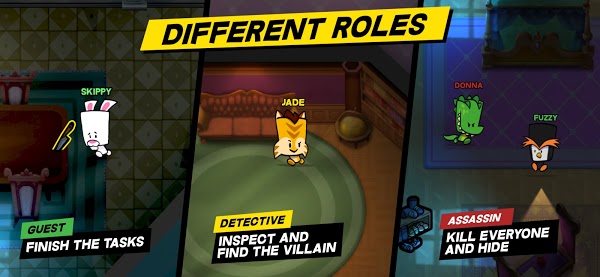 Here, you can play in a match of up to 9 real players worldwide. Then, there are 3 tasks that will be randomly placed on the players which is the Guest, Detective and Assassin. The Guests are responsible for finishing all the tasks which mostly involves sorting the belongings, and finding clues on different areas. Then the Detective is the one who will inspect the clues and find the villain. Lastly, the Assassin is the one who will kill everyone.
In this fun and chaotic game, you can have a lot of fun time with friends! The game features an in-game voice chat feature to make things more interesting.
Suspects Mystery Mansion Features
If Among Us isn't cutting it anymore, try Suspects Mystery Mansion now and see the difference instantly. Enjoy a unique mystery game!
A New Mystery Multiplayer – If you've played Among Us before, then you know how fun it is to play with random people or with friends in a game of mystery. Today, there are a lot of fun games you can play such as Suspects Mystery Mansion that lets you experience many new things. This new one lets you enjoy new characters which look cure and cuddly. In this one, you can experience the same mechanics but with different settings.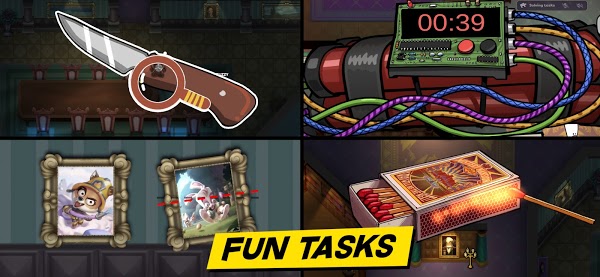 There are 3 roles in this game as opposed to the 2 that we're used to. Here, there's the Guest who will finish all the tasks. Then, there's the Detective whose job is to find the killer and then the Assassin who will eliminate all the players. Then, there's also a discussion every time to find out who the killer is among the players. There's an in-game voice chat feature that's a great addition to the game.
3 Different Roles – In the game Among Us, there are 2 roles only which is the Crewmate and the Impostor. But in Suspects Mystery Mansion, you'll enjoy 3 different roles which are the Guest, Detective and the Assassin. The players will be randomly given unique roles that they must fulfill in order to win the match. Here, the Guests are the ones who will finish the tasks around the mansion such as arranging things, finding things and other puzzling tasks.
The Detective on the other hand will be focused on finding the culprit and searching for evidence around the mansion. Then, there's the Assassin who's only job is to eliminate everyone without getting caught.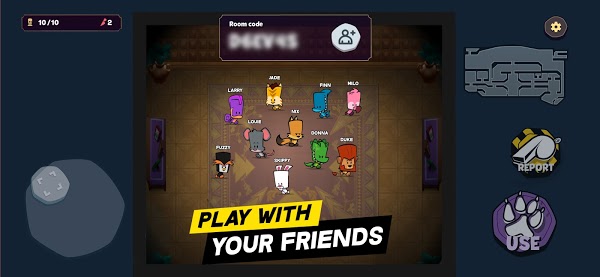 Play up to 9 players – Suspects Mystery Mansion lets you play with up to 9 players on a match. These can be random players online or with family and friends. Enjoy a real-time multiplayer game that lets you enjoy a fun match!
Fun tasks – There are different tasks for the different roles in the game. There are fun tasks that you can solve by completing the puzzles. Then there are also others that are fake tasks which belong to the Assassin. Then, there are also dedicated tasks for the Detective!
In-game voice chat – The game lets you enjoy the game more by adding a built-in voice chat feature where you can discuss who the killer is and whatnot.
Download Suspects Mystery Mansion Mod APK – Unlimited money, gems
Enjoy Suspects Mystery Mansion now so you can find out who the killer is! Have fun with this game of cat and mouse.