Download Stickman Legends Mod APK Unlimited money and gems Latest version to collect powerful stickman fighters and defeat the dark forces. It supports offline gameplay & has 3D graphics.
Information of Stickman Legends
Unlimited money (increases when spent)
Stickman Legends APK is a battle game offered by ZITGA. It combines action, role-playing (RPG), and Player versus Player (PvP) gameplay. Even better, you can opt for online or offline mode.
It takes you through a fantasy shadow of war where the dark forces have taken over, and you must vanquish them from the kingdom. Choose from different shadow fighters – swordsmen, archers, ninjas, and wizards. Train them well and make them stronger to defeat the enemy.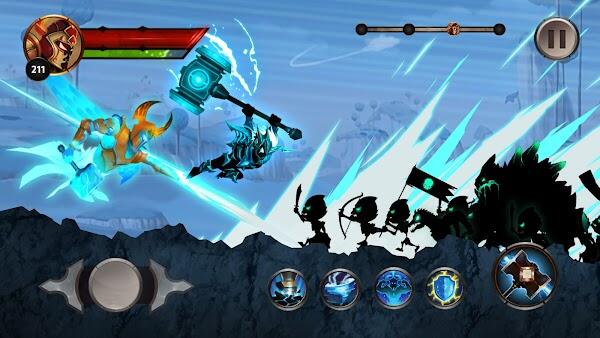 You can use various weapons like swords, knives, and bows & arrows. It also has power-ups to boost your fighters' abilities. Always ensure your team is fully energized and well-equipped before heading into a battle.
Fight Enemies in Intense Battles
This game has undeniably tough enemies that will test all your fighting skills. You will come up against mighty bosses, cruel enemies, and evil monsters. These enemies will also be equipped with a range of weapons and abilities.
You will also have to constitute the right strategy to vanquish them. The battles will take place in several locations, each with its difficulties. You must complete assigned tasks within the stipulated time to progress to the next level.
In case your team is overwhelmed, you can use power-ups to turn the tide in your favor. Some of these power-ups include increased damage, speed, and invincibility. You can also use them to revive fallen comrades.
Become Shadow Legends
The ultimate goal in this game is to become shadow legends. To do this, you must complete all the quests and challenges. You can also participate in global tournaments to show off your fighting skills.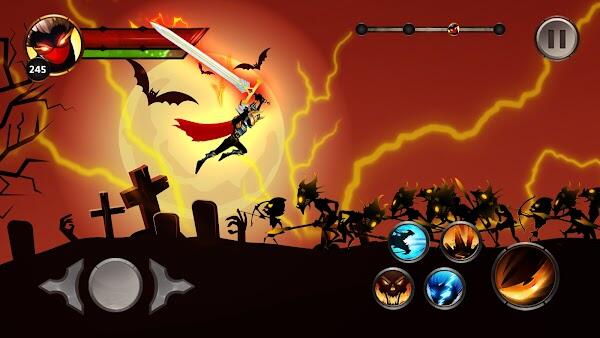 You will be pitted against some of the best fighters in the world. Win these battles to get rewards that will help you progress in the game. The stronger you become, the more difficult the challenges will be.
Collect Different Classes of Fighters
This game has different skilled fighters that you can collect. They include Lion-Hearted Swordsman, Powerful Mage, Legendary Shadow Warrior, Shadow Hunter, Mighty Dungeon Guardian, and Elite Archer Hunter.
All these fighters have unique abilities and weapons. You must collect them all to create the ultimate fighting force. You can get these fighters by participating in events, opening chests, or completing quests.
Additionally, it will be your 100% responsibility to train them well. You can also equip them with martial arts skills and weapons to make them even more lethal.
Other Outstanding Features of the Game
Disguise Yourself as a Dark Knight. This will enable you to get closer to your enemies before attacking. Once you gain their trust, you will crush them and humiliate their evil bosses. This strategy is particularly useful when fighting against giant monsters.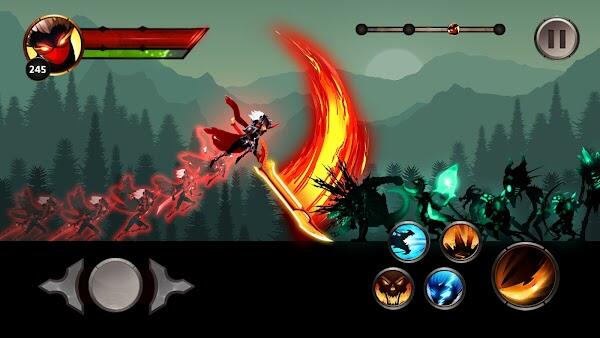 Customize Your Characters. This game depends on how strong your fighters are. You must, therefore, customize them to make them powerful, resistant to attacks, and more resilient. You can change their clothes, weapons, and skills to better suit your fighting style.
Dynamic Leaderboard. This game challenges you to lead your team to victory and become the ultimate shadow fighter. You can use this feature to track your progress and see how you rank against other players from around the world. Coming out on top will earn you great rewards.
Enjoy an Offline Gameplay. This game does not need an internet connection to function. You can play it anywhere, anytime, even when there is no network coverage. This makes it ideal for long journeys and times when you want to relax away from the hustle and bustle of city life.
Facile Controls. The developer has made it possible to play this game with one hand. This is particularly useful for people who are always on the go. You can, therefore, enjoy an uninterrupted gaming experience even when you are walking or doing other things.
Regular Updates. The developers release regular updates to improve the game's performance and add new content. You can expect new fighters, locations, quests, and events in every update.
Epic Graphics and Sound Systems
This shadow fight game boasts some of the best graphics in the industry. The characters, locations, and fighting scenes are all well-rendered, and you will see every detail, from the background forests to the blue sky.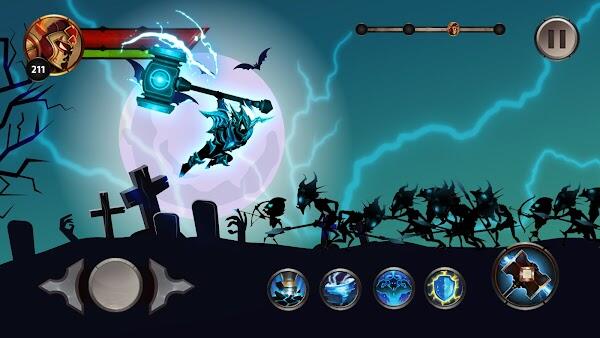 The sound system is also top-notch. The various sounds of swords clashing, monsters roaring, and fighters grunting add to the game's realism. You will feel like you are in the middle of a real battle.
Stickman Legends MOD APK Unlimited Everything
Some of the items in the game store are quite expensive. If you want to use them without charge, you can get the Stickman Legends MOD APK download. Here are its unrivaled benefits:
Stickman Legends MOD APK Unlimited Money and Gems. The MOD APK gives you an unlimited supply of in-game currency. You can use this money to buy the best items in the store and upgrade your fighters quickly.
Stickman Legends MOD APK Free Shopping. This game has different kinds of items, including clothes, weapons, and skills. You can buy any of these items without spending a dime.
Stickman Legends MOD APK Unlock All Characters. You will access all the game's fighters, including rare and powerful ones. You can use them to create the ultimate team and achieve your goals quickly.
Stickman Legends MOD APK Unlock All Skills. This game has dozens of skills for you to learn. The MOD APK gives you access to them all, allowing you to create the perfect fighter.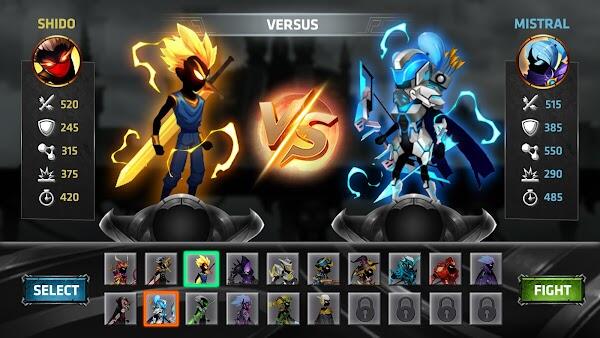 Stickman Legends MOD APK Max Level. This MOD APK allows you to reach the maximum level quickly. You can, therefore, enjoy all the game's content without grinding for hours.
Stickman Legends MOD APK No Cooldown. This game has a cooldown period for some items. The MOD APK removes this restriction, allowing you to use them whenever you want.
No Ads. The Stickman Legends MOD Menu APK gives you an uninterrupted gaming experience. You will not have to sit through any annoying ads.
Conclusion - Stickman Legends MOD APK 2023
Stickman Legends has exciting gameplay, great graphics, and regular updates. You can also get the Stickman Legends Premium MOD APK to enjoy unlimited everything. Install it now and become the ultimate shadow fighter!