Download Project Bloodstrike APK Mod Unlimited money Latest version for supreme & immersive Battle Royale FPS gameplay. You can collect treasures and upgrade weapons to win battles.
Information of Project Bloodstrike
| | |
| --- | --- |
| Name | Project Bloodstrike |
| Updated | |
| Compatible with | Android 5.0+ |
| Last version | 1.001.530045 |
| Size | 1 GB |
| Category | Action |
| Developer | NetEase Games |
| Price | Free |
| MOD | Unlimited money |
About Project Bloodstrike
Project Bloodstrike APK 2023 is a fast-paced FPS game that offers you a chance to engage in frantic battles with other players globally. The game's objective is simple – eliminate all your opponents and emerge victorious.
You can achieve this by arming yourself with powerful weapons and using them wisely against your enemies. You can also utilize the environment to your advantage and take down your foes.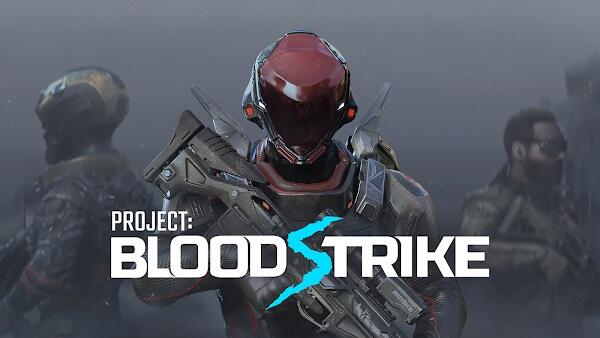 In addition, you can collect treasures during the course of the game and use them to upgrade your weapons. This will give you an edge over your opponents and help you come out on top.
If you are looking for a challenging and exciting FPS game to play, Project Bloodstrike APK for Android is the right choice for you. It is highly optimized for Android devices and offers smooth gameplay.
Highly Intense Gaming Sessions
The main attraction of Project Bloodstrike APK is its fast-paced, dynamic gameplay. The game features a variety of maps, each with its unique layout and challenges.
Your task is to navigate these maps carefully and take out your opponents before they can get to you. The game also features a variety of weapons, which you can use to take down your enemies.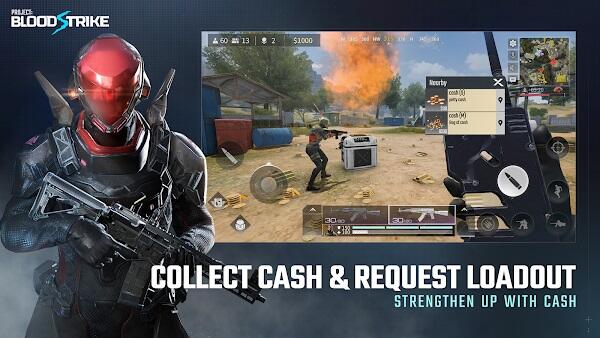 The app also has many treasure chests hidden around the map. Ensure you quickly grab them before your opponents do. You can use the treasures to upgrade your weapons, unlock more maps, and get new characters.
Customize Your Weapon
The game allows you to design a weapon of your own using the in-game editor. This feature adds a lot of depth to the game and allows you to create a weapon tailored to your playing style.
It has several gear options that alter the properties of your bullets. Here are some modification options that give you the most powerful gun:
You can change the range of your bullets. A longer range will allow you to take down enemies from a distance. However, it may make it a challenge to aim accurately.
You can increase the barrel length to ensure that your bullets travel faster, thus dealing more damage. The higher the damage, the higher your chances of destroying the enemy.
Fire Rate. A higher fire rate means you can shoot more bullets in a shorter period. This is useful for taking down multiple enemies at once.
You can reduce the recoil of your weapon by adding a muzzle brake or compensator. This will help you stay on target and take down your enemies more efficiently.
A You can improve the accuracy of your shots by adding a scope or red dot sight. This will help you take down enemies from a distance with ease.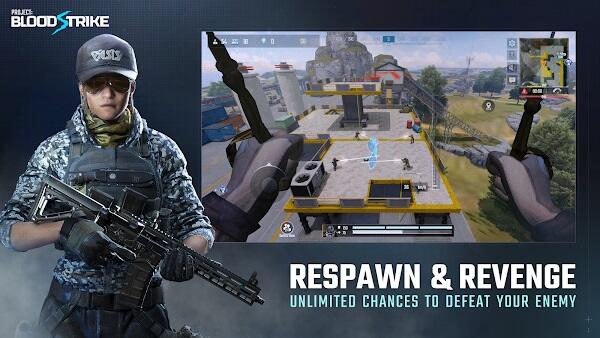 Additionally, this game allows you to use smart holographic sights and track your targets. This helps with precision sight pictures and ADS speed reduction, ensuring you can take down enemies quickly.
Multiple Upgrades MODs
This game also offers multiple upgrades to improve your gameplay experience. You can purchase different outfits for your characters, which offer different benefits. You can also buy new weapons and attachments using the in-game currency.
These modifications are designed to be easy to use. Once you have installed them, you can start using them right away without any hassle. They are also affordable and will not break your bank.
Using these features, you will create infinite playstyles for your characters. You can change various elements of their appearance and equipment to create a unique look. This way, you will always have a character that can handle any situation you come across.
Respawn and Revenge
This feature allows you to Respawn at a safe location after you have been killed. You can take revenge on the player who killed you and gets back into the fight quickly. This is a great way to get back into the action and take down your opponents.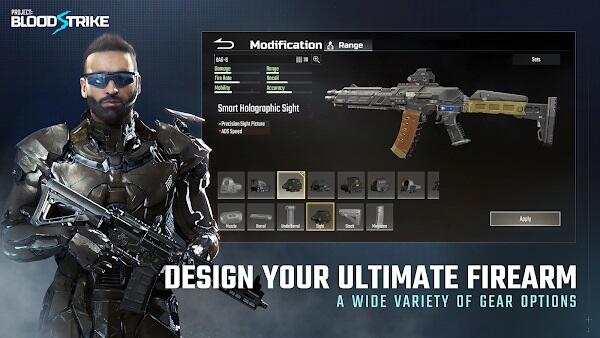 This feature gives you unlimited opportunities to exterminate your enemies. You can use it to your advantage and take down as many opponents as possible. The more you kill, the more points you will earn, and the higher you will rank on the leaderboard.
Other Unique Features of Project Bloodstrike APK OBB
Roguelike Elements. This game features roguelike elements, which add a lot of replay value. Each time you play, the game will be different, and you will have to adapt to the new challenges. This way, it will always feel fresh, and you will never get bored.
3D Graphics. This game uses cutting-edge 3D graphics that look amazing on any device. The battlefields are well-designed, and various NPCs populate the world. This creates a living and breathing environment that immerses you in the game. It has everything that you would expect to see in the real world.
Immersive Sound Systems. The game features an immersive sound system that makes you enjoy every minute you spend in it. Every shot and explosion is realistic, and you will see and feel the heat of the battle. This way, you will be fully engrossed in the game and forget about the outside world.
Simple Controls. This game has invested a lot in its controls. You can perform all the actions you need with ease, allowing you to focus on the battle. Its highly intuitive nature enables you to move and fight without any issues.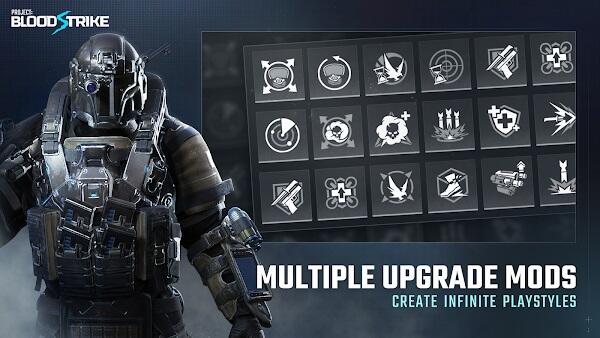 Many Collectibles. This game has many collectibles that you can find on the battlefield. Each one of them is unique and has a different purpose. You can use them to upgrade your weapons, purchase new items, or just show them off to your friends. You will see what's available on the screen, you must search for them in the environment.
Project Bloodstrike APK MOD
You can use this MOD to your advantage and create an infinite number of playstyles. It comes with a few modifications that improve your gameplay experience.
The game will start with all the outfits and weapons unlocked. You can change them at any time without spending any money.
Additionally, you will have an unlimited amount of in-game currency. You can use it to buy anything you want without worrying about the cost.
With these MODs, you will be able to create the ultimate soldier. You will be able to equip them with the best gear and make them unstoppable on the battlefield.
Conclusion
Project Bloodstrike is a great game that has something for everyone. It features intense action, great graphics, and an immersive sound system. Additionally, it is easy to control and has many collectibles. Download it and enjoy unforgettable FPS gameplay.