Download Myths of Moonrise Mod APK Unlimited money Latest version and save your continent from an unprecedented calamity. It has lots of heroes to help you defeat your enemies.
Information of Myths of Moonrise
| | |
| --- | --- |
| Name | Myths of Moonrise |
| Updated | |
| Compatible with | Android 4.4+ |
| Last version | 1.48.1 |
| Size | 148.35 Mb |
| Category | Role playing |
| Developer | StarFortune |
| Price | Free |
| Google Play Link | |
| MOD | Unlimited money |
Myths of Moonrise APK is an immersive role-playing game offered by StarFortune. It starts after a massive meteorite crashes into the continent's heart and causes a magical disaster.
It plunges the world into darkness, and you must take control of one of the last remaining factions of survivors. It will not be easy as the Fallen Ones are everywhere, and they will not stop until the world is exterminated.
Fortunately, this occurrence unites Werewolf, Wizard, and Vampire under a common goal. You must work together to restore the light and peace in the continent.
In their effort to find a solution, the trio gets to the Ancestral Grounds and awakens the mighty lord. He is the only one who can save the continent from further destruction.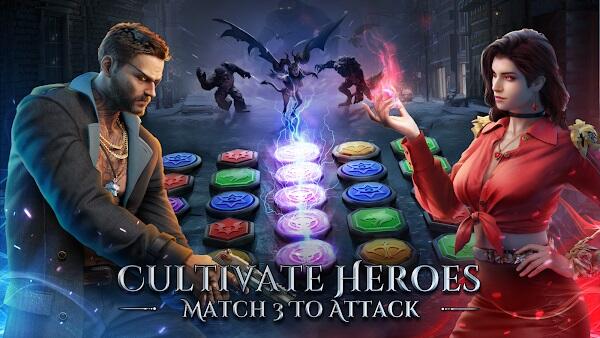 Now, it's up to you to create a strategy that will lead your team to victory. Take instructions from the mighty lord and use your magical skills to vanquish the enemy.
Unlock Heroes & Form a Formidable Team
This game has three types of heroes, including Musketeers, Riders, and Bruisers. Each of them has unique skills that you can use in battle.
You must form a team of these heroes and train them to be the best warriors in the land. Only then will you stand a chance against the Fallen Ones.
You can also equip your heroes with powers and items that will give them an edge in battle. It is up to you to decide how you want to build your team. Ensure you get maximum benefits from each hero.
Different Game Elements
Each hero has a set of skills you can use to your advantage. You must also master the art of using combos and chains to take down the enemy.
The game has an energy system that will allow you to use your skills more efficiently. Use it wisely and ensure you have enough energy to finish the battle. Some of the elements include: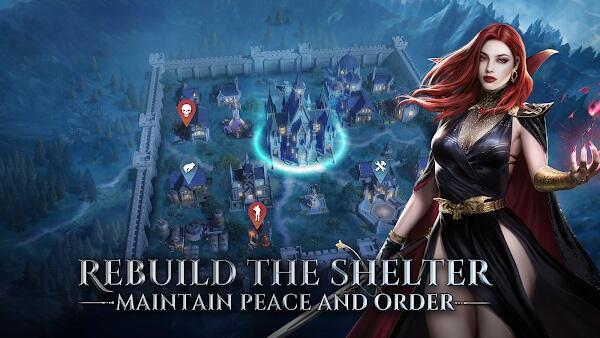 Werewolves (coded Green)
Vampires (Red)
Wizards (Blue)
Demons (Purple)
Demon Hunters (Yellow)
The elements can be weaker than others or stronger. The stronger ones can defeat the weaker ones.
As such, you must strategize and devise a plan that will enable you to take down the enemy. You can also use items and powers to give you an advantage in battle.
Rebuild Homes & Establish an Empire
The game starts after the world has been plunged into darkness. You must now take control of one of the factions and rebuild your homes. This will restore hope to humanity.
You must also establish an empire that will be the envy of all. This can be done by expanding your territory and ensuring you have control over all the resources in the land.
You must also build a strong army that will protect your people from the Fallen Ones. Ensure you have a good defense system to keep your empire safe.
Match Gameplay
Myths of Moonrise also has 3-match gameplay that will allow you to match different items and create combos. This will help you take down the enemy quickly.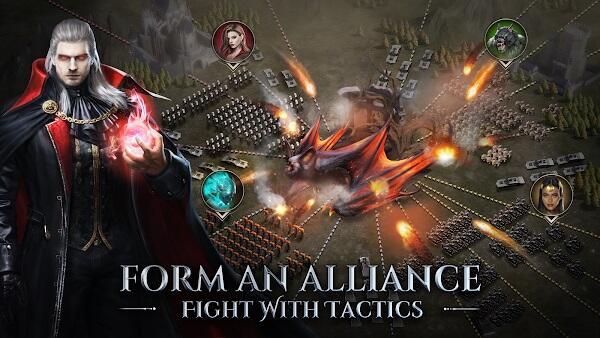 Matching the tiles will also help you create chains that will give you an advantage in battle. You must strategize and develop a plan that will enable you to take down the enemy quickly.
Also, ensure you are quick since the enemy will not stop until they have destroyed you. You must use your skills and items wisely to survive in this game.
Unique Characteristics of Myths of Moonrise APK
Recruit Heroes. The fight will be fierce, and you will need a team of heroes to help you restore peace on the continent. You can choose from a wide range of heroes, each with unique skills and abilities.
Equip Heroes. Having well-equipped heroes is the first step to winning any battle. You must ensure your heroes are armed with the best skills and magical powers. This will give them an edge in battle.
Expand! When exploring the world, you will come across different factions. You must expand your territory and take control of all the resources in the land. This will help you build a strong empire.
Create Alliances. Forming alliances and collaborations will be crucial to your success. You will need the help of others to take down the Fallen Ones. You must ensure an undefeatable synergy between you and your allies.
Defend! The Fallen Ones will not stop until they have destroyed everything in their path. You must build a strong defense system to protect your people from their wrath.
Simple Graphics & Intuitive Controls
Everything in this game has been designed to offer you the best gaming experience. The graphics are colorful and simple, making it easy for you to navigate your way through the game.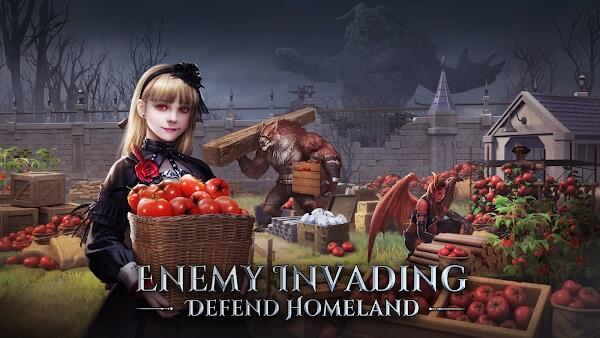 You will not have any problem understanding how the game works. Even if you are a beginner, you will master the controls quickly.
Myths of Moonrise MOD APK Download
The Myths of Moonrise MOD APK 2023 is the ultimate game for unrivaled enjoyment. It adds a new twist to the classic game with better graphics and enhanced sound systems. Some of its features are:
Myths of Moonrise MOD APK Unlimited Money. The original game has a limited supply of resources. This version gives you infinite money to help you build your empire quickly.
All Levels Unlocked. The Myths of Moonrise MOD APK for Android has all the levels unlocked. This means you can play any level you want without waiting for it to unlock.
No Ads. One of the most annoying things about free games is the constant bombardment of ads. This version has no ads, so you can enjoy your game without interruptions.
Conclusion
The Myths of Moonrise APK is an engaging strategy game that requires you to think critically. It is a perfect game for those who enjoy challenge and competition. The game is also easy to understand and play. Download it now and start building your empire.