Download Moshquito Mod APK free and enjoy a game where you control a Your Mosquitoes to suck as much blood as possible. Play as a Mosquito and suck blood now!
| | |
| --- | --- |
| Name | Moshquito |
| Updated | |
| Compatible with | Android 4.4+ |
| Last version | 1.9.10 |
| Size | 80.40 Mb |
| Category | Action |
| Developer | Lion Studios |
| Price | Free |
| Google Play Link | |
| MOD | Unlimited Money |
If love playing obstacle games, then the Moshquito game by Lion Studios is a great match for you! Here, you will play as blood-sucking mosquitos. Besides, the action here involves multiplying mosquitos and going through obstacles successfully!
Mosquitos cause death across the world with their bites. That is because they carry diseases like dengue and malaria. That is why they are dangerous. In this game, the player's objective is to keep on multiplying the number of mosquitos and suck as much blood as possible.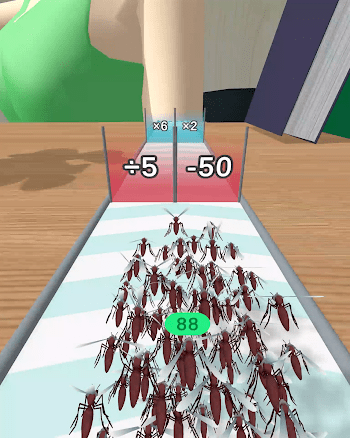 Here, you'll need to constantly think about maneuvering different obstacles. Note that you can reduce or increase your numbers depending on the number of obstacles you go through! Download Moshquito Mod APK and enjoy a unique mosquito game now.
Control Your Mosquitoes
Little mosquitoes want to play and you have to control them in all game levels. This exciting game gives the players a fun time playing a thrilling experience in the tiny world of mosquitoes. Your goal is to multiply the number of mosquitoes as much as you can to suck your host's blood successfully.
Go through various gates as you test your math skills and perform mosquito upgrades. Gather more mosquitoes and boost your chances of winning. The gameplay has simple controls that only require you to swipe left or right. The game gives you a chance to play other funny characters such as syringe needles and bees.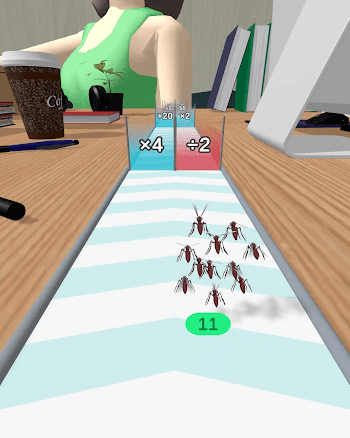 Maneuver obstacles, race your way to the finish line, find a perfectly delicious host at the finish line! Take on the challenge in the Moshquito game and plunge yourself into a moment of sucking blood from the humans!
Moshquito Game Features
Would you want to play a fun game controlling mosquitos? If yes, download the Moshquito game now and exploit each of the following features.
Play As A Mosquito – if you love playing obstacle course games, you should download the Moshquito game now. This is a game where you control mosquitos as they go through many obstacles to reach the end and suck blood from a human. Without a doubt, the entire experience in this game is enjoyable to play regardless of age.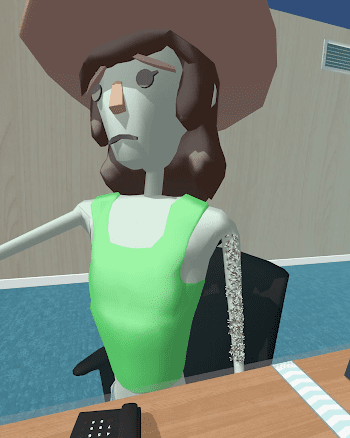 As you know, mosquitos are wandering insects that can be found about everywhere. In this regard, you should control them as they suck blood and carry diseases across many obstacles.
In this game, you will be able to have fun as multiply the number of mosquitos and controlling them to the finish line. The more mosquitos you take up to the end, the higher your score will be.
Add Some Poison – this game allows you to add more poison to your sting. This makes you more dangerous than other Moshquitos. Note that you can easily be caught or crash in the obstacles. Therefore, you should ensure that you go from the start to the end as a huge team of mosquitos. Add more passion to all mosquitos. Attack in groups and suck all blood to complete every level.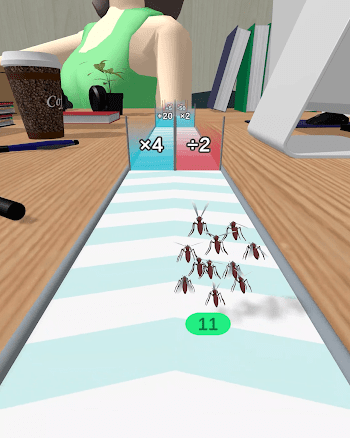 Solve, learn and enjoy Moshquito attack scenes in this simple game. Always be ready to suck blood and become bigger in size. Upgrade yourself from Moshquito to bees and syringe needless for ultimate pain on the human at the finish line.
Many Obstacles – enjoy a fun game where you will play the mosquito and maneuver several obstacles. The main goal in this game is to go through many levels as you encounter various obstacles in the way.
Notably, the obstacles will multiply, divide, add, or subtract, the number of mosquitos you have. Therefore, you should only choose the multiply or add routes if you want to complete each level successfully. The more mosquitos you take to the finish line, the higher your score.
Incredible levels – Moshquito is undoubtedly one of the most incredible obstacle course games you can find on the google play store today. This game allows gamers to complete many levels, each with varying difficulties and obstacles.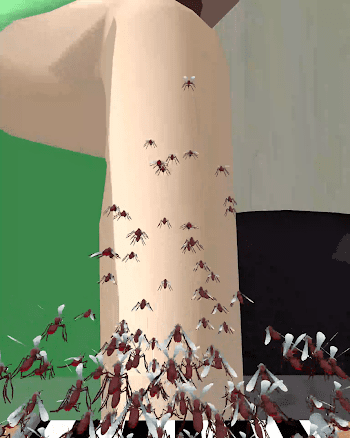 On various levels, you will face many obstacles that will diminish or multiply the number of your mosquitos! In the end, there's a human host waiting for you to suck its blood dry.
Various Skins – You can unlock many skins in this game. The skins will let your mosquitos have more style and color to make the game more enjoyable.
Stunning 3D Graphics – the 3D graphics used in creating this amazing game are pretty fun to look at. The game movements and surrounding comes out so vividly and smoothly. Further, the controls are as easy since you only need to control the mosquito character left or right.
Download Moshquito Mod APK – Unlimited Money & Gems
If you like playing a unique obstacle course game, then you can download Moshquito Mod APK today! Earn unlimited money and unlock various in-game items and levels in this game!