Download Mighty DOOM MOD APK latest version and fight demons in the beautifully animated universe. It's a top-down shooter game with 3D graphics & numerous challenges.
Information of Mighty DOOM
| | |
| --- | --- |
| Name | Mighty DOOM |
| Updated | |
| Compatible with | Android 10+ |
| Last version | 1.2.1 |
| Size | 400.88 Mb |
| Category | Action |
| Developer | Bethesda Softworks LLC |
| Price | Free |
| Google Play Link | |
| MOD | Unlimited money |
Mighty DOOM is an intense top-down shooter game characterized by arcade-style levels, fast-paced action, and high-quality graphics. It challenges you to fight hordes of demons threatening to tear the DOOM world apart.
When you start the game, you will have limited resources, weapons, & skills. As such, you must be strategic and clever to outsmart the demons. Reap the rewards of your progress and rise to the top by earning experience points, unlocking powerful weapons, and honing your skills.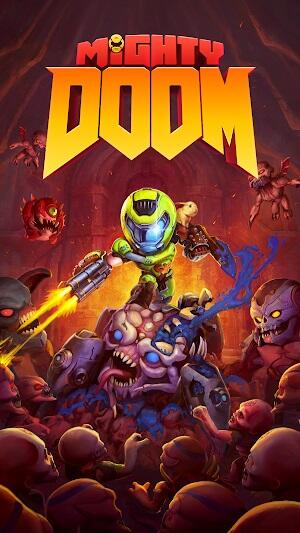 Additionally, Mighty DOOM MOD APK for Android offers high-grade weapons, including the Rocket Launcher. These legendary weapons will come in handy, especially when fighting fierce bosses and their minions.
Overall, you can expect a highly rewarding experience as you navigate the dark and treacherous world of DOOM. It will test your reflexes, skills, and wit. Can you fight to survive the demon onslaught? Download the game & test your tenacity and resilience.
Mighty DOOM APK - Background History
What happens when the forces of hell threaten to destroy DOOM? In this game, you are humanity's last hope as the infernal forces of Hell have been unleashed. You must battle your way through a myriad of demons and save what remains.
The game draws inspiration from the iconic first-person shooter series crafted by id Software in the 1990s, providing an unforgettable gaming experience. It has all the familiar characters, monsters, weapons, and galaxies. This time, however, it is presented using an entirely new top-down perspective.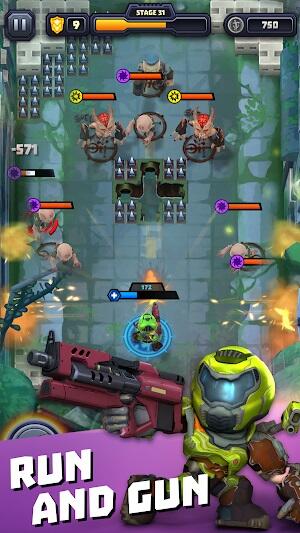 When you arrive, the world will be in a state of disarray. It won't be simple to restore balance and harmony. However, if you take on this challenge and never give up, there's a chance that together we can save the day! Download it and try your luck.
Intense Gameplay (With Numerous Levels)
This is a fast-paced game that offers exhilarating experiences. You will battle your way through numerous levels and fight hordes of demons with your arsenal of weapons.
Each level has its unique style, challenges, and foes. As such, you must creatively assess each situation and develop the best strategies for survival. The levels are gripping, intense, and full of surprises.
In the beginning, you'll be forgiven for passing it off as a simple shooter game. But you'll soon uncover that it is much more than meets the eye! It tests your reflexes, aiming skills, and even puzzle-solving abilities.
Fortunately, the game is also super rewarding. Accomplishments will be rewarded with experience points, power-ups, and coins. You can put these valuable treasures to use by upgrading your weapons, honing new skillset, and unlocking exclusive rewards.
Why is Mighty Doom APK Special? Unique Features to Expect
Single-Touch Controls. The game's developer optimized it for single-touch controls to provide a smooth and effortless experience. This touch-friendly feature ensures you always have total control of your character.
Hundreds of Mind-Blowing Levels. When playing this game, you will never struggle with monotony & boredom. You will battle through more than a hundred levels, each providing unique content and experiences.
13+ Legendary Weapons. Prepare to take your enemies by surprise with an arsenal of 13+ weapons, including the Rocket Launcher, BFG, Chain Gun, Plasma Rifle, Super Shotgun, and Unmakyr. Upgrade these powerful resources to increase their damage potential & inflict maximum carnage.
High-Quality Graphics & Animations. With cutting-edge 3D graphics, the developers crafted a thrilling and enthralling atmosphere to bring this game to life. The character models, environments, and animations are also of high quality.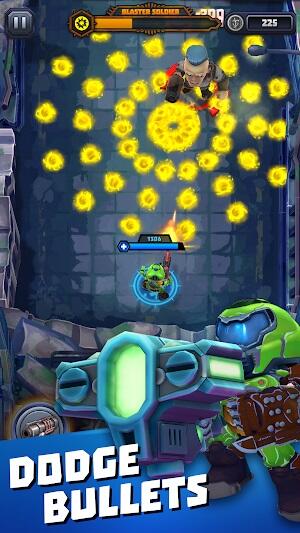 Swap Weapons Fast. With effortless weapon swapping, you can modify your tactics to fit the present situation with unparalleled speed and ease. This essential feature amp up the fun & action even further.
Target the Glory Kill. You must unleash your demon-slaying prowess to kill all demons and go for the glory kill. This is a rewarding feature that gives you greater rewards and boosts your experience points exponentially. You must shoot your enemy when flashing green.
Rise After Every Fall. Even after defeat, you can rise again & fight for victory. This feature ensures you are always in the game and helps keep up your momentum when playing.
Unlock Lethal Combos. You can unlock lethal combos with special power-ups that increase your chances of winning each level. Some of these combos are very powerful and can exterminate multiple enemies hassle-free.
Challenge Fierce Bosses. This game also features fierce bosses you must battle, including Hell Priest and Baron of Hell. The fights will call for precise aiming and clever strategies to gain the upper hand.
Thrilling Sound Effects. Mighty DOOM MOD APK download infuses you with intense emotions with its thrilling sound effects. The background music is also great and intensifies the game's atmosphere.
System Requirements and Additional Information
The game requires an Android version of 10.0 or higher to run smoothly, restricting it to modern devices only. You must also have a minimum of 2GB memory and at least 500 MB of free storage space (the game is approximately 380MB).
Its controls are pretty simple (identical to Archero & other games in the same category). You can use a virtual joystick to move your character. Whenever you spot an enemy, you must stop and tap the screen to aim & shoot.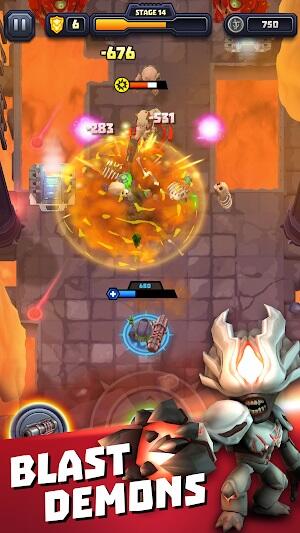 Even better, the game returns the glory kill feature from Doom Eternal & Doom 2016. This requires you to move close to the enemy and time your shots perfectly when they are flashing green.
While you can use your XP points & other rewards to progress the gameplay, you can accelerate your progression via in-app purchases ($0.99 - $99.99 per item). However, you can still enjoy the game without spending a dime.
All in all, the Mighty DOOM MOD APK guarantees insane enjoyment. It may contain violent scenes, explaining the rating by the developer. You can also expect a few ads while playing. But these never interfere with the gaming experience since they are not intrusive.
Helpful Tips to Play the Mighty Doom Game
Ensure You Use All the Weapons in Your Arsenal. Switch between them wisely and optimize your strategies accordingly.
Keep an Eye Out for Power-Ups. These will give you temporary benefits and help even the odds against powerful bosses.
Plan Your Moves Carefully. Take a few seconds before each move to plan your attacks accordingly and choose the best strategies for success.
Go for Glory Kills. You can quickly take down any enemy by going for their glory kills. Time your shots perfectly for the best results.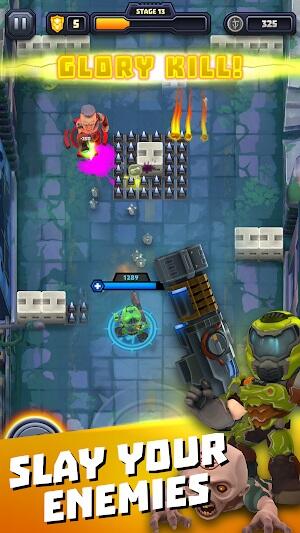 Watch Out for Enemy Spells. some enemies have powerful spells that can cause devastating effects and wipe out your character in seconds. Be prepared to dodge them and counterattack with quick reflexes.
Use Multiple Strategies. One of the greatest features of Mighty DOOM MOD APK is the ability to use multiple strategies for success. Experiment with different tactics and optimize your gameplay accordingly.
Grind for Experience Points. You will need to grind for experience points regularly to progress through the levels quickly. Use every weapon and power-up at your disposal, as well as glory kills, to gain XP faster.
Conclusion
Mighty DOOM MOD APK is an intense and thrilling dungeon-crawling game. It features a simple control system, attractive graphics, and exciting sound effects that make playing super enjoyable.
You'll be tasked to battle fierce demons determined to take over the DOOM universe. You must not allow them to succeed. Unleash your wit, weapons, and power-ups to gain the upper hand against these menacing enemies. Download this game today and join the battle to rescue humanity!