Download Mages Survival MOD APK latest version and use magic spells to annihilate invading enemies. It features a blend of roguelike & roguelite action for optimal fun.
Information of Mages Survival
| | |
| --- | --- |
| Name | Mages Survival |
| Updated | |
| Compatible with | Android 5.1+ |
| Last version | 1.9.5 |
| Size | 66.05 Mb |
| Category | Action |
| Developer | VerdantGem |
| Price | Free |
| Google Play Link | |
| MOD | Unlimited money |
Mages Survival APK is an action-packed game offered by VerdantGem. It puts players in the shoes of a mage and has them battle against the invading Enigma Swarm from the Void Zone.
Embrace the unpredictability of a roguelike & roguelite experience with randomly generated levels and dungeons. As you progress, you will amass various magical attacks by acquiring new spells along your journey.
You will also face multiple boss battles throughout the campaign as you strive to prevent the Enigma Swarm from consuming all of reality. This game uses a unique auto-aim & one-hand control system to make it easier for players to command their spells and defeat their enemies.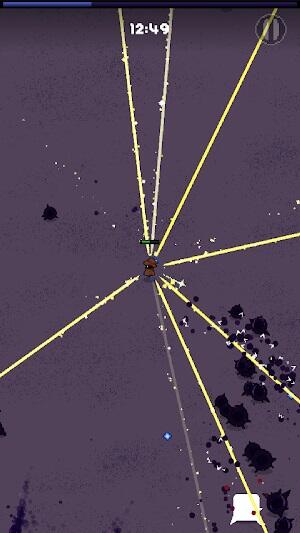 Overall, Mages Survival MOD APK for Android will provide hours of intense and exciting gameplay to keep you on the edge of your seat. Get ready to become a powerful mage and save the world from certain doom.
Mages Survival APK - Background Story
In an era after humankind was almost obliterated by the Enigma Swarm, what remained of humanity joined forces & created the Mages Pact to combat the Void Zone's hostile invaders. This game is a testament to their fight for survival.
You have been chosen by The Wizard King, a powerful wizard whose mission is to restore balance to the world. By joining forces with him and accepting The Mages Pact, you are providing the last glimmer of hope in an otherwise bleak future.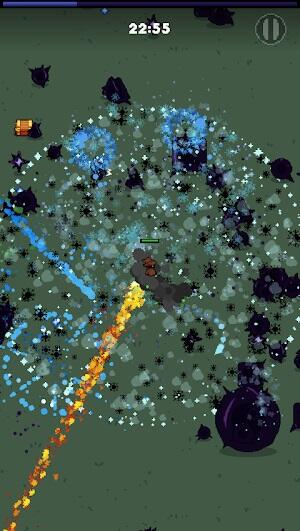 You must consolidate your team of heroes & set out on a heroic mission to thwart the Enigma Swarm from destroying your world. Along the way, you must acquire magical powers and assemble mystical artifacts to prevent being engulfed by the void.
Are you up to the task? Do you dare venture into a perilous place and come out victorious? Download this game now (latest version) to find out.
How to Play Mages Survival APK - Intense Gameplay?
Mages Survival is an intense game of exploration and battle. You will need to traverse multiple randomly generated levels and dungeons, with the goal of saving your world. As you advance, you'll discover enchanting artifacts which will give you an advantage in combat.
You must also recruit powerful heroes/mages to join your squad and rely on them to back you up during intense boss battles. With its unparalleled auto-aim and one-hand control system, commanding your spells to defeat enemies has never been easier.
What's more, this game is super gratifying; it gives you plentiful rewards and loot as you advance through the game. By utilizing them, your magical abilities will reach a higher level. Some of these potential prizes include:
Incinerate. Unleash a fiery inferno with this rotating ray of flames, incinerating everything that stands in its way.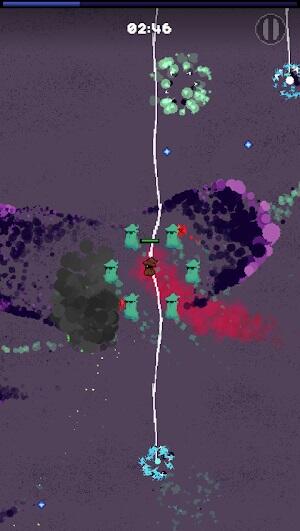 Blizzard. Defense is key, and with the power to conjure a snowstorm of ice & frost, you can keep your adversaries at bay. Envelop them in an icy chill that will leave them immobile before they even have time to strike.
Light Speed. Time to get your speed boost. This spell empowers you to move with blinding speed & effortlessly evade any incoming offensive.
Test your abilities, reactions, and combat techniques with Mages Survival. You must think on the fly and make savvy decisions if you want to persevere. Download Mages Survival APK now for an extraordinary gaming experience.
Other Outstanding Features of Mage Survival APK
2D Pixel Art Graphics. Get lost in an entrancing realm of hand-drawn pixel art as you traverse captivating environments, encounter interesting characters, and combat exclusive adversaries. Even though the game's graphics are not groundbreaking, they stay attractive and enjoyable.
Excellent Soundtrack. This game features a surreal soundscape to immerse you in an extraordinary world. We recommend that you put on your headphones & be mesmerized by the game's captivating soundtrack, designed to amplify your emotions as you explore.
Guilds & Leaderboards. Test your mettle against other spellcasters and join an elite guild of powerful mages. Competing for the highest ranking on leaderboards is a surefire way to demonstrate that you are the strongest.
6 Unique Mages to Choose from. Pick your favorite mage and customize them with special powers, exceptional color combinations, and awesome hats. It is essential to select the correct character for your strategy since each hero possesses a distinct set of capabilities that will give you an edge in the game.
20+ Magical Spells to Master. Arm yourself with more than 20 formidable spells and you'll have no fear of the merciless Enigma Swarm. Experiment to find which combinations are most successful for your unique set of circumstances.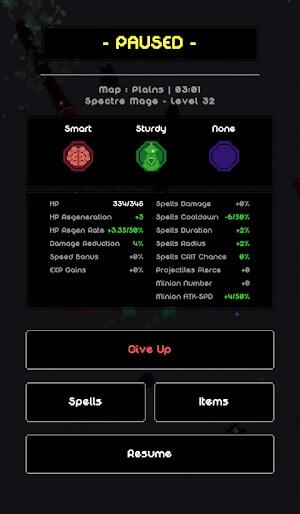 80+ Items & Enchantments. Assemble different enchanting items and magical weapons to add strength and power to your avatar. Discover the right composition of tools that will make you an indomitable champion.
Build Your Traits. Put points on various traits and unlock powerful bonuses to give yourself an edge in combat. Choose the right combination and become unrivaled in battle. Ensure you consider factors such as damage output, speed, and defense when making your choices.
Challenging Boss Battles. Put your skills to the test with demanding boss battles. Test out new strategies and employ a unique fighting style that will put you on top of the leaderboard. With its simple controls, it won't be long before you master enemy formations: show them who is boss.
Multiple Game Modes. The game has diverse modes to challenge any player. Whether you want a challenging solo experience or an exciting co-op adventure, you will find something that suits your style in Mages Survival.
Simple Controls. With its facile controls, playing this game is a breeze. You can concentrate entirely on the action without worrying about navigating complicated menus.
System Requirements & Additional Information
This game is compatible with multiple devices. However, we recommend that you use a newer device (2GB+ of RAM & Android 5.1+) for a lag-free gameplay experience. This way, you can dive into this thrilling adventure hassle-free.
Furthermore, the game features optional in-app purchases to acquire items & enchantments. If you're not interested in making any additional purchases, that's understandable.
Tips and Tricks to Play the Game Like a Pro
Equip yourself with the knowledge of various spells/enchantments. This will enable you to make wise decisions when picking out your gear.
When selecting your hero, ensure you choose one with characteristics most compatible with your play style. Note that each mage is unique in its capabilities.
Experiment with different combinations of items to find the right mix for your avatar.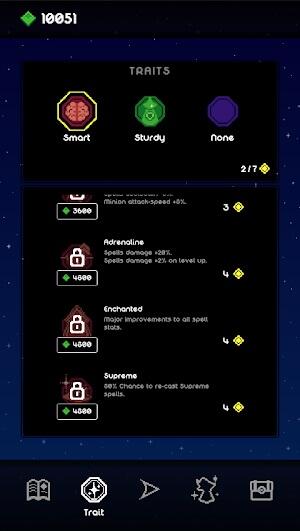 Employ strategic movement to outmaneuver the enemy and maximize your damage output.
Take advantage of guilds & leaderboards to test your skills & compete against others to prove you are the strongest.
Conclusion
Now that you know all the features of Mages Survival, it is time to start your adventure! With its unique characters, enchanting spells & powerful items, and challenging boss battles, this game promises an incredible experience that will keep you glued to your screen. Start playing today and show the world who is the real Mage Master.