If want to play the most sensational love game, you definitely should download Love 365! Choose the best man and experience love and romance you never dreamt of!
| | |
| --- | --- |
| Name | Love 365 |
| Updated | |
| Compatible with | Android 4.4+ |
| Last version | 8.5 |
| Size | 85.34 Mb |
| Category | Simulation |
| Developer | Voltage, Inc. |
| Price | Free |
| Google Play Link | |
| MOD | Unlimited money |
Love 365 by Voltage, Inc is an interactive story game that comes with a huge collection of over 5000 episodes. Players will be able to read all of these stories and make wise choices that will determine their love future. In the interesting gameplay, you will be playing as the leading character with 300 men who are ready to do anything to be with you. You have the chance to choose whom to be with since you are totally in charge of the story you select. Download this game now and witness colorful love stories!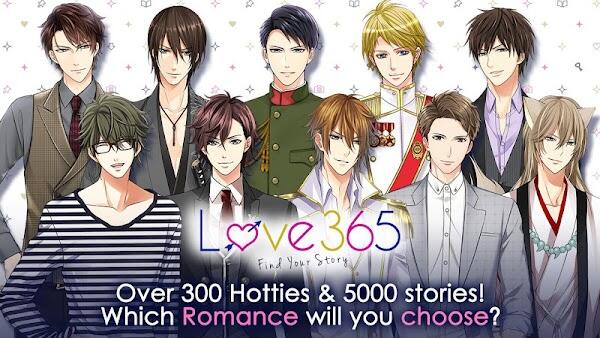 The stories herein are full of unending romance and passionate kisses. You will instantly have an experience that will totally gain your attention with hours of reading time and fun. Since every episode will be very appealing, you will definitely want to know what happens next. Therefore, it will make you lookout for the next episode. The game allows you to buy a subscription that unlocks exclusive stories. Get this exciting game and join the gaming community with over 1 million gamers playing love 365 today!
Who's Your Next Hottie!
The gameplay involves fantasy, real, or school stories where you choose the man you want to share your love with! Here, you will need to find your story to play in this stimulating game. Notably, the game offers the player a selection of love stories to choose from in the categories of free, featured, new, and hot stories. With over 300 men vying for your heart, which one will sweep you off your feet? Well, the choice is yours! You can have a new man every day or stick to just one guy who you will cherish throughout a story!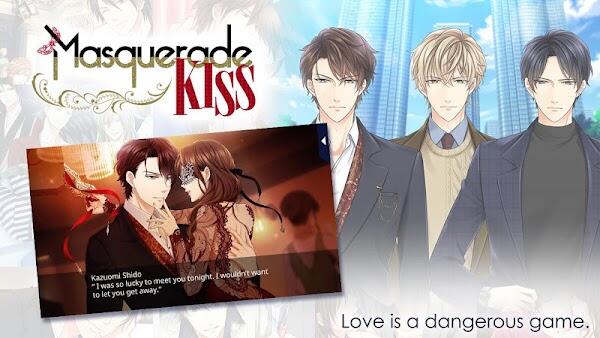 Experience heart-melting kisses, passionate nights, and even explosive adventure with the right man. Your life is about to get a lot more exciting with love in the air! You will meet various men with stunning characters including Eisuke Ichinomiya, Soryu Oh, Mistunari Baba, Ota Kisaki, Mamoru Kishi. Chiharu Utsumi, Shunichiro, etc. Note that the game has adult-rated content and therefore it is not recommendable to have children playing this game. Download the app now, get incredible steamy love stories, and raise your affection!
Love 365 Features
Even with the spectacular love action that the game offers, there are other features that make this game stand out. Especially, the colorful game setting can't go unnoticed! Below are some of the features.
Exciting Romance Gameplay – here, will experience first kisses and romantic escapades with the mane you select. Notably, you have lots of men to choose from including Eisuke Ichinomiya (the cold-hearted millionaire), Mistunari Baba (the womanizing thief), Soryu Oh (the cool HK Mobster), Ota Kisaki (enigmatic artist), Mamoru Kishi (Slacker Detective), Chiharu Utsumi from school stories, among others.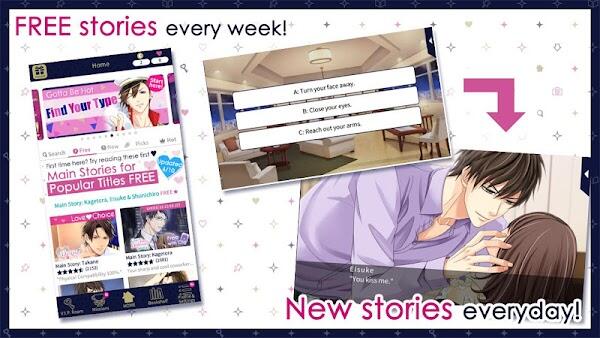 You will need to choose to be a girlfriend to either of these men and engage in various romantic actions. All these men will be tailing you all manner of sweet words. Apart from having sexy dialogues, you will also explore the closet and enjoy changing the clothes of your favorite man! The game allows you to share the most exciting stories with your friends through the share button.
Colorful and Simplistic 2D Graphics – the game setting is colorfully made with animated pink colors. Various other aspects make the game's environment realistic like beautiful rooms, couches, beds, and other sceneries. Gamers also get a simple interface that makes the game easy to play. Selective responses displayed on the interface make it easier to continue the action of the game as well as making the game engaging.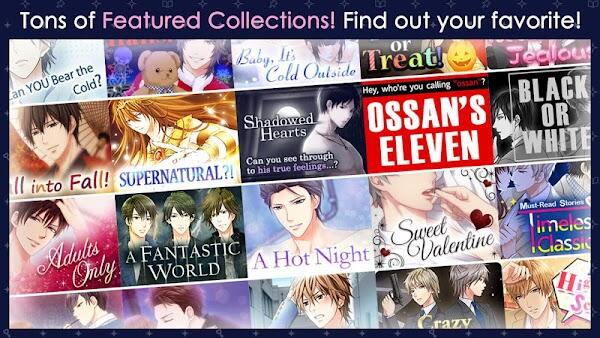 Premium Subscription – this app allows users to play for premium stories. With the premium subscription, you can romance all you want. Be part of stunning explicit romance with the Monthly Access Pass that costs about $8.99. Note that payment is easy to make since subscriptions will automatically renew every month until you cancel your membership on the App Store.
Unlimited Money – the app offers unlimited coins that you can accumulate after completing various missions. You can use this coin to unlock various love stories.
Download Love 365 Find Your Story Mod APK – Unlimited Love Stories
Experience unlimited love stories with the Love 365 Mod APK. Here, you will enjoy love and romance action you have never seen before!